Oklahoma is experiencing the rise of technology and software development companies, making the future bright … and easier to navigate than in decades past.
Developer Kris Dillon founded StartupOKC – a community of passionate entrepreneurs who can help aspiring business owners – and Deep Fork Technology – a software company in OKC. He says that in the next 10 to 20 years, Oklahoma is "on a good course to get better at supporting high tech start-ups, as well as established tech-driven companies. Oklahoma has great talent, good cost of living and great places to live. We are in a good position to diversify our economy and gain a lot from being a tech-friendly place to do business. I want Oklahoma to be a great place for entrepreneurs, whether they are just starting or are seasoned veterans."
He is leading the charge on those progressive goals at Deep Fork.
"Deep Fork has spent seven years learning what small businesses need," he says. "My mission is helping start-ups and small businesses thrive in our community while providing fulfilling, purposeful jobs to my team by innovating better ways for everyone to work together, and facilitating candid conversation. We had to reinvent how local business owners interacted with a software development shop to enjoy success together."
In Tulsa, tech company TMA Systems operates in 20 countries and in nine languages. The team, however, is happy to keep headquarters right where they are to ensure Oklahoma stays competitive in the software sector.
"Our focus is developing software for clients to effectively manage their physical assets and maintenance operations," says John Smith, the company's chairman and CEO. "For more than 30 years, we've provided customers outstanding value through leading software products and world-class service. 98% of our business is outside of Oklahoma, but we have grown our business here because the climate is conducive to developing a business, due to great people with great skills and work ethics.
"We support local businesses, and in turn they grow and thrive, which I hope improves the quality of life for their businesses and employees. Overall, I hope this improves our local communities as well as our state."
Integrated Business Technology founder and CEO Eric Kehmeier says his primary focus is on client infrastructure, making sure things run smoothly for everyone.
"I joke that nobody calls us when they are happy," he says. "It's our job to make sure our clients are happy when they get off the call with us."
Other major focuses for IBT are client safety and getting more people comfortable with artificial intelligence. The company's layered network of employees can handle complex issues on both fronts.
"Software is beginning to have artificial intelligence capabilities that can be implemented in many ways, but a major one is for cyber security protection. Threats to computer networks and both business and personal data are increasing daily," he says. "We protect our clients' networks and keep them running smoothly. We bring a team and standardization to the table with clients; we're providing a help desk that can escalate issues to engineers who dive deeper into higher and more technical issues. We have field engineers if there is a need to come on site. We provide project implementation and network administrators."
Looking toward the future, Kehmeier thinks that "3D printing and robotics are technologies that will drive industries to improve and innovate new solutions. And cloud services are allowing many small businesses to leverage enterprise level systems at an affordable price. Small businesses are going to be capable of innovating new solutions that they never dreamed about in the past."
A Day in the Life … During a Pandemic
For most, software development is a foreign subject, but a day in the life of a tech developer isn't that different from other more common day jobs. The common denominator? A drive to help clients succeed.
"We program our product, install our products and support our products," says Smith. "We provide software to outstanding organizations like Microsoft, American Airlines, the U.S. House and U.S. Senate and the Federal Reserve Board. We have a collaborate work environment. We help our clients by listening to them, and understanding their problems, dreams and goals, and helping them with outstanding products and services."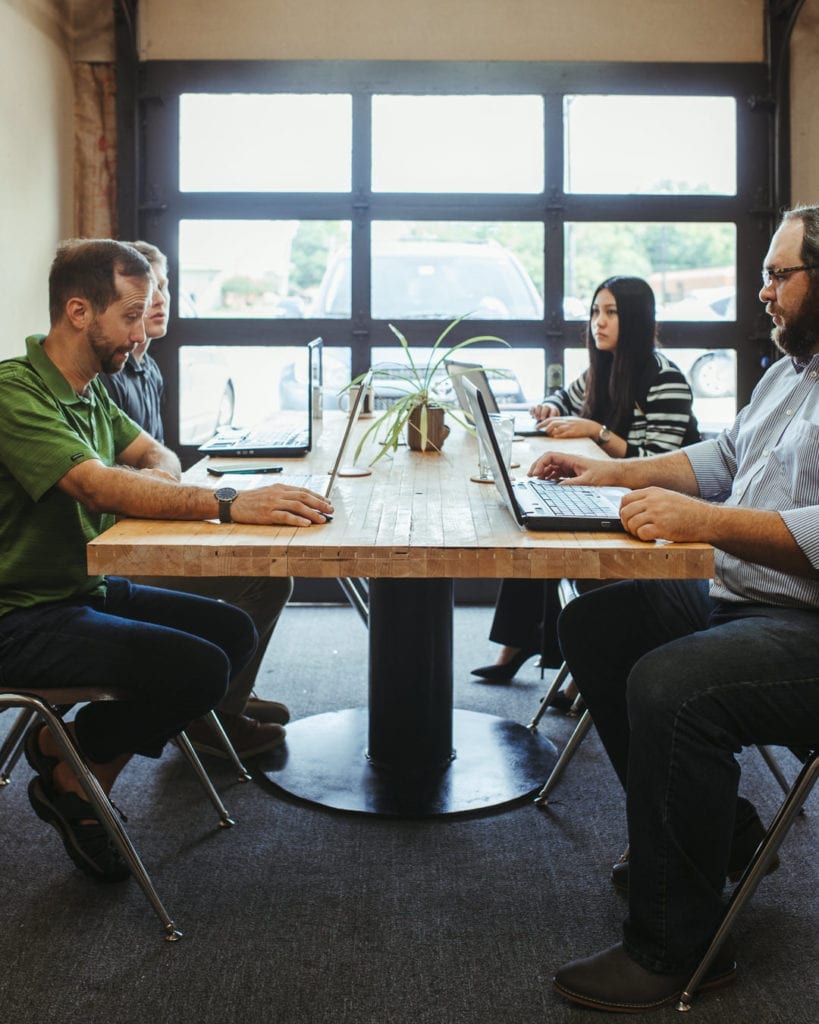 Even for tech companies, working from home came with some challenges, along with some happy realizations about just how much can be done from one's living room.
"We have had the technology available for years, but the pandemic has proven to everyone that we can do it," says Kehmeier. "I believe that working from home gives us the ability to be flexible with our teams and their specific needs, but also forces us to focus on results, and not just being at the office from 8 to 5. It won't be possible for everyone in every job role to work from home. Employers need to be aware that each employee's personal circumstance – such as kids going to virtual school – and job responsibilities are a factor when moving forward. In ways, it has made us more efficient; I get more accomplished in less time. I can have multiple Zoom or Teams meetings a day. In the past, I spent a lot of time driving from meeting to meeting. The downside is I miss the face-to-face interactions, and we need to be aware of this."
Dillon and his team at Deep Fork try to emphasize the positives of this new normal.
"We focused for awhile on just keeping our team together. We have had to lean into our project management software and use it more effectively, and do plenty of video calls," he says. "We aren't letting the pandemic get in the way of enjoying the work we do; we are active in Oklahoma's start-up ecosystem. We help [start-ups] develop a tech road map that maximizes their likelihood of success. Start-ups and local businesses are important for our state's economic diversity and we work hard to support them.
"I have seen firsthand the impact of bringing like-minded people together. Perhaps that will add just a tiny bit of fuel toward making Oklahoma an even more attractive place for entrepreneurs to do their magic."
Kehmeier says that now is the time to take a look at your company's security to ensure everything is as safe as it can be.
"The world seems to be changing daily, and we are all reacting to it as best we can. At some point, I suggest everyone take a deep breath and review the decisions they've made over the last six months," he says. "I've had conversations where people did whatever they could to enable employees to work from home … but is it set up as secure as they prefer? Or, since they moved so fast, did they miss something important? I suggest everyone review their current cyber security measures in place and determine if there is anything they need to address.
There has been a 4,000% increase in pandemic-related phishing in email attempts since February. That's a very scary statistic, and everyone needs to be diligent in protecting their business data and personal information."