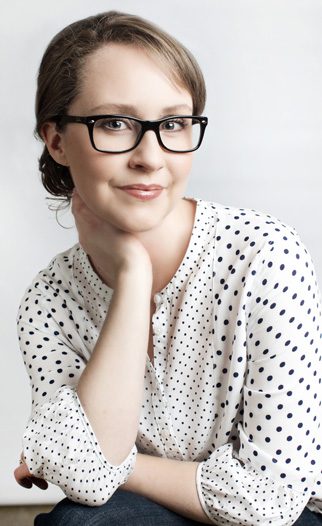 [dropcap]At[/dropcap] an age when most children proclaimed they wanted to be astronauts or the president when they grew up, children's book author and illustrator Hannah Harrison already knew exactly what she wanted to do.
"When I was in first grade, my school put on a contest where all the students made their own book, and I immediately fell in love with the idea of creating stories," says Harrison, a resident of Ada.
Growing up in New Hampshire, Harrison says she was constantly drawing, so it might not have been a huge surprise when her kindergarten teacher put her in an art class with fifth graders. The school-wide book contest a year later put a new idea in Harrison's head, that ended up sticking.[pullquote]Becoming a children's author and illustrator was always the destination, but I had to make a living until I got there.[/pullquote]
"When I realized that making books was a job and something that grown-ups did, I knew that's what I wanted," Harrison says. "I've continued on down that path my whole life."
But just because Harrison is now doing exactly what she has always aspired to doesn't mean that getting there was easy.
"For a senior project in college, I created paintings inspired by short stories I had written, so I was able to tie writing and art together then, but it took ten years after I graduated to get a book published," Harrison says. "If it's something that you want to do, you have to be really committed."
Harrison's paintings are realistic, with intricate textures, but the subject matter itself is fanciful – animals wearing clothes are common. While continuing to hone her skills after graduation, Harrison took various odd jobs in the art world.
"Becoming a children's author and illustrator was always the destination, but I had to make a living until I got there," Harrison says.
Joining the Society of Children's Book Writers and Illustrators (SCBWI) also proved to be very beneficial.
"It has been the best experience, and it's just a great group of people. I actually ended up meeting my agent at a conference through the group," Harrison says.
Harrison's first book, Extraordinary Jane, was published in 2014. It tells the story of a circus dog who isn't sure she is special or skilled enough to be a performer – but the ringmaster thinks differently. Extraordinary Jane won the Oklahoma Book Award in illustration for Harrison this year.
Finally getting published and then experiencing success has been an incredible experience, she says.
"It really is like a dream come true," Harrison says.
Bernice Gets Carried Away, her second book, featuring a grumpy cat as the main character, was released this summer.
Harrison lives in Ada with her husband, an Oklahoma native, and their two young daughters. With kids, Harrison says she paints a little here and there whenever she can.
"It can be tricky to squeeze it in, but nap times are the golden hours," Harrison says, laughing.
Right now, she is wrapping up the illustrations for her next book, featuring an elephant and a beaver, which will be released in 2016.
"I just want to keep producing meaningful books for me and my family and for the people who read them," Harrison says.