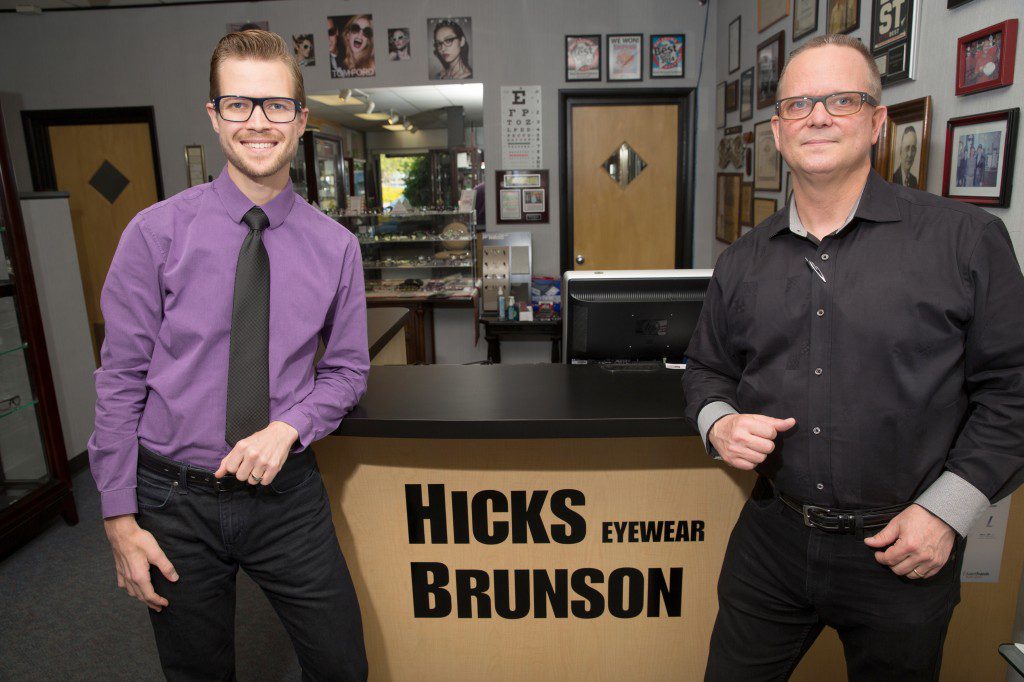 In 1929, Hicks G. Brunson came to Tulsa to open an American Optical Dispensary shop downtown. Since then, the Brunson family has continued to provide cutting-edge eyewear from a select line of designers.
"In 1950, my great-grandfather purchased the company and changed the name to Hicks Brunson," says store manager Daniel Brunson. "He opened a second location in Utica Square in 1952, just after Utica Square was built."
For the past 64 years, Hick Brunson has focused on fit as well as fashion, using expertise to take the guesswork out of finding the perfect pair of glasses.
"We will help you find a selection of frames that will flatter your face shape and complement your natural coloring," says Brunson. "Then you can choose the look that reflects your personal style and that you are most comfortable with. We may even custom design a frame for you.
"We really like to have an interactive experience with our customers," he continues. "We don't make you have to figure it out yourself."
Part of the retailer's long-term success has been the result of providing customers with a diverse selection from which to choose. Many designers that Hicks Brunson carries are not offered anywhere else in the state.
"We like to work with designers that are as passionate as we are," says Brunson. "A lot of our glasses come from independent artisans."
Zero G is a line that features lightweight, comfortable and durable frames with a clean, classic look. Leisure Society, designed by the much sought-after Shane Baum, are heirloom-quality frames made from pure Japanese titanium and coated in 12-, 18- or 22-karat gold. Face A Face offers a collection of fun colors and shapes, and all frames are handmade in Paris. These are just a few exclusive lines that Hicks Brunson carries.
"In 2009 I met Tom Davies," says Brunson. "That relationship changed everything."
Davies, a British eyewear designer, is famous for his bespoke service, providing custom designed eyewear tailored for comfort with the perfect shape and color.
"We have collaborated several times to produce our Tom Davies by Hicks Brunson Eyewear collection," says Brunson. "Our newest collection, called Dekko Lux, makes use of fun cat shapes for women and classic wayfarer-inspired shapes for men.
"[Tom Davies] eyewear can be tailored just like clothing," explains Brunson. "Rather than pick a stock frame, you can create the perfect one for you."
Daniel brunson, manager of hicks brunson eyewear, and rick brunson, company president, stand by a commitment to meet all their customers' needs. Photo by Brandon Scott. [/caption]
Hicks Brunson's dedication to providing for customers' needs continues today.