On Wednesday evening, the Tulsa City Council passed a temporary ordinance to Title 27 of the Tulsa Revised Ordinances for the adoption of a new mask requirement. The ordinance passed 7-2.
Mask mandates apply to those 18 and older "located within Public Service Areas of Places of Public Accommodation or an Educational Building. [They] are required to wear face coverings at all times when present therein. Except as otherwise provided herein, persons in any Public Setting wherein social or physical distancing cannot be maintained are required to wear face coverings."
The ordinance went into effect Thursday morning around 9 a.m.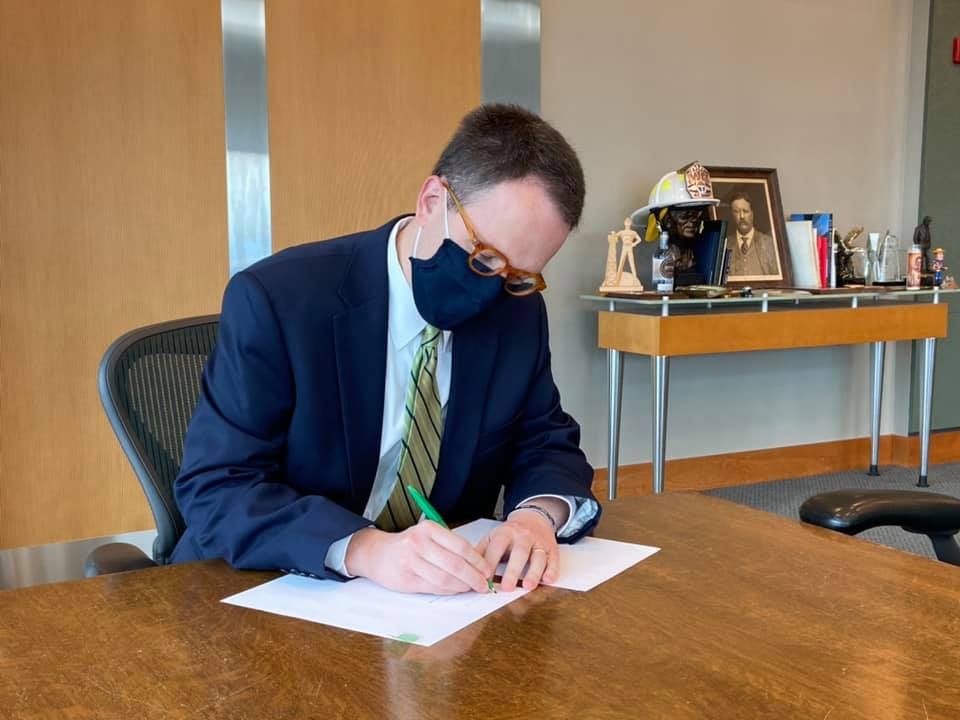 Exceptions:
People who fall into the U.S. Centers for Disease Control and Prevention's guidance for those who should not wear face coverings due to a medical or mental health condition or developmental disability
Children under 18 years of age
Restaurant patrons while they are eating or drinking
People exercising in communal outdoor spaces, or people walking or exercising with others from the same household in communal outdoor spaces, as long as physical distancing is maintained. People congregating in communal outdoor spaces with other persons not in their same household are required to wear face coverings when physical distancing is not maintained.
Settings where it is not practical or feasible to wear a face covering, such as dental services, medical treatments or while swimming.
Occupants in a personal vehicle, personal office, or similarly private space while other persons outside of the person's household are not present.
Private homes
Offices and workplaces that are not Public Service Areas where physical distancing between employees and other occupants can be consistently maintained during hours of operation.
Penalties:
The ordinance does not specify penalties for violators. They can be subject to prosecution under charges like disturbing the peace or criminal trespassing.
Expiration:
The ordinance is set to expire Nov. 30 (when the city's civil emergency order expires). It can be modified, repealed or extended by the city council.
Specific definitions:
Face Covering: A covering that fully covers a person's nose and mouth. This includes, but is not limited to, cloth face masks, towels, scarves and bandanas as recommended by the CDC or OSDH, an N95, KN95, or other mask that would be appropriate for a health care setting, or a surgical mask.
Social or Physical Distancing: Maintaining six (6) feet of distance between people who are not part of the same household while in a public accommodation, educational building or public setting.
Place of Public Accommodation: All places offering items, goods or services for purchase or rent, including without limitation retail businesses, personal services and spas, entertainment venues, food service facilities, restaurants and bars, hotels, motels and travel related services, professional offices and services, banks and financial services, repair facilities, motor vehicle dealerships.
Public Service Area: Areas of a Place of Public Accommodation or an Educational Institution where employees interact with the public in the normal course of business.
Public Setting: Any public place where people congregate which is not a place of public accommodation including without limitation offices, workplaces, houses of worship and ancillary facilities, child care facilities, hospitals and health facilities, gymnasiums and physical fitness facilities, adult and youth sports facilities, communal outdoor spaces such as sidewalks, trails, and parks, and food trucks and other outdoor retail entities.
Educational Institution: Any building or facility used for academic or athletic purposes on public school campuses, and any private school or preschool. This term excludes the playing surface of any athletic facility during organized activities and practices.
To read the ordinance in full, visit cityoftulsa.org/mask
Oklahoma City Mayor David Holt is working to enact a similar ordinance as soon as possible.
"Councilman Mark Stonecipher is introducing an ordinance to require masks be worn in indoor public places (with common sense exceptions). I am calling a special meeting of the City Council to be held virtually this Friday at 1:00 p.m., where the only item on the agenda will be consideration of this proposed ordinance," Holt said in a statement on Tuesday, July 15. "It is my intention to vote in favor of Councilman Stonecipher's proposal on Friday. There are eight other Members of the Council and if you support a mask ordinance in order to reduce the spread of COVID-19 in our city, I encourage you to reach out to your Councilmember before Friday."