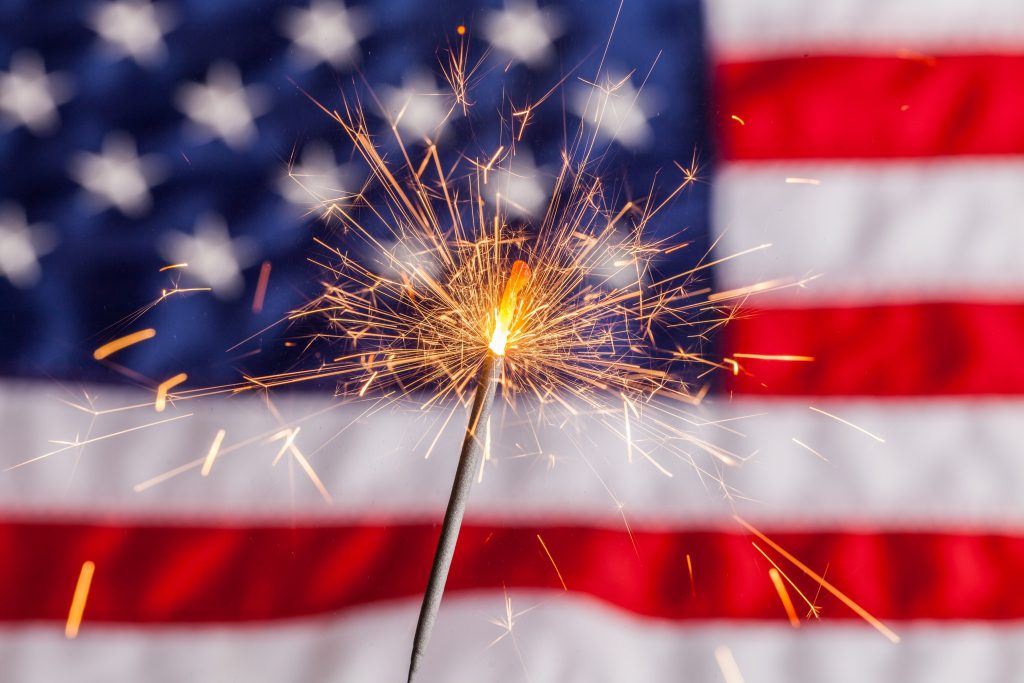 Fourth of July is just around the corner, but the celebrations are beginning now! Read on for festivals, celebrations, fireworks and more in Tulsa, OKC and other cities around the state all week long.
Grand Lake Fireworks
When: July 3 at dusk
Where: Between Disney spillways, Disney, OK
From grandlakefireworks.com: Grab some lawn chairs on head over to the spillways via boat for a gorgeous fireworks display the night before Independence Day. Fireworks will begin at dusk – don't miss it! Head to grandlakefireworks.com for more information.
Claremore's 4th of July Celebration
When: July 4, 7 a.m. – 10 p.m.
Where: Claremore Lake Park, Claremore
From visitclaremore.org: Come out to Claremore Lake Park to celebrate the 4th of July! Bring out the kiddos for a fishing derby in the morning and come back in the evening for live music, kids activities, food and drink concessions and a beautiful setting. The derby begins at 7 a.m. and evening festivities run from 6:00 p.m. to 10:00 p.m. Head to visitclaremore.org for more details.

Fish and Fireworks
When: July 4, 10 a.m. – 10 p.m.
Where: Oklahoma Aquarium, Jenks
From okaquarium.org: The skies over Jenks will light up with one of the longest, most brilliant fireworks shows in the area and the Oklahoma Aquarium backyard offers a front row view. The Oklahoma Aquarium will be open regular hours during the day – 10:00 a.m. to 6:00 p.m. with the last entry at 5:00. The Aquarium will reopen at 6:30 p.m. and offer half-price admission.   Enjoy the exhibits, then head outside to see the fireworks. For more details, head to okaquarium.org.
Folds on Honor Freedomfest
When: July 4, 5 p.m. – 10 p.m.
Where: Veteran's Park, River West Festival Park, Blue Rose Café, Tulsa
From riverparks.org/freedomfest: Visible for miles around, an estimated 80,000 spectators enjoy the view of the Folds of Honor FreedomFest 2018 presented by QuikTrip Corporation from Veterans Park, River West Festival Park and along the Arkansas River. Spectators can experience the full effect of this patriotic celebration by tuning into radio sponsor KRMG (740 AM & 102.3 FM) during the display to listen to the accompanying musical score. This is where Tulsa Fireworks happen! If you want to see Tulsa's BEST fireworks show, you'll want to join us at FreedomFest 2018. For those celebrating at home, turn to KTUL Tulsa's News Channel 8 to watch live coverage of the Fireworks Grand Finale in the opening moments of the 10 p.m. newscast. The 2018 fireworks display will be produced by Hance Pyrotechnics and staged from the 21st Street Bridge. The event runs from 5 p.m. to 10 p.m. For more information, visit riverparks.org/freedomfest.
Boom Fest 2018
When: July 4, 11 a.m. – 10 p.m.
Where: Jenks Riverwalk, Jenks
From riverwalktulsa.com: Boom Fest 2018, presented by Los Cabos Mexican Grill, is back! Grab the kids and come on out for a day full of fun as Los Cabos and the Riverwalk will be host to events and music all day long leading up to the largest fireworks display in Tulsa at 9:45 p.m.! Events begin with live music at 11:00 a.m., and concludes after fireworks. Visit riverwalktulsa.com for more information.
Drillers Post-Game Fireworks
When: July 4, after 7 p.m. game
Where: ONEOK Field, Tulsa
Enjoy the Tulsa Drillers as they take on Midland and stick around after for a beautiful display to end your night. The game kicks off at 7:05 p.m. and fireworks will start immediately following the game. Visit milb.com for tickets.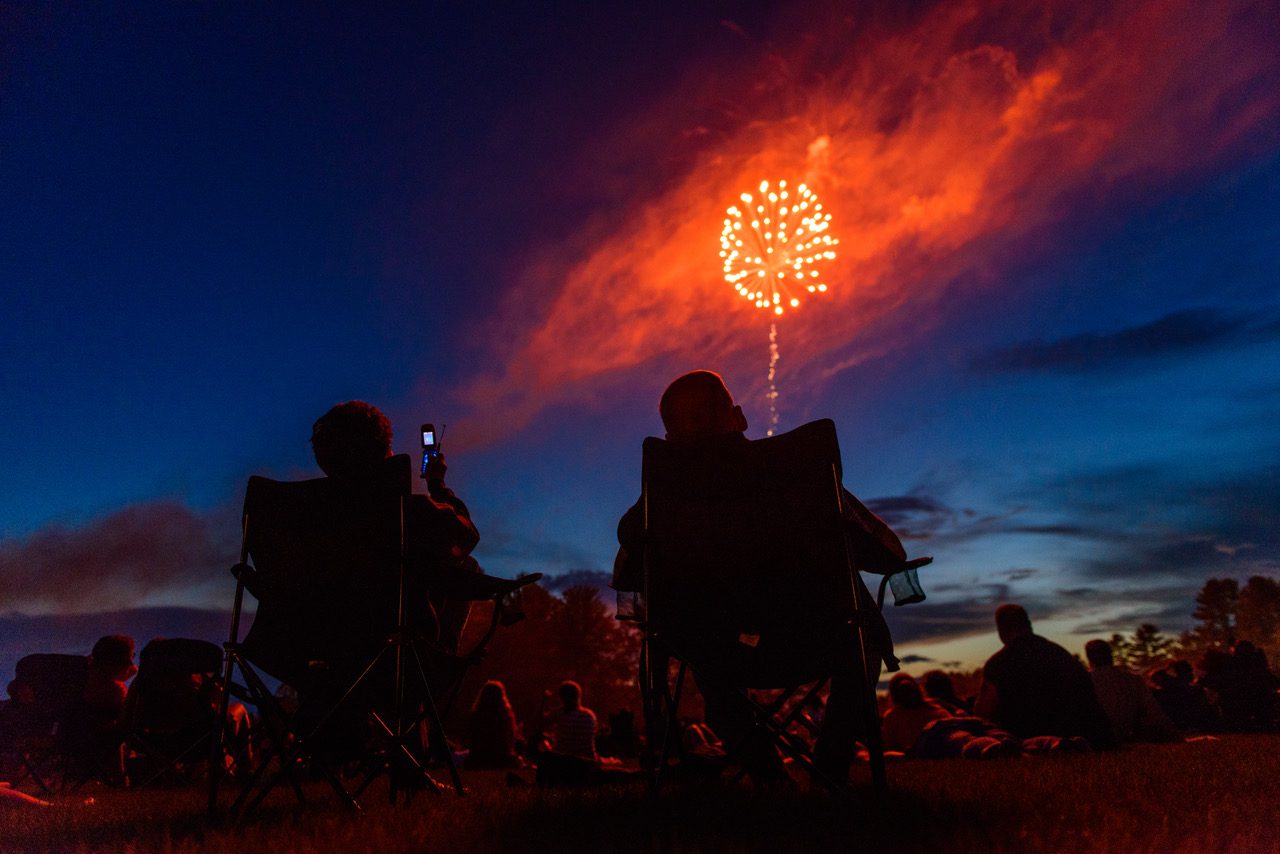 OKC 4th Fest
When: July 4, 11 a.m. – 10 p.m.
Where: RiverSPORT Adventures, OKC
From riversportokc.org: Make a splash on Fourth of July at RIVERSPORT Adventure Park in the Boathouse District! You'll find a full day of RIVERSPORT whitewater rafting and adventures, plus OKC Fourth Fest starting at 4 p.m. OKC Fourth Fest is fun for the whole family and will feature a local DJ, lawn games, food trucks, and at 9:45 p.m., downtown OKC's fireworks extravaganza! RIVERSPORT passes will be available at regular prices throughout the day and you'll find Fourth of July specials in Big Water Grill. Admission to the Boathouse District and OKC Fourth Fest is free; parking is $10. The fun begins at 11 a.m. Visit riversportokc.org for details.
Red, White & Boom
When: July 3, 8:30 p.m. – 10:30 p.m.
Where: State Fair Park, OKC
From okcphil.org: Enjoy a free concert under the stars at 8:30 p.m. by the OKC Philharmonic, followed by a beautiful fireworks display at 10 p.m. Visit okcphil.org for more information.
Edmond LibertyFest
When: June 23-July 4, all day
Where: Downtown Edmond
From libertyfest.org: LibertyFest in Edmond, Oklahoma, was selected as one of the top 10 places to be in America on July 4th by CNN & USA Today. It is a multi-event celebration of the birthday of this great nation & the heritage of our fine state. LibertyFest entertains an attendance of over 125,000 annually and is organized and produced by a group of over 500 volunteers. It hosts Oklahoma's largest hometown 4th of July parade with over 100 entries. The grand finale of LibertyFest will be the Fireworks and entertainment the evening of July 4th. The Fireworks display is the largest in the Oklahoma City metro area. Events run daily until July 4. Visit libertyfest.org for details.
A Tribute to Liberty
When: July 4, 6 p.m. – 10:30 p.m.
Where: Joe B. Barnes Regional Park, Midwest City
From midwestcityok.org: The City of Midwest City is proud to present Tribute to Liberty, an annual family-centered patriotic celebration, featuring musical concerts, food trucks and fireworks display. At 6 p.m., audiences will enjoy live entertainment by Taylor Atkinson. Following this performance, Mayor Matthew D. Dukes II will officially welcome attendees. At 8:30 p.m., attendees will be treated to a patriotic concert by Dr. Irv Wagner's Concert Band. The patriotic evening will culminate with an impressive fireworks display, beginning at approximately 9:45 p.m. Visit midwestcityok.org.
Moore's Celebration in the Heartland
When: July 4, 10 a.m. – 10 p.m.
Where: Buck Thomas Park, Moore
From cityofmoore.com: Join us at Buck Thomas Park to celebrate our country's Independence Day. Enjoy one of the largest fireworks show in the state, food, vendors and free children activities. The fun starts at 10 a.m. and concludes after fireworks at 10 p.m. Visit cityofmoore.com for more details.
Chickasaw Boomer Blast
When: July 4, 9:30 p.m. – 10 p.m.
Where: Boomer Lake Park, Stillwater
From visitstillwater.org: Walk, run, drive, or bike – but come and enjoy Stillwater's Chickasaw Boomer Blast Fireworks Show. Complete with fireworks, activities for the whole family, picnic areas, fishing, inflatables and food trucks all located around beautiful Boomer Lake Park. Residents are encouraged to bring lawn chairs and blankets to sit back and enjoy the free show. Parking is free at the Stillwater High School Stadium and Boomer Lake Park will only be open to pedestrians. The 20-minute show will start at dark – approximately 9:30 p.m. Head to visitstillwater.org for details.
Summer's Fifth Night presents: Starlight Band
When: July 5, 7 p.m. – 9 p.m.
Where: Utica Square, Tulsa
From uticasquare.com: Live music, every Thursday, all summer long. Utica Square's summer concert series serves up everything from jazz to rock to country. There's something different every Thursday and best of all, it's free! Pack a picnic or dine at one of our great restaurants as you unwind to your favorite local bands. Put on your dancing shoes, catch up with family and friends and win great prizes like Utica Square gift certificates and merchandise from Utica Square merchants. Celebrate summer every Thursday at Utica Square. Every Thursday night in the summer from 7 – 9 PM. Visit uticasquare.com for details.
Dancing in the Gardens
When: July 6, 7 p.m. – 10 p.m.
Where: Myriad Botanical Gardens, OKC
From oklahomacitybotanicalgardens.com: Dancing in the Gardens continues with Hip Hop! Join us as we transform the Seasonal Plaza into an urban dance space. Beginning at 7 p.m. instructors from the RACE Dance Company will give a dance demonstration followed by a FREE lesson for all. At 8 p.m. the DJ will crank up those 90's tunes to get the dancing started. Drink and food specials from Pitchfork in the Park will be offered to highlight the night. New this year: Face Painting will be available throughout the evening—price between $5-$10. Visit oklahomacitybotanicalgardens.com for details.