The Pandemic Pet Boom
Pet adoptions have skyrocketed during the pandemic, as work-from-home measures are keeping Oklahomans indoors and looking for ways to stay occupied and motivated. That boom is a good thing – but owners should be aware of possible issues and complications of a pandemic adoption.
Hank Johnson, board member and treasurer for the Humane Society of Tulsa, explains one logistical negative from that early March/April adoption spike.
"There are municipalities in other states that don't have animals in their shelters to adopt. Last year, we moved 2,500 animals out of Oklahoma to those areas through pet transport," he says. "The initial rush in COVID adoptions made the national groups, who fund transports, instead put their money toward adoptions. But now, Oklahoma shelters are filling up again, and shelters are telling us the transports kept their euthanasia numbers down. But we no longer have funding for pet transport."
But overall, Johnson says the boom "has been a wonderfully, weird positive that came out of COVID. We ran out of animals multiple times during the hardcore part of [the pandemic]. That huge demand has slowed now to its normal pace because people are going back to work. But it's great because people wised up to adoption. And we haven't had a lot of animals returned."
Jaurita Becker, the shelter operations supervisor for Oklahoma City's Animal Welfare, tells a slightly different story, although she still sees the positives.
"Our adoptions have decreased during COVID," she says. "However, our transfers to nonprofit partners and foster programs have grown."
The pros of adopting during the pandemic highly outweigh the cons – especially for the animals.
"Before COVID, we told people to adopt on Friday and get the kinks out before going back to work on Monday," says Johnson. "Now, everyone's at home for a long time. It's a positive for the pet that has been traumatized already by being in a shelter. When adopted during COVID, pets had time to realize that this is its pack, its family, its bed and so forth. People have been home to help their pets adapt."
Becker and veterinarian Jennifer Anderson of Pawsitive Veterinary Care in Tulsa both warn that some animals may experience separation anxiety when adopters return to work after a long stay-at-home period.
"Talk to your vet," says Anderson. "There are things we can do to help our pets cope with big changes."
Both Becker and Johnson encourage adopters to obedience and crate train their animals in the meantime.
Animal Advocacy/Conservation
Oklahoma is teeming with advocates for the health and safety of pets and wildlife. These include Friends of Pets, the ASPCA, and the Humane Society of the U.S., which has an OKC-based legislative lobbyist.
As for the roaming animals on the Oklahoma plains, the Oklahoma Department of Wildlife Conservation works diligently to keep them safe, along with a bevy of volunteers.
"We're the state agency charged with serving the wildlife of the state," says Micah Holmes, spokesman for the department. "But there are a lot of other groups that that advocate for the health and safety of wildlife in Oklahoma. Some of the top ones include Quails Forever, National Wild Turkey Federation, Ducks Unlimited, Trout Unlimited, and the Rocky Mountain Elk Foundation. There's also the Oklahoma Wildlife Management Association, and the Nature Conservancy is popular. Partnerships are critical for conserving wildlife, and without the volunteer work of these groups, we wouldn't be in such great shape in our state. One of the reasons we all like living in Oklahoma is the wildlife and the wild spaces."
Partnership is the name of the game for the Oklahoma Wildlife Conservation Foundation. According to the website, the foundation's main goal is to "look for opportunities where the foundation can partner with the Oklahoma Department of Wildlife Conservation to leverage resources, doing more together than could ever be done alone." The foundation, which includes board member (and famous musician) Blake Shelton, focuses on projects like stream rehabilitation; public land acquisition; wetland development; and big game herd health studies.
Becoming a Veterinarian
So you love animals and want to spend your life caring for them? Excellent. Be warned, however, that the road to becoming a veterinarian is filled with a staggering amount of hard work.
Oklahoma State University's College of Veterinary Medicine (OSU-CVM) has stringent requirements. Usually, students must complete three to four years of pre-veterinary coursework at any accredited college or university, and follow that with four years in a professional program in a college of veterinary medicine. It's smart for students to choose majors related to their interests in science and animals (like zoology, anatomy or biochemistry).
For OSU, eligibility requires a grade of C or higher on all pre-veterinary courses, which range from chemistry to physics, animal nutrition, biological sciences, microbiology and genetics. Upper level science courses must be taken at a four-year institution and include animal nutrition, biochemistry, genetics and organic chemistry. And applicants must take the Graduate Record Exam, or GRE.
During the pandemic, OSU-CVM accepted courses taken in the pass/no pass format during the Spring 2020 semester, including prerequisite coursework.
For those who wants to work in the sector without the additional four years of schooling, veterinary technicians typically go for a two-year postsecondary program to get licensed and certified.
Going Purebred
It's important to get the right pooch for your home – and sometimes, families want a purebred dog or what some call a 'designer dog,' typically a cross between two purebreds.
"Look at adoption first," says veterinarian Regina Olson, medical director of Tulsa's Sheridan Road Veterinary Clinic. "There are breed-specific rescues and shelters that have purebred dogs needing homes."
If adoption is a dead end, people often turn to breeders.
"If you purchase from a breeder, do your homework," says Olson. "Make sure you visit the premises, see where the dogs are kept and the conditions where the puppies are housed. And always ask for a veterinarian's reference. Many times, breeders will inappropriately vaccinate puppies themselves, hoping to avoid puppy diseases, but they do so too early.
"Many good breeders will have contracts when they sell puppies, so they will be taken care of properly in their new homes. Also, a good breeders will ask the purchaser to provide veterinary references. If they are local, they may ask to make a house call. Many rescues also request this information as well. Have your new pet examined by your veterinarian within 48 to 72 hours of adoption."
Watching Out for Your Furry Friends
When trying to determine if your animal is sick, it's all about observation and trusting your instincts. Anderson and Olson advise owners to monitor their pets daily, making sure urination and bowel movements are normal.
"Sick pets may have small changes at first, like not wanting to go outside and play, or not eating normally," says Anderson.
Olson continues: "If they are lethargic, vomiting repeatedly, having diarrhea – especially with blood present – or showing signs of respiratory distress, then see your vet. In older dogs, slowing down may not just be age related, and many times we can help older dogs get through their golden years."
Both experts encourage owners to know and understand their pets' normal daily behaviors. If anything seems off, tell your veterinarian.
"Vets can perform blood work, urinalysis and fecals to look for issues," says Anderson.
Olson adds: "Prevention is cheaper than reaction in any level of medicine."
People often overlook dental disease in dogs and cats, although it's a serious issue.
"Thankfully, it's becoming more common knowledge," says Olson. "As with people, pets' teeth shouldn't fall out on their own. Many animals have horrible periodontal disease, but keep on being normal because they adapt to what's happening in order to survive. Vets can determine the best course of action."
Another common issue? Allergies. Dogs and cats don't get allergic upper respiratory symptoms like humans. Instead, they exhibit allergies on their skin.
Olson says to look for "itching, chewing at their feet, licking at their bellies, ear infections and such. All are signs of possible allergies. Most animals do not respond to over-the-counter antihistamines. Veterinarian can give you appropriate OTC dosing information."
Another major issue in Oklahoma is heartworm disease due to the mosquito population.
"This can be fatal," says Olson. "But it's purely preventable. Treating heartworm disease in dogs takes months, and can be very costly. But it can be treated with great success if caught early. Your pets should be tested yearly, even on prevention, to be sure they are free from this disease. In cats, there is no treatment, so all we have is prevention, and 40% of indoor cats are heartworm positive. Mosquitoes can be found inside any Oklahoma home. Cats are not always tested until they show signs of respiratory distress, or they are presented because they suddenly died without warning."
Olson encourages pet owners to have their veterinarians perform at least one exam annually on their pets.
"We can catch diseases early, such as kidney, liver, thyroid, and sometimes cancer, with exam and routine blood work," she says.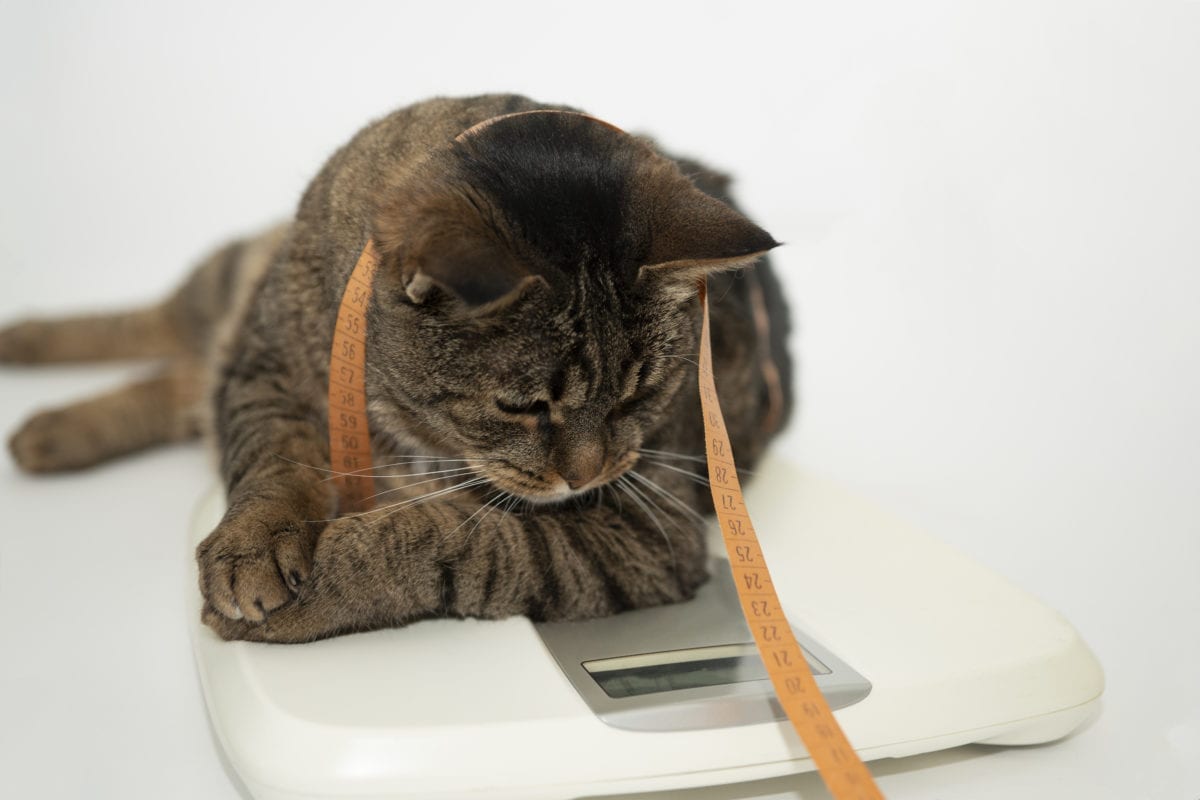 Pet Obesity
Unfortunately, obesity is a common problem with pets. Both Anderson and Olsen encourage owners to find a good quality pet food, appropriate for age and breed, look at feeding directions on the bag, and keep tabs on treats.
On the pet food bag, choose the weight range your pet should be rather than what they actually weigh. Metabolism slows down for aging pets, and owners need to alter the amounts to maintain a good weight.
"If pets become obese, we can run into early onset arthritis, heart disease, liver disease and diabetes," says Anderson.
When giving pets 'human food,' Olson cautions that it is "very calorie dense. One of our calories equals 1,000 calories to them. Fruits and vegetables are great for pet treats. Petpoisonhelpline.com lists foods that are toxic to pets. Certain metabolic or endocrine diseases cause animal obesity, such as thyroid disease. Working with your veterinarian regarding weight management is your best option for weight loss."
Anderson adds: "Pets need daily exercise to help prevent obesity and boredom. Just like we feel better after exercising, they will as well."