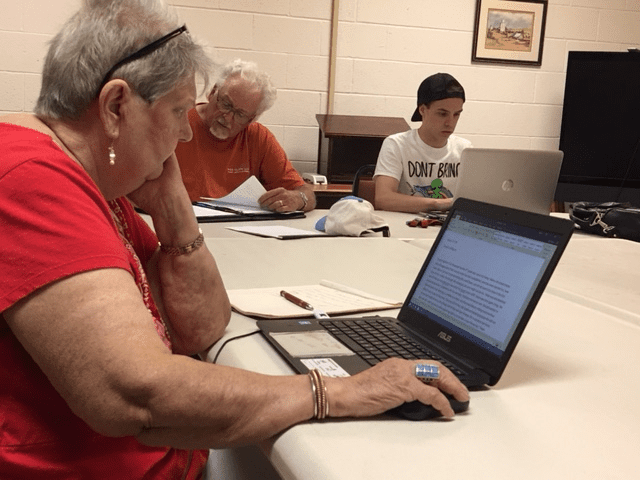 In its first year, the Creative Quills Writing Group had a booth at the El Reno Burger Day Festival. Twenty-five authors, still unpublished at the time, filled the group's table with their business cards. The following year, the table was covered with 25 newly published books. What started as a workshop during poetry month in 2015 has blossomed into a thriving writing group that creates, edits and publishes together.
Groups like the Creative Quills exist across the state. These clubs gather for shop talk, skill building and the camaraderie that comes along with it. Creative writing groups provide a space to discover the storyteller within … and others with a similar interest.
Andrea Foster, chief instigator of the Creative Quills Writing Group, remembers the night when a new member came to the group's meeting with five half-written books. By the next meeting, he had finished one. The group helped him edit and finalize the text while getting to know this new writer.
"Join a group," says Foster. "The community is invigorating, and you'll meet other people like you. In making friends, you'll gain the impetus to get writing."
Before COVID-19 closed Tulsa City County Library branches to the public, the Tulsa NightWriters met monthly at Martin Regional Library. Today, around 20 members regularly sign-on for virtual meetings. In total, the NightWriters have a membership of around 100, and the group has continued to grow, despite or thanks to, the pandemic.
"Using Zoom for our meetings, I've been able to invite speakers from Texas and Florida," says Kathryn Helstrom, vice president of the NightWriters.
In 2020, members have learned how to use Scrivener writing software with Tulsa author Bre Lockhart and heard a presentation from Dallas-based Tex Thompson. During a regular year, the NightWriters host a conference, but this year they chose to use that money to publish an anthology, From Behind the Mask. The creative record of COVID-19 includes poetry, essays, fiction and more. Helstrom says it was a way to keep everyone writing.
"We have a lot of people who are unpublished and just getting started," she says.
Recently, the NightWriters started genre groups, in which writers with similar topic interests, such as romance or mystery, get connected and workshop ideas together. Helstrom says the idea has been successful, but the groups are looking forward to one day gathering in-person again.
Foster identifies with Helstrom's desire to gather face-to-face. The Creative Quills have moved online as well. Foster says the group used to hang out at a local coffee shop for hours, talking all things writing and story ideas. Even so, the Creative Quills has published six books, through a variety of avenues, since August, and has three more on deck.
During their every-other-week gatherings, Foster offers the group a prompt that they have five minutes to write about. She sees it as fostering a creative spark of energy. Sometimes the prompt is a simple yet loaded word, like 'mother.' Other times it's a song or photo, or a phrase like: 'I knew I shouldn't have done it.' After writing, each member shares with the group.
"Some books were born out of those things that started in five minutes," says Foster.
In addition to meeting regularly, Creative Quills members participate in beta readings of one another's work. Foster says the group has experts who are able to offer a close read in their areas of interest. For example, one member brought her Western novel for reading, and a member who has historical expertise reminded her that the specific type of gun she referenced in the book wouldn't have existed in the time the work was set in.
"If you have a passion for writing, I think you deserve to have your book in your hand, for it to be a pretty good product, and pretty decent and cleaned up on the inside, too," says Foster. "What I love is the confidence that people have gained in themselves along the way."