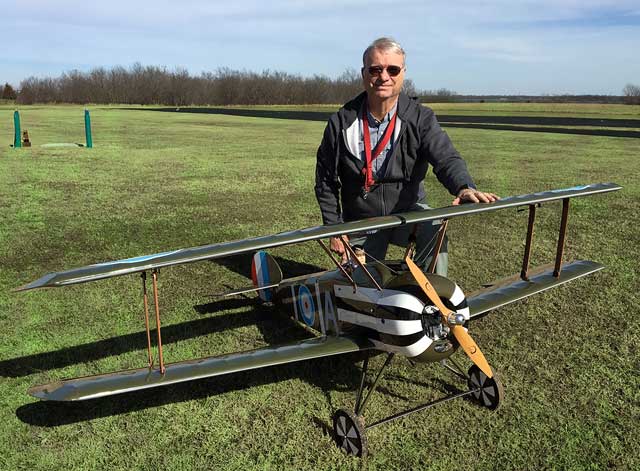 [dropcap]For[/dropcap] some, it's the accomplishment of seeing a project to completion. For others, it's the thrill of defying gravity. For everyone, it's the camaraderie, support and joking at get-togethers.
Oklahomans in the Academy of Model Aeronautics have just as many reasons for attending fly-ins in state and around the country as they do ways of life. Teachers, clergy, mechanics, owners of high-tech companies, unemployed folk, youngsters aspiring to become pilots – all who build and/or fly model airplanes enjoy the friendships found in the 2,400 clubs nationwide.
"I'm mechanical-minded, and I like to build stuff," says Jack Rogers, safety coordinator for the 130-member Tulsa Glue Dobbers, one of 32 AMA clubs in Oklahoma. "You get that satisfaction of turning a box of wood into something that comes to life and flies."
Rogers especially enjoys the road trips to out-of-state clubs, where "you see the beautiful craftsmanship of other guys' planes."
The Dobbers, created in 1947, is the oldest continuously chartered club in the AMA, which has 195,000 members. One of the newest clubs is the Oklahoma City R/C Flyers (R/C stands for radio-controlled). Chartered in 2014, the Flyers formed when 30 hobbyists wanted a place to fly in northern Oklahoma City.
Flyers president Mike Hill, like many, fell in love with model airplanes at an early age.
"I was 13 and living outside Houston," he says. "We would go watch fly-ins at the Rosenberg [Texas] club. All these NASA engineers would build some of the weirdest planes you'd ever seen just to see if they could fly. I got hooked."
[pullquote]"I used to build furniture and loved seeing the beauty of a finely sanded and finished piece. But you can't fly a dining room table."
– Doug Bromley[/pullquote]
Hill takes a lot of pride in building his own planes.
"I like to design my own," he says. "When it works, I don't think there's a better feeling than seeing it fly."
Mike Pennell, the Dobbers' president, was 12 when he began building and flying models.
"Once you get this in your blood, it doesn't go away," says Pennell, who commanded remotely piloted vehicles for three branches of the military through the 1970s.
A trait common to flyers is their wicked sense of humor. Hill has been a member of a lot of clubs "and they all joke with each other. And it doesn't help if you do something stupid or run into a one-in-a-million chance of disaster. It is funny. The other guys laugh with you, then help pick up the pieces."
Rogers concurs.
"There's a lot of ribbing that goes on, especially with guys who bounce a landing 4-5 times," he says. "We all give each other a hard time."
One of the Dobbers' primary givers and takers of grief is Doug Bromley.
"I never fly alone. There's no point to it," he says. "I really enjoy the time outdoors with my buddies. If I grease a landing, I stand tall. If I bounce it three times, [Pennell] is sure to razz me."
Pennell stresses that not all pilots build their own craft and they are just as welcome to meetings and fly-ins as anyone else. Because of time constraints from running NewNet66 computer systems, Pennell flies models from kits.
"You'd be amazed at what you have ready-to-fly out of the box," he says. "I'm stunned by the advances in technology and the reliability of the radio signal."
Flying models can lead to unexpected pleasures. The Flyers' Charles Trice, a Department of Defense sustainment engineer at Tinker Air Force Base, found a part-time job flying the Chesapeake Energy blimp at Thunder basketball games.
Hill says his favorite times have come at the Elk City fly-ins, where he pilots his from-scratch B-52 replica with an 86-inch wingspan. He "bombs" kids with loads of candy "and there's nothing like seeing them run to get it. They even remember the plane and want to know if it will be back next year."
Aviation Outreach
Chartered clubs in the Academy of Model Aeronautics commonly educate children and have done so since the association's founding in 1936. The AMA has a full-blown education department at its headquarters in Muncie, Indiana.
Jack Rogers of the Tulsa Glue Dobbers says many Oklahoma members go into schools to promote model aviation and the benefits of science, technology, engineering and math – all integral to flying. For instance, Dobbers member Dennis Mitchell runs Light Speed Air Show, which reaches more than 150 Oklahoma schools and 75,000 children. The goal is to get younger generations to fall in love with aviation.
"Many pilots got interested in flying because of model airplanes," Rogers says. "We want that to continue."