Daniel Auffenberg grew up in that glorious Tulsa neighborhood that stretches east from the Philbrook. He has many fond memories of his childhood, but his happiest memories are of his weekly visits to his grandmother, Dorothy Crane.
"She had such a great spirit," says Auffenberg. "Never a mean word for anyone, always full of grace, the definition of a proper Southern lady. She cooked seven nights a week. We'd get dinner and then banana waffles for breakfast. For her, cooking was not a chore, but a calling."
It's no coincidence that, many years later, Daniel named his restaurant Dorothy's.
Daniel's mom cooked dinner for her family every night, sometimes using Dorothy's recipes, written on 4×6 index cards. From middle school on, Daniel helped her cook, and he came to love it, carrying it through to his time in college.
"Other houses had keg parties, and I'd go to them," he remembers. "But my house had dinner parties."
Auffenberg's family is in the car business, and after college, it seemed natural for him to work in his father's Dallas showroom. But he didn't love it. One night, exhausted from work, he was watching Anthony Bourdain on TV and something clicked. A few weeks later, he flew to New York City to start classes at the French Culinary Institute.
After a stint at New York's Gramercy Tavern as an assistant butcher, Auffenberg went back to Dallas and got a job as manager of a Pappadeaux Restaurant in Addison. He wanted to learn how to manage a restaurant, and that job taught him quickly.
"We had a thousand customers a night, and that meant several hundreds of problems that had to be solved on the spot," he says. "If you don't solve a problem fast, you might lose a customer forever."
In 2018, Auffenberg got married. It's hard to open a restaurant and raise a family at the same time, so he wrestled with his dream.
"We thought about it, prayed on it, and finally decided to go for it right away, before the children came," he says.
They had to find a place that needed restaurants, and that ruled out Dallas. Meanwhile, Auffenberg's parents had retired and moved to Georgia's beautiful barrier islands.
"We visited St. Simons one week in March 2020," says Auffenberg. "We were out biking one morning when we saw a beautiful place that used to be a flower shop. We knew we'd found our spot."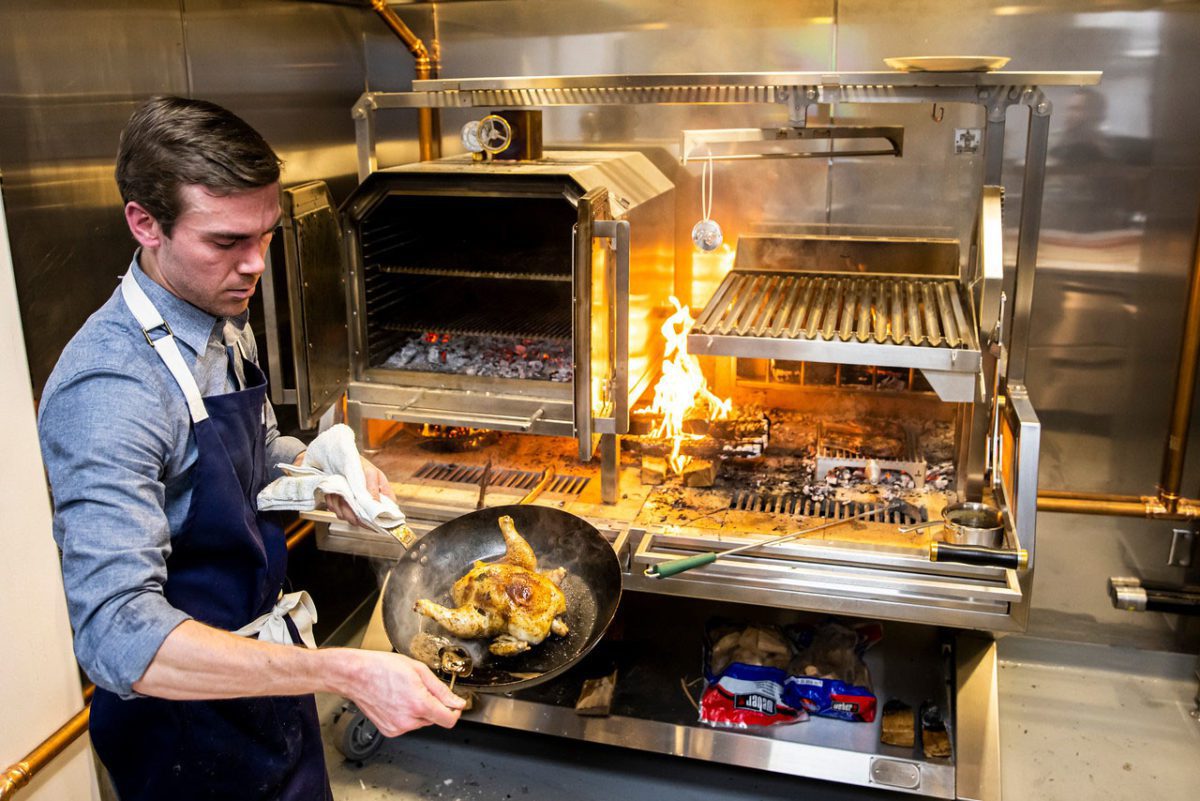 There, he built Dorothy's Cocktail and Oyster Bar on St. Simon's Island.
The cuisine is highly influenced by the couple's honeymoon in Thailand and Vietnam. And indeed, you'll find some very creative dishes that have Asian inflections, and much more besides. You can get grilled salmon with Japanese dashi, collard greens and mint. Or a raw salmon aguachile with mango, cucumber and chili oil. Or salmon belly with Asian pear, dashi and yuzu.
"We're known as an oyster bar, and that frees us up as a restaurant to cook what we want," says Auffenberg. "And I cook food that I'd want to eat. But my wife and I didn't impose our food on the community. We asked ourselves what the community is missing and would like. So many people here eat the same old meat and potatoes meal every time they go out and they are desperate to try something different. People love to try our food, and we ended up creating the exact restaurant we'd want to go to if we were on this island. Where else can you sip wine at sunset as you eat oysters with sambal?"