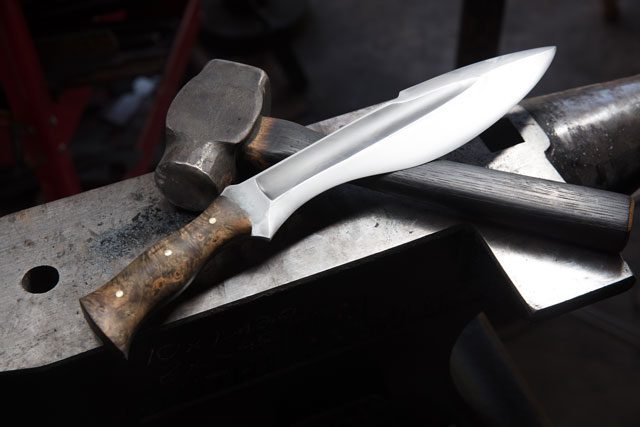 [dropcap]From[/dropcap] a scandi to a wa gyuto, David Mooneyham forges all sorts of knives into creation. The native Oklahoman crafts a variety of blades, but he has a passion for knives with basic, multi-use functions.
"I specialize in unique kitchen knives," Mooneyham says. "My more period-accurate pieces include a lot of Anglo-Saxon or Scandinavian, such as a scandi, which is a sort of Viking utility knife. I recently made one from the circa 600-800 period with a steel blade and carved maple handle."
Some knives aren't flashy, but they're interesting to make, Mooneyham says. Recently, he forged a wa gyuto, a Japanese chef's knife, for a customer to his Oklahoma City shop.
"Although it is simple-looking, it is very difficult to execute," he says. "The handle has three pieces, which includes ebony, metal spacers and burrow wood, yet it is simply shaped."
Mooneyham's bladesmithing skills scored a spot on the History Channel's Forged in Fire. On each episode of the reality show, four bladesmiths compete in a three-round elimination contest to make bladed weapons, with the overall winner receiving $10,000 and the day's championship. Mooneyham carries his title proudly.
With an interest in fantasy books, like Lord of the Rings, and Scandinavian and Viking history, Mooneyham began learning the craft in 2000 when he obtained a charcoal forge and some scrap metal. It was slow and difficult at first, but he forged ahead despite unfavorable results and a load of bad information.
"I don't know at what point I decided to do this; I just picked up a piece of steel, started filing on it and made costume pieces," he says. "Later, I started learning about real bladesmithing. It was a long road and I had to unlearn a lot of misinformation."
After years of "doing it wrong," Mooneyham started connecting with the right people to hone his metallurgical and practical skills to become the self-taught bladesmith champion that he is today.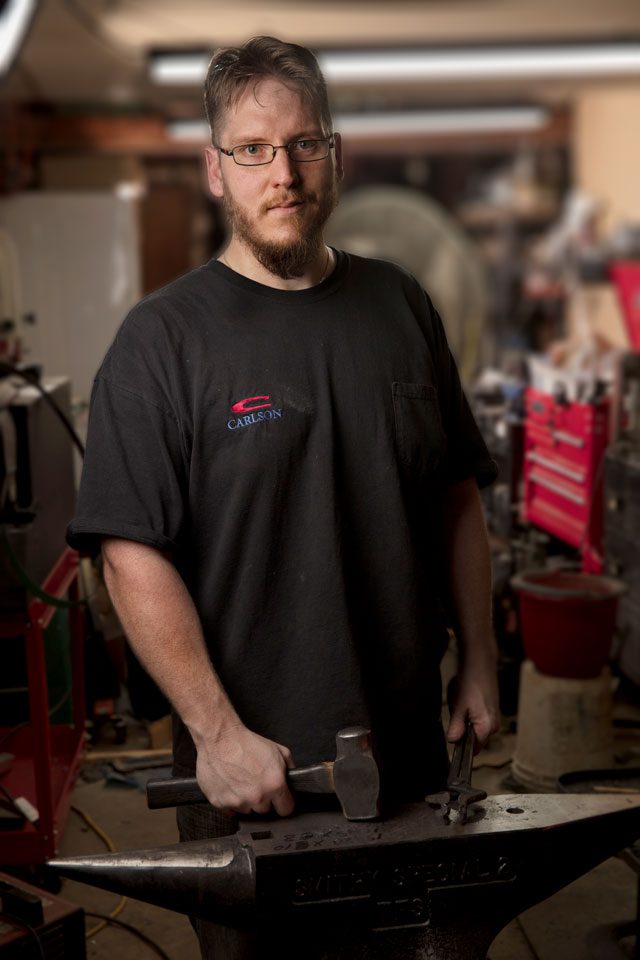 "It is amazing how 15 minutes with someone who knows what they're doing is worth a year of you doing it yourself," he says.
Mooneyham's main focus to create commission pieces that interest him or allow him to learn something knew.
"I don't do the same thing twice very often, so most of the time I am working on something that is new to me," he says. "It is constantly a learning experience, and that's the coolest thing to me. I love learning and figuring stuff out."
Whether he's working with a new material or learning a new technique, Mooneyham will continue to grow in his craft … and his passion.
"There is something magical about the idea of taking this raw piece of material and turning it into a tool that is beautiful and functional and is going to last years beyond me," he says. "Everything I make is going to be here long after I am gone."
You can see some of his pieces on his website, lunareclipseforge.com.