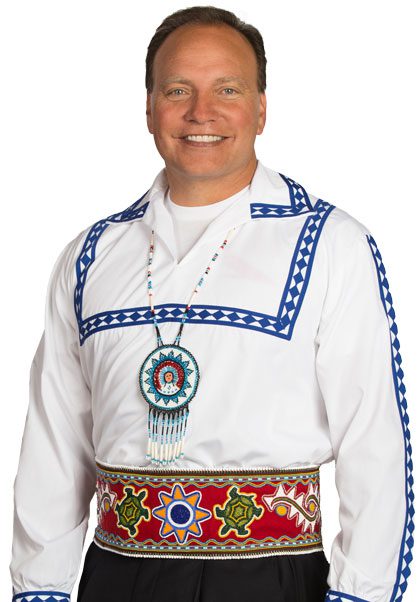 [dropcap]Next[/dropcap] month, Gary Batton marks his third year as chief of the Choctaw Nation, which has emerged as an economic and health-care powerhouse in southeastern Oklahoma. He has worked for the tribe since 1987. On April 3, Gov. Mary Fallin will honor Batton as one of seven Oklahoma Creativity Ambassadors for 2017.
With a bachelor's degree from Southeastern Oklahoma State University in business management, Batton became deputy director of the Choctaw Housing Authority. In 1997, as executive director of health, he oversaw the building of a state-of-the-art health care center, the first tribally funded hospital in the United States. He directed improvements of clinics in Hugo, Broken Bow and Talihina. After becoming assistant chief in 2007, he helped expand gaming facilities in Durant, Grant, McAlester and Stringtown.
As chief, he often shows up at travel plazas and medical facilities in the dead of night to ask tribal workers what he can do to help them and improve their jobs.
We caught up with Batton and got his thoughts on …
… his management style.
Putting others first is all part of it; it's servant leadership. You have to serve before you can lead. You have to get people the support, the resources, the guidance that they need to succeed. If they need funding for a project, you do everything you can to get it. I found out that some of our restaurant workers were making less than a competitor, so we raised their wages.
… how bottom-up, not top-down, management succeeds.
A good example is the hunting-fishing compact that we signed with the state in September. That suggestion came from a tribal member. Years ago, diabetes was a tremendous problem, so we started a wellness center in Talihina to reduce all the amputations and eye problems. I'd like to take credit, but the best ideas come from others. It's just a matter of listening and having a good ear.
… the Choctaw way of management.
It's organization-wide leadership. With every major decision, we try to get unanimity; if we can't get that, then consensus; if not that, then a majority. On rare occasions, I have to make an executive decision, but that's only after we've tried to get everyone's buy-in. This is a historical piece of our tribe. The Choctaw Nation many years ago had a function for everyone in the community. Everyone pulled together. It's always been about the betterment of the community.
… his personal growth as a leader.
The tribe is spiritual. I am spiritual. We've had a firm belief in God, and who was a better servant than Jesus? Who helped the poor? Who served? He did. Along the way, I've had stuff happen [divorce of parents; living with extended relatives; suicide of his brother when they were teens] and I could have given up. I could have taken that as my assignment in life. But many people – like my old pastor, Brother Bob Muncy; my in-laws; my wife of 30 years, Angie – and everything that's happened make me who I am and how I lead.
… his goals.
We don't want to look to the almighty government or tribe. We need to make our own way. We need to continue to grow our economy and increase jobs for tribal members. We need to expand college education and vocational training. Our Choctaw University trains younger tribal employees to become leaders, who will sustain our tribe and keep it strong. Internally, I promote the bottom-up leadership, which is opposite of much of popular, modern culture. That mindset will take at least a generation to change. Externally, I empower people by giving them opportunities, not entitlements.