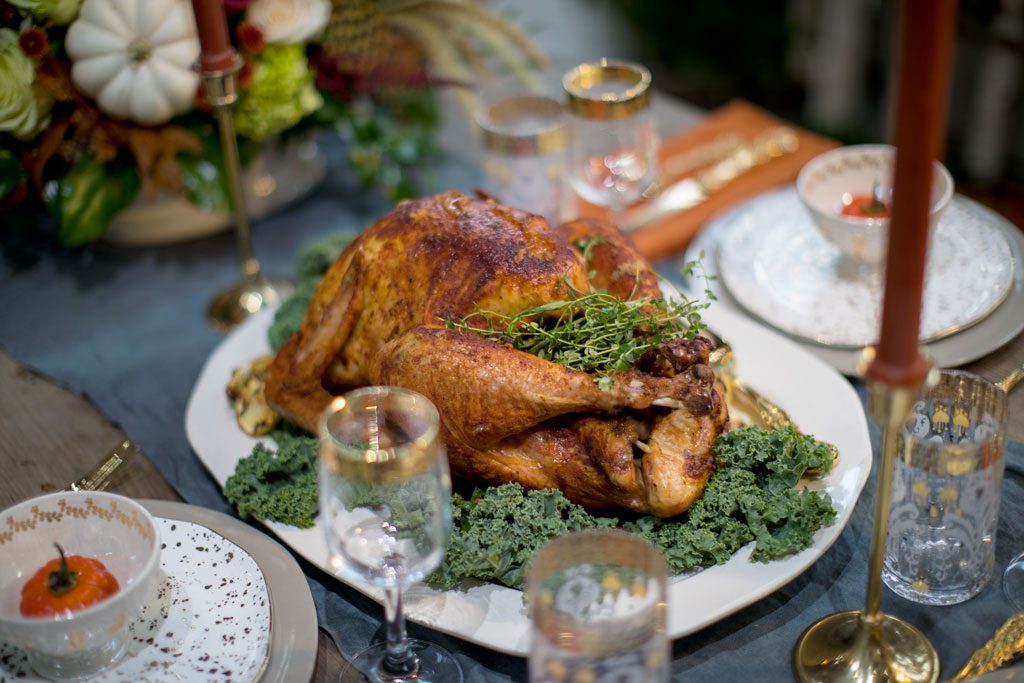 The turkey remains the symbolic (and literal) focal point of a Thanksgiving meal, but cardboard plates and plastic cutlery can take away from the overall ambiance. This year, try something a bit more nuanced with help from Olivia Lee at Ted and Debbie's Flower Garden.
"In this table setting [pictured above], I incorporated old with new, modern with traditional and natural elements with elegant," she says.
Included in the setting are vintage rimmed wine glasses – heirlooms from Lee's family – linen napkins, gold flatware and white-and-gold speckled Mimira hand-painted dinnerware. With subtle fall tones, the beauty of nature is brought to the table.
Florals also enhance the festive mood and continue the color scheme.
"Our designer, Steve Baugette, designed the floral center piece to reflect the elegance of a dinner table but the warmth and nostalgia of the harvest," Lee says. Baugette incorporated brick red roses, Virginia cream roses, mini green hydrangeas, seasonal grasses and a bevy of other flora for a laid-back yet crisp vibe.
So, while the turkey's cooking, take some time to curate an elegant atmosphere this Thanksgiving – making the table as beautiful as the food.