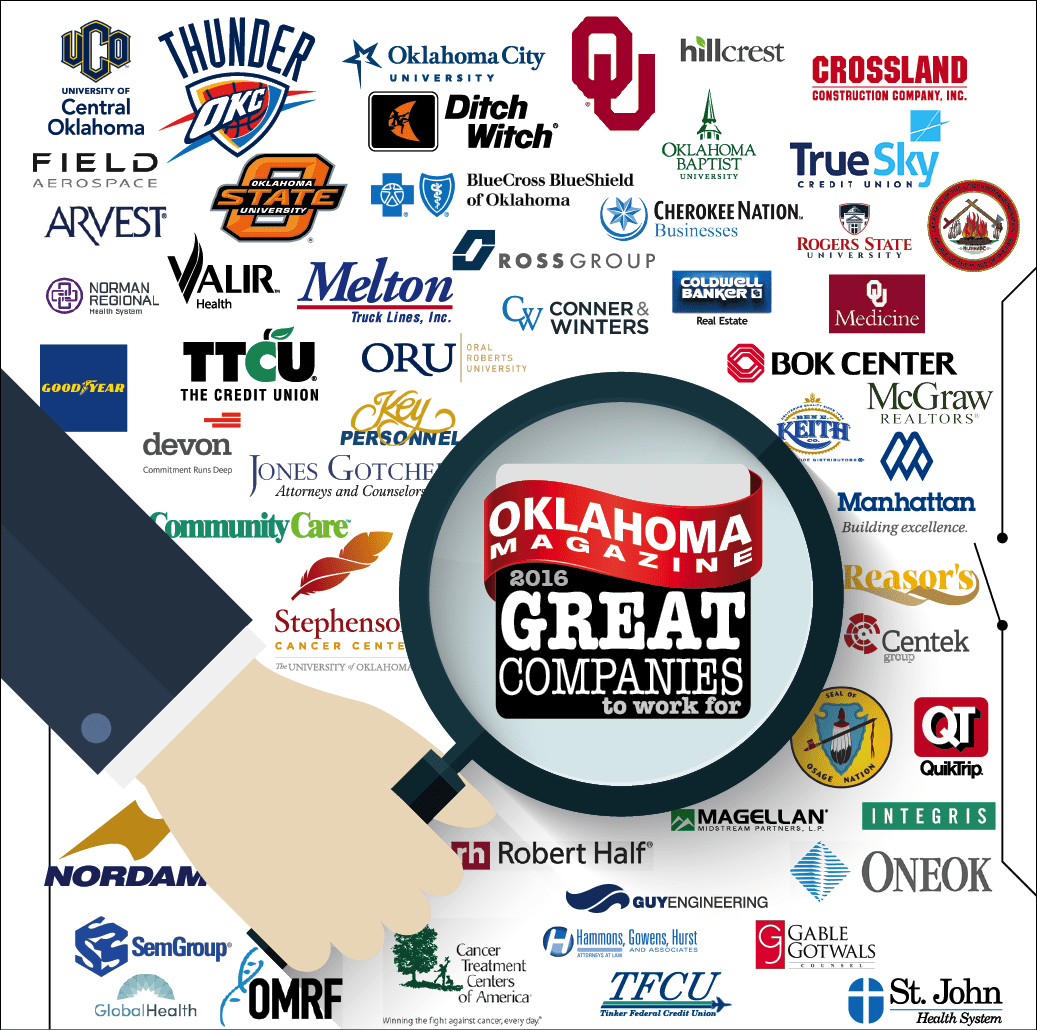 [dropcap]Empowerment[/dropcap] is an operative keyword in education, traditional business, government and non-profits. This year's Great Companies to Work For, Oklahoma Magazine's annual unranked sampling, embody this trend. Workers at these companies and institutions are made to feel that they can make a difference.
For instance, Chief Gary Batton of the Choctaw Nation half-jokingly wants to put himself out of a job by doing as much as he personally can to help every one of the Nation's employees and members. "I'm trying to flip the model to where I'm at the bottom, not the top, so that I can support and empower them," he says.
SemGroup, a midstream energy company, "fosters a culture that empowers our employees through many different projects," says Kay Kittleman, the company's senior director of human resources. "Many people wear many different hats and that helps them grow in their own skill set. They get involved in more projects."
Empowerment also takes the form of managers checking themselves on what works best with employees, not the other way around.
"Most people leave a job because of the bosses, not the organization, so we want to improve our managers by challenging one another," Batton says.
At most great companies, employee feedback is taken seriously. Kittleman says SemGroup has "no boundaries and that permeates the whole culture. We want to see where we have gaps because we're not perfect."
This year's broad survey of Great Companies to Work For tries to reflect these qualities.
Aerospace
Field Aerospace
Oklahoma City www.fieldaero.com
Field Aerospace, formerly ARInc., prides itself on being America's literal wingman because of its diversity of service: aircraft specializations and modifications, fleet maintenance, life cycle upgrades, technology integration, and military or Federal Aviation Administration certifications. The roots of the company go back 65 years to Oshawa, Ontario, then a small town just outside Greater Toronto. Field Aviation provided maintenance support to aircraft operators performing survey and mapping operations over Canada's vast territories. Field also converted military aircraft into planes for civilian roles. Now, Field Aerospace supports the KC-10 Extender, the KC-135 Stratotanker and the C-130 Hercules military transports.
NORDAM
Tulsa www.nordam.com
NORDAM, founded in 1969 by Ray and Milann Siegfried, has always had a dynamic vision and passion for treating each of its 2,500 employees with respect and care … and a healthy dose of fun in the workplace. Bluegrass concerts and costume parties work their way into the NORDAM routine. NORDAM, specializing in manufacturing and repair, is one of the largest independent aerospace companies in the world. "Family-owned and operated, we rely on the innovation and entrepreneurial spirit of our employees … to remain at the forefront of the aerospace industry," one official writes. "Our people come first, always." NORDAM University allows workers to take instructor-led courses, online learning, self study or classes formed with external organizations (such as colleges and technical centers). The Ray Siegfried Leadership Academy develops those employees who "upend the pyramid and run to great purpose," according to the company.
Banking and Finance
Arvest
Throughout Oklahoma www.arvest.com
Since entering the Oklahoma market in 1987 with a 50 percent purchase of Security National Bank of Norman, Arvest has had multifold growth and serves 26 cities and towns in the Sooner State. Arvest employees participate in much of the company's charity work for communities and schools.
Bank 2
Oklahoma City www.bank2online.com
After the Chickasaw Nation bought it in 2002, Bank 2 has turned into one of the most successful minority-owned financial institutions in the United States. Bank 2 holds the most mortgages for Native Americans in Oklahoma and is one of the leading lenders throughout the country. With assets of more than $100 million, Bank 2 is regularly cited as one of the top Native American-owned businesses in North America.
Bank of Oklahoma/BOK Financial Corp.
Tulsa www.bokf.com
With nearly 3,000 employees across the state, Bank of Oklahoma remains a top employer each year. Founded in 1908 as the National Bank of Tulsa, the bank is the largest holding of BOK Financial Corp., with 4,715 employees and chaired by businessman and philanthropist George Kaiser. Bank of Oklahoma's vision "is to be recognized as the top performing, highest quality, most reputable financial institution … in the Oklahoma markets," according to CEO and President Steve Bradshaw. According to a BOK Financial official, the company "values an environment where each employee's unique gifts and differences are recognized, respected and utilized. We believe that each person connects to our purpose, values, and competencies, and through that connection individual contributions directly impact the success of our organization. Our focus on a highly engaged workforce allows us to attract and retain the finest talent in the industry."
First Fidelity Bank
Oklahoma City www.ffb.com
First Fidelity might add another alliterative word to its title: family. The bank is owned by chairman Bill Cameron, his sister Lynda Cameron, CEO and President Lee Symcox and his wife, Executive Vice President Suzanne Symcox. They are quick to demonstrate that their 400 workers comprise the First Fidelity Family, fostering a loyal workplace. And just as family members address each other in familiar terms, First Fidelity employees are committed to learning all their clients' first names.
MidFirst Bank
Oklahoma City www.midfirst.com
MidFirst, which also has a large presence in Tulsa, is one of the largest privately owned banks in the country; employees have a close loyalty to the company and its customers, not to shareholders. MidFirst is also committed to environmentally friendly practices, from energy management systems in all new construction projects to recycling and landscape initiatives at all facilities. For instance, drought-resistant plants and trees adorn Arizona branches to conserve water.
Tinker Federal Credit Union
Oklahoma City www.tinkerfcu.org
With 332,000 members and more than $3.5 billion in assets, Tinker is the largest credit union in the state. That's quite different from 1946, when a small group of Tinker Field (now Tinker Air Force Base) workers pooled their resources to begin a non-profit employee credit union. Workers at Vance Air Force Base in Enid joined the team in 1967, and more than 700 central Oklahoma companies have followed.
True Sky Credit Union
Oklahoma City www.faaecu.org
True Sky's history is not grounded; it has always symbolized workers associated with flying and aviation, ever since eight Civil Aeronautics Administration members began the credit union in 1947. The financial institution changed its name to the FAA Credit Union in the 1950s, when the Federal Aviation Agency emerged. That lasted until this year, when the name switched to True Sky. What has remained the same through nearly 70 years of operation is its mission: providing high quality service to empower members and enrich their lives. True Sky has 140 full-time employees.
Tulsa Federal Credit Union
Tulsa www.tulsafederalcu.org
With just 178 employees, Tulsa Federal packs a financial punch in managing more than 60,000 members and $650 million in assets. Workers feel valued by the credit union because, as one officials writes, "We live by the mantra that our members' experience will never exceed our employees' experience. As a result, we celebrate a strong, talented and member focused workforce. We focus on hiring a diverse workforce that reflects many viewpoints and schools of thought. In this way, we foster diversity and inclusion in an effort to make the best decisions for both our employees and our members. We provide ongoing training and development both in the classroom and on the job. We know employees are our best ambassadors."
TTCU, The Credit Union
Tulsa www.ttcu.com
A cigar box. A teacher's righthand desk drawer. The old Central High School. Those are the essential elements of TTCU's origin story. Linnie Wilson, a bookkeeping teacher at Central, kept track of those early assets of $1,600 in 1934. Within three years, the membership swelled to 400 members … and Miss Wilson found herself working in a new office building and in a new profession: the credit union. Originally, the loans were for teachers to buy suits and dresses for the classroom; now, with 120,000 members and assets of more than $1.6 billion, the loans are much larger. But the mission of serving teachers remains the same.
Construction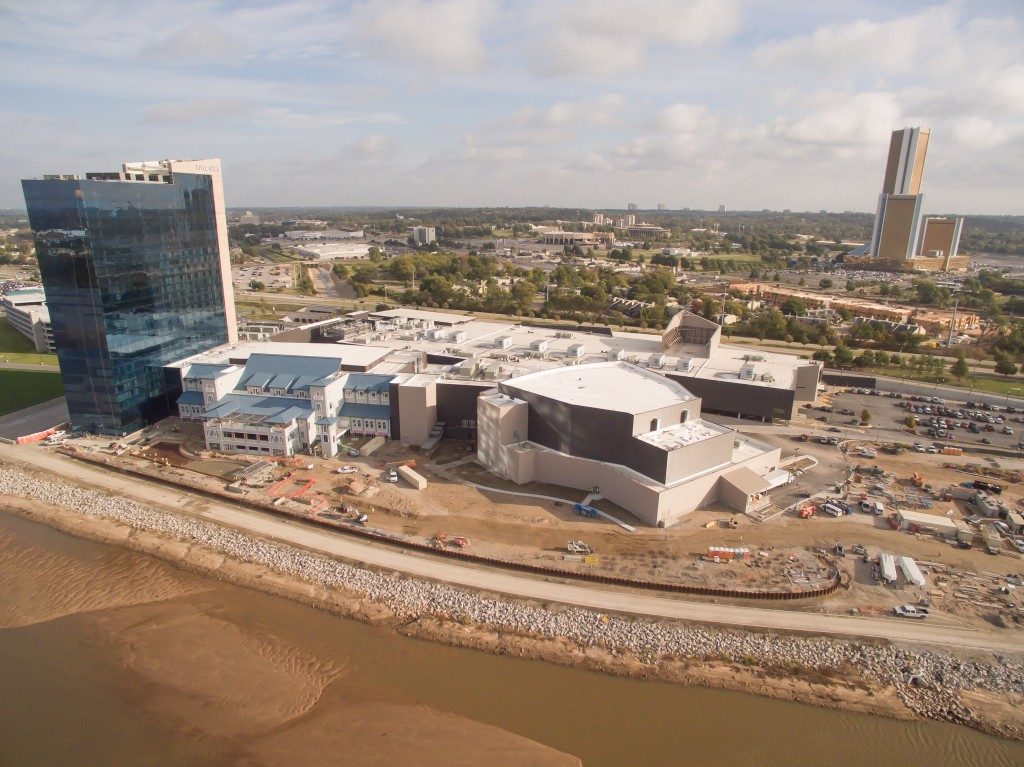 Crossland Construction
Oklahoma City and Tulsa www.crossland.com
This company has its own in-house training and educational department known as the Crossland Academy. In addition to professional development and leadership opportunities, employees can earn nationally accredited certifications. A Crossland official writes: "Employee success is both pursued and celebrated. [E]very employee find[s] a perfect place within the organization, even if the journey to that position requires an unconventional path. The Crossland Academy trains and retains each of us through innovative, on-the-job training programs, internships, registered apprenticeships, mentoring and individual learning plans. Our leadership devotes considerable resources to the skill development and lifelong learning of our team members." The Crossland Academy, the company's family atmosphere, defined career opportunities, competitive pay and benefits, and Crossland's steady growth in the industry are the anchor reasons for 990 workers buying into the company's goals. "Whether it's a field engineer in a hard hat or an accountant at our corporate office or a Crossland brother in a boardroom, our goal is singular, regardless of the project – to be the very best at what we do," says the company official, adding that Crossland's "niche in the construction community is providing project owners and architects the highest levels of personal service and involvement, exceptional quality, and the best project value. We are also one of the top contractors in steel erection and concrete structures."
Flintco
Tulsa www.flintco.com
As Flintco approaches its centenary in 2018, its 550 workers retain qualities from the company's founding: taking pride in one's work and exuding a spirit of service. Employees take the personal approach to each project by focusing on client goals, understanding individual markets and maximizing resources to their fullest extent. The byproduct is, on average, a remarkable 15-year tenure for each employee. Flintco's ethic is "My training is never done," so the Arrowhead Academy fulfills a company promise to workers that they can continue developing as professionals. Leadership management, safety, finance, programming and communication are among the courses offered by the academy. "By investing in training, we empower our people to tailor their own career growth," an official writes.
Manhattan Construction Co.
Tulsa www.manhattanconstructiongroup.com
Not many companies can boast having a 52-year employee, but 120-year-old Manhattan, one of Oklahoma's oldest, can. A company official writes: "When Laurence H. Rooney founded Manhattan Construction Co. in 1896, he built his business and reputation on trustworthiness and dependability. These timeless values have enabled Manhattan to become one of the most respected construction firms in the nation. In the last three years, Manhattan has received more than 50 industry honors for quality and safety. The company works in the U.S., Mexico, Central America and the Caribbean. Manhattan is a family of builders committed to the development of teams who do the right thing for our projects, our clients, and each other." Manhattan's nearly 500 full-time workers can receive tuition reimbursement, performance-based bonuses and rewards for employee referrals. The result is an average worker tenure of eight years, a solid number in the sometimes volatile construction industry.
Ross Group
Tulsa www.withrossgroup.com
Ross Group's 225 full-time employees create a top-notch team environment, according to a company official. Of the workplace culture, another Ross Group official says: "We're a roll-up-our-sleeves and get-it-done kind of place. Collaborative. Transparent. And darn proud of the great work our clients have allowed us to do. It all boils down to the fact that companies don't build projects. People do. And we've made sure we hire and partner with some of the best, most experienced, most passionate people in the industry. Enough said."
Energy
Best Well Services
Tulsa www.bestwell.com
The roustabout, the heart and soul of any oil and natural gas company, knows exactly what has to happen at the energy source. Fittingly, Best Well, founded in 2007 by four guys with two trucks, maintains the common sense approach of roustabouts. The company creates a leadership environment for all of its workers so they can engage fully with their families and communities; this training allows employees to succeed in areas outside the company, too.
Continental Resources
Oklahoma City www.contres.com
New workers are thrown right into the mix at Continental and fully expected to bring their new ideas to the fore. Continental works closely with colleges and universities with petroleum engineering, geology and related majors to recruit employees. This approach reflects the philosophy of chairman and CEO Harold Hamm, who has directed Continental since its founding in 1967.
Devon Energy
Oklahoma City www.devonenergy.com
Devon's guiding principles for an employee are: always do what's right; deliver results; be a team player; and be a good neighbor. The result is a culture of achievement that has garnered frequent industry awards since Devon began in 1971. Devon also contributes resources to science, technology, engineering and math programs in schools because it sees the economic growth and prosperity associated with those fields. Central to that mission is the Devon Science Giants program, which provides strategic, inventive, hands-on curricula to STEM teachers.
EOG Resources
Oklahoma City www.eogresources.com
EOG stands for energy, opportunity and growth, which comprise the company's vision for employees. EOG's decentralized corporate structure encourages collaboration and many cross-functional teams of scientists and engineers. Employees have open lines of communication with everyone, especially face-to-face conversations. This participatory approach encourages workers to propose innovative ideas that will be heard, analyzed and acted on.
Magellan Midstream Partners
Tulsa www.magellanlp.com
More than half of Magellan's employees work in operations and production. The average tenure for all workers is 12 years, 17 years for managers and supervisors, and 20 for directors. Safety, efficiency, honesty and responsibility are at the core of this spinoff from the Williams Companies, especially when it comes to workers. Magellan, which owns the longest refined petroleum products pipeline system in the country, can tap into nearly 50 percent of the nation's refining capacity.
OGE Energy
Oklahoma City www.oge.com
OGE, founded in 1902, places a premium on employees demonstrating teamwork, integrity and public service. Many of OGE's 2,500 workers fully participate in company programs such as Lend-a-Hand and Cool Zones to give back to the community. OGE also has partnerships with many schools through its Teacher Grant Program, Fourth Grade Electrical Safety Program, Prairie Project and Positive Tomorrows.
Oilfield Pipe and Supply
Dewey www.oilfieldpipe.com
This quiet company, with 155 full-time employees, is modestly one of Dewey's largest employers as it supplies any pipe needed in the energy industry, from steel casing to coil form. It's been fabricating large steel-rolled and welded pipe since 1986.
ONEOK
Tulsa www.oneok.com
Originally an intrastate natural gas pipeline company, ONEOK is one of the nation's premier energy companies. Its 2,380 full-time employees "strive to better not only their company but also the communities in which they live," a ONEOK official writes. ONEOK recognizes that its success in the future depends upon embracing the unique perspectives of a diverse entry-level pool. ONEOK hires from universities, technical schools and other venues to create a comprehensive, inclusion strategy for business and employee relations. ONEOK assists employees with professional development to advance their careers.
SemGroup
Tulsa www.semgroupcorp.com
The 1,100 full-time employees at SemGroup arrive everyday to an inviting, inclusive, team-oriented workplace. Workers stay on an average of five years and many have decades of experience in the energy industry. SemGroup grants performance-based bonuses, matches employees' charitable contributions, has tuition reimbursement, offers discount stock purchases and reimburses those with gym memberships. Workers may submit feedback, suggestions and complaints online. A SemGroup official writes that the company garners loyalty because of "our transparency and casual work environment."
Cardinal Engineering/Enviro Clean Cardinal
Oklahoma City www.cardinalengineers.com
Cardinal, a civil engineering powerhouse, provides transportation design, land planning, utility study and design, and site development. Corporate sibling Enviro Clean Cardinal is one of the most comprehensive environmental and civil engineering service firms along the Gulf Coast and throughout the Midwest. Enviro Clean has more than 150 employees with additional offices in Tulsa, Norman, Ada, Yukon and Woodward. Members of its executive team have, individually, decades of experience in their respective specialties, be it air-quality practices or hydrogeology.
Guy Engineering Services
Tulsa www.guyengr.com
Guy designs roads for the state of Oklahoma, its municipalities and all 77 counties. It also provides bridge inspections, surveying and mapping services. The work is serious because of its importance to having safe thoroughfares, but Guy's 35 full-time employees work in a joyous atmosphere. Milestones of any kind – birthdays, new babies, weddings – are celebrated. An impromptu visit from a snow cone truck is the norm. The management team understands that life happens, so flexible shifts are part of the company's work fabric. "We follow a Great Game of Business models, which reinforces our pride and sense of ownership in the company," one Guy official writes. "All employees come to the Friday weekly huddles, where we review and forecast financial date and celebrate successes. It is the best place I have ever worked."
Food Industry
Bama (Pies) Companies
Tulsa www.bama.com
In Dallas, during the Great Depression, Henry Marshall made ends meet by selling mouthwatering pies baked by his wife, Cornelia Alabama Marshall, known as Grandma Bama. When their son, Paul, married and moved to Tulsa, he began a branch of the family business that eventually evolved into the giant pie-production plant on Route 66 near the University of Tulsa. Paul Marshall, the CEO and president from 1937 to 1984, says, "Although the product of our company is pie, our story is people, common people who became uncommon as they hacked out a path to success." This company's devotion to its 1,000 employees continues many years later. An official writes: "We often say around the office that our founders embody the American Dream. What they accomplished is evidenced in our unyielding dedication to our employees and to our products." Workers provide quarterly feedback to current CEO Paula Marshall; the consistent reasons why they like working at Bama are the benefits (including an on-site fitness center), health and wellness programs, job satisfaction, professional development and growth, environment and sense of teamwork.
Ben E. Keith Foods
Edmond www.benekeith.com/food/locations/oklahoma
Ben E. Keith Foods, based in Fort Worth, Texas, was introduced to Oklahoma in December 1983 with the purchase of Johnston Fruit Co. Three years later, the Collin-Dietz-Morris Co. was acquired; both companies, under the Ben E. Keith banner, started to grow the Oklahoma facility. The Oklahoma division, which also serves Kansas, Missouri and Arkansas, moved from its original distribution center in Oklahoma City to a state-of-the-art facility in Edmond in January 2006. It totals over 355,000 square feet on 88 acres with room for expansion. The warehouse contains 44 dock doors with products stored in eight different temperature zones. The Oklahoma division has more than 460 employees and includes an inventory of over 15,000 items.
Central Liquor Co.
Oklahoma City www.centralliquor.com
Central Liquor, founded nearly 60 years ago by Zeak Naifeh with 20 employees, operated out of a 13,000-square-foot warehouse. Today, third generation Naifeh partners own and operate a 238,000-square-foot facility with 200 employees. As the largest liquor wholesaler in Oklahoma, Central Liquor stocks some 9,000 lines of wines and spirits, and sells to around 500 liquor stores and 1,100 clubs across nearly every county in Oklahoma.
Reasor's Foods
Tahlequah www.reasors.com
This Northeastern Oklahoma grocery chain, employee-owned since 2007, continues its remarkable growth; it has 19 stores, one convenience store and nearly 3,000 workers. Larry Reasor began the first store in Tahlequah in 1967 and son Jeff is the chairman and CEO, but they both are known for their hands-on leadership and empowering their employees. This commitment to workers, via leadership programs, diversity initiatives and other professional development, is reflected in the first-class service that one receives at Reasor's.
Health Care
Alliance Health Deaconess Hospital
Oklahoma City www.alliancehealthdeaconess.com
Founded in 1900 as the Home of Redeeming Love to help unwed mothers, Deaconess still runs its Open Arms Free Clinic to provide basic medical care for those who do not have physicians. In 2015, it combined with nine Community Health System hospitals to form AllianceHealth Oklahoma.
Cancer Treatment Centers of America-Southwestern Region
Tulsa www.cancercenter.com/southwestern
The Tulsa campus of Cancer Treatment Centers of America is big on numbers and how every member of the entire operation works together to achieve the best possible outcomes for patients. This workplace boasts a 97.6 overall hospital rating (on a 0-100 scale) and a 97.2 rating for patients being satisfied with their doctors or surgeons. In addition, 85.3 percent of patients in the Tulsa hospital report that they are informed about what to do upon discharge, 73.7 percent of patients say they always receive help as soon as they want it, 85.7 percent report that their doctors always communicate well, 71.89 percent say that their pain is always controlled, and 74.2 percent report that staff members always explain medicines and their side effects before dispensing them. The statistics come from patient surveys that provide important feedback to the hospital.
Cordell Memorial Hospital
Cordell www.cordellmemorialhospital.com
The challenges that rural hospitals face are immense, given dwindling populations and resources. Commitment to and by employees is critical, and that is found at Cordell Memorial. The number of full-time employees is small (51), but their impact is large in western Oklahoma. The hospital has a 50-percent retirement match and pays for any health-care needs when employees get medical attention there.
Hillcrest HealthCare System
Tulsa www.hillcrest.com
Hillcrest's emergency center has nationally recognized specialists, especially when it comes to identifying the tell-tale signs of stroke. Hillcrest is also the home of the Oklahoma Heart Institute, the region's largest hospital dedicated to the prevention, diagnosis and treatment of heart disease. The Peggy V. Helmerich Women's Health Center at Hillcrest has specialists in gynecological oncology, uro-gynecology, reproductive endocrinology, perinatology, neonatology, osteoporosis and breast surgery.
INTEGRIS Health
Oklahoma City www.integrisok.com
The values of INTEGRIS (three L's – Love, Learn and Lead) permeate the 7,738 full-time employees themselves. The average tenure for an INTEGRIS worker is eight years, a solid number in health care, which often sees a much higher turnover rate. In addition to on-site child care, other significant employee benefits include adoption assistance and tuition reimbursement. In employee surveys, INTEGRIS employees praise their workplace. "It feels like a family," one says. The primary foci are on patients, their experiences at Integris, and clinical excellence. Workers also spearhead much community service, from programs and services for seniors to summer camps for youth.
Mercy Hospital
Oklahoma City www.mercy.net
What began as an 1884 journey by five Sisters of Mercy into Indian Territory to open St. Mary's Academy in Konawa has eventually become a renowned medical center that features the Coletta Building, a cutting-edge center for cancer detection and treatment. The Sisters bought Oklahoma City General Hospital in 1947 and quickly turned it into a top-rated facility; Mercy performed Oklahoma's first open-heart surgery in 1960. Mercy has a record of being on the forefront of medical innovation; for instance, it was one of the first hospitals to have a comprehensive, integrated electronic health records system. Mercy has also received numerous national awards for its prevention and treatment of strokes.
Norman Regional Hospital
Norman www.normanregional.com
Norman Regional has grown enormously in the past decade, but it has always maintained its mission of serving the immediate community. The hospital was founded on that premise in 1946, when it provided Norman with a hospital for the first time in three years after American Legion Memorial closed during World War II. Fast forward 70 years and Norman Regional's HealthPlex received a 2016 Women's Choice Award as one of the country's best hospitals for heart care. "Norman Regional's team prides themselves on providing expert care to our community. We offer nationally recognized care, right here in Norman, Oklahoma," says David Whitaker, Norman Regional president and CEO. "Being honored … proves the dedication and expertise of our physicians, nurses, therapists and entire team."
OU Physicians
Oklahoma City www.oumedicine.com/ou-physicians
This physicians' group, the state's largest, comprises nearly every adult and child specialty. Of the consortium's 660 doctors, about 175 are called OU Children's Physicians, the majority of whom have board certifications in their specialties. In addition to seeing patients at the OU Health Sciences Center in Oklahoma City, OU Physicians have offices in Tulsa, Edmond and other cites in the state. Many OU Physicians also serve as faculty at the OU College of Medicine.
Oklahoma Medical Research Foundation
Oklahoma City omrf.org
Founded in 1946, OMRF has strived for decades to understand and develop treatments for heart disease, cancer, lupus and Alzheimer's disease with the goal of helping Oklahomans have longer, healthier lives.
Oklahoma State University Medical Center
Tulsa www.osumc.net
As the nation's largest osteopathic teaching facility, OSU Medical Center has 11 residency programs, 150 residents and nine fellowship programs. The medical center works with nurses and other staff members when special circumstances arise. One testimonial, according to a medical center official, cites a nurse who needed to work a shift opposite of her husband. She writes: "Since I've been here, I've got my 'work family.' I never dread going to work. That's what keeps me at OSU." A dietician adds, "I appreciate that OSUMC provides different tools for co-workers to utilize in order to achieve our purpose: exceptional health care, every patient, every time."
Saint Francis Health System
Tulsa www.saintfrancis.com
From the tiniest premature babies to those needing end-of-life care options, the physicians and staff at Saint Francis treat each patient with dignity and integrity. Saint Francis Health System fully integrates its doctors to provide a complete continuum of care. The philosophy of Saint Francis is that health care is a fundamental human right, so everyone serves the region to shape public policy that will address the root causes of illness and suffering. The goal is to see that these problems are addressed and eradicated by developing programs that help those most vulnerable in society: the poor, the alienated and the aged.
St. Anthony Hospital
Oklahoma City www.saintsok.com
Setting out from Maryville, Missouri, in 1898, two members of the Sisters of St. Francis order came to Oklahoma City to find donors to their hometown hospital in the Show Me state. Instead, they wound up raising money to open the first hospital in the recently established Oklahoma Territory. St. Anthony opened Aug. 1 of that year with 12 beds. The hospital, with its $220 million expansion and renovation in 2003, has acted as a vital cog in the development of Midtown; its education center, cardiac emergency department, revamped Center for Behavioral Medicine and other new projects have brought increased commerce in that area of Oklahoma City.
St. John Health System
Tulsa www.stjohnhealthsystem.com
St. John turned 90 years old in 2016. In 2017, it will mark 100 years since the Sisters of the Sorrowful Mother bought land for the 8.75-acre campus at 21st Street and Utica Avenue. St. John physicians and staff, numbering more than 5,800, are committed to holistic care and advocates for a compassionate, just society through actions and words. They are also united in their devotion to service for the poor; reverence, respect and compassion for the dignity and diversity of life; integrity; wisdom; creativity; and dedication.
Stephenson Cancer Center
Oklahoma City www.stephensoncancercenter.org
The University of Oklahoma's Stephenson Cancer Center has the ideal blend of patient care with innovative research. Everyone on staff buys into the comprehensive, multidisciplinary cancer care for patients in a coordinated, compassionate manner. At the same time, Stephenson digs new ground in the basic, translational, clinical, behavioral and populations-based sciences. As Oklahoma's only Phase I clinical trials program, Stephenson serves patients in all 77 counties.
Tulsa Clinical Research
Tulsa www.tulsaclinicalresearch.com
This tiny company, with 12 employees, has a decades-long footprint in Tulsa because of its clinical research studies for patients with neuro-psychiatric disorders, especially those with Alzheimer's disease and other memory issues. Workers have a hand in just about all parts of the operation: cutting-edge research; collaboration with pharmaceutical companies, universities and government agencies; and interactions with patients. Everyone onboard, in some way, contributes to the advancement of scientific medical knowledge to help future generations.
Valir Health
Oklahoma City www.valir.com
Valir creates an environment where its 370 full-time employees commit themselves daily to high ethical standards and doing what's right. From in- and out-patient physical rehabilitation to end-of-life care and hospice, Valir ensures that patients are treated in the right place, at the right time, with the right care. Workers are eligible for performance-based bonuses, an on-site fitness room, an employee assistance program, tuition reimbursement and relocation costs. As a result, the workplace is ethical, collaborative, engaged, compassionate and entrepreneurial.