The chill of an early fall night, the roar of the crowd, the thwack of bodies smashing into one another, all fighting to get their hands on a coveted piece of leather, to be the one to carry it across the goal line for six points. This is Oklahoma football.
For most Oklahoma high schoolers, summer break is a chance to catch up with friends, earn a little extra money at a part-time job and enjoy being a teenager.
For some, however, summertime is a time to work out, to practice drills, to improve their game.
More than 340 school districts in Oklahoma, representing 44 districts in eight class sizes, offer football as an extracurricular activity to its students. According to Van Shea Iven, director of media relations for the Oklahoma Secondary School Activities Association, around 16,500 students played football during the 2012-2013 season. From small, eight-man football teams to the largest, most respected and feared 6A squads, players take the field each week with the intention of pushing themselves further. For most, the ultimate reward will be a winning season, perhaps a district championship. A handful will win it all and receive state championship rings and the public's adoration for their efforts.
While plenty of Oklahoma students go on to play college football, there are a few talented players who are recruited by elite programs around the country. Ranked nationally by sports websites and watched by some of the country's most storied college football programs – think Alabama, Southern California, the University of Oklahoma – these players have the privilege of choosing their school and the squad they will suit up for.
Certainly Jalin Barnett of Lawton High School, Marquise Overton of Jenks High School, Will Sunderland Jr. of Midwest City High School and Josh Wariboko of Casady School look forward to successful senior years, but their ultimate reward is yet to come. High school senior year is not the end of football glory for these players; it's just the beginning.
Marquise Overton
Jenks High School
Defensive Tackle
Committed to the University of Oklahoma
★★★★ Recruit
Rivals.com Ranking: No. 186
What Jenks High School special teams coordinator and director of college recruiting Carl Johnson says: "The first thing you notice about Q is that he's physically dominating, and he plays that way. He plays hard every single play, and that's hard for some big guys. He loves the game, plays with passion and he will be integral to our success this season. OU is getting themselves a really good football player and a very good young man."
---
Josh Wariboko
Casady School
Offensive Lineman
Undeclared
★★★★ Recruit
ESPN 300 Ranking: No. 174
Rivals.com Ranking: No. 83
What he says: The expectations we have this year are very high. We have great coaches … We're expecting nothing less than a SPC (Southwest Preparatory Conference) title this year."
What Casady School Head Football Coach Koby Scoville says: "As a player, he is extra physical and tough. He's one of our better linemen we've had. He can take out one guy, and he's onto another … He's nice, caring and outgoing on and off the field, and he's rarely ever been arrogant. I don't think I've ever heard him talk back to a coach. He's always thankful."
---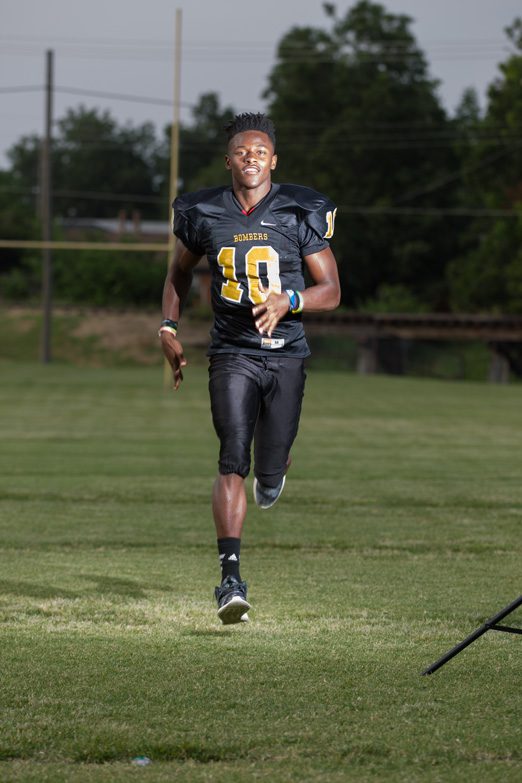 Will Sunderland Jr.
Midwest City High School
Safety
Undeclared
★★★★ Recruit
ESPN 300 Ranking: No. 220
Rivals.com Ranking: No. 136
What he says: "I love the game of football. I have passion for it. My family likes football, and I have family members who played college football. My goal is to go to college and finish four years in three and be the first one in my family to play in the NFL."
---
Jalin Barnett
Lawton High School
Right tackle
Undeclared
★★★★ Recruit
ESPN 300 Ranking: No. 43
Rivals.com Ranking: No. 122
What he says: "My work ethic is what makes me so good."
What Lawton High School football coach Randy Breeze says: "Obviously, Jalin's a very big man, but one of the things that makes him stand out [from other tackles around the country], he has the ability to pull, wrap around the center to the left, find a linebacker and knock a linebacker down.
He benches over 350 pounds. He wears a size 17 shoe, and he's still growing. He's also very humble. As good a football player as he is, he's even a better person off the field."