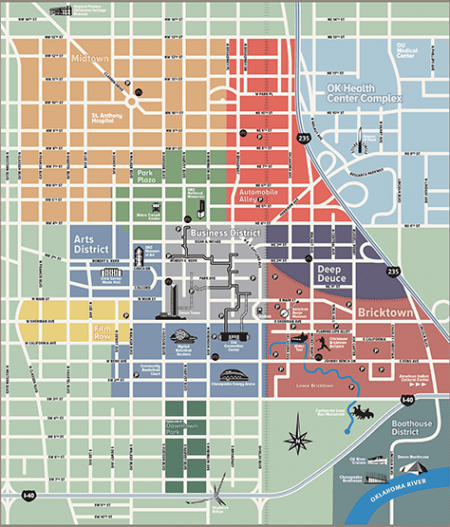 Not too long ago, neither the downtown streets of Oklahoma City nor those in Tulsa could be described as vibrant. Plagued by poor roads, vacant store fronts and some of the less savory elements of the populace, nobody viewing those bleak streetscapes of two decades ago could imagine them as they are today. Now, as new life is breathed into the hearts of Oklahoma's largest cities, the dreams of developers and residents alike are finally manifesting.
"The renaissance of downtown Oklahoma City is truly becoming evident, with now-established nodes of activity in districts like Midtown, Automobile Alley and the Arts District, not just Bricktown," says Ian Colgan, urban redevelopment division manager with the City of Oklahoma City Planning Department. "Urban neighborhoods like Deep Deuce are starting to gel, generating even more interest in downtown living. Investments made through MAPS (Metropolitan Area Projects program) and other sources are generating tangible economic development growth."
As examples of that growth, Colgan cites the OU Health Sciences Center, the recent addition of a major GE research facility, the renovation of the Journal Record Building, the planned renovation of the Fred Jones building into the 21c Hotel and Art Museum and Devon Energy Tower.
The skyline of Tulsa also has experienced a vivid reimagining. In 2003, Tulsa voters approved a sales-tax increase to pay for the future of their city and county, impacting everything from industry to infrastructure. A decade later, their actions are bearing fruit, and Vision 2025 projects have transformed the face of downtown Tulsa and other areas. A dizzying array of alterations, from the construction of the BOK Center arena to the installation of more parks, sidewalks and pedestrian lighting, have begun to lure both businesses and residents to the heart of the city. In addition, revitalization of historic areas, such as the Brady Arts District, is attracting a robust amount of tourist traffic as well as residents.
"The Vision 2025 projects have been very impactful to our entire city." says Tulsa Mayor Dewey Bartlett. "We have millions of dollars of investment going in downtown Tulsa today, and while it is not all a result of Vision 2025 projects, projects like the BOK Center certainly sparked an interest in downtown development that has continued to grow. As a matter of fact, Tulsa is one of the top 10 best music scenes in the country. We have always had a strong heritage of musical and artistic talent, but we are really getting recognized as a place to be.
"The BOK Center is a world-class arena with world-class shows, and you can't stop in Tulsa without catching a show at the Tulsa Performing Arts Center, Brady Theater or Cain's Ballroom," Bartlett says. "People are coming downtown for music, fun, food and to live in increased numbers."
And the transformations to Tulsa's downtown aren't set to stop any time soon. Just last fall, citizens passed yet another initiative targeted at major improvements in the downtown area. The Improve Our Tulsa package will dedicate nearly $25 million to further develop roadways, traffic signals and streetscapes downtown. Funds will also go to upgrading water and sewer lines, the development of residential housing downtown and the implementation of a bus rapid transit system that will be headquartered at the downtown Denver Avenue station.
"These enhancements will build on the previously funded public and private improvements that have helped lead to the revitalization of downtown," says Paul Zachary, engineering services director for the City of Tulsa.