OKLAHOMANS GET A LITTLE IRISH 
[dropcap]Gear[/dropcap] up in your favorite shade of green and get ready to celebrate St. Patrick's Day around the state.  Oklahoma City hosts their annual downtown St. Patrick's Day Parade on March 12.  Settle in with family and friends to watch Irish step dancers and listen to traditional Irish music.  Complete your St. Patrick's day in downtown Oklahoma City with the Bricktown St. Patrick's Day Block Party at the corner of Sheridan and Oklahoma Avenue.
If you plan to spend your time celebrating St. Patrick's Day in Tulsa, check out the 34th Annual St. Patrick's Day 5K Run through Brookside on March 12.  On the big day itself, be sure to pencil in a visit downtown for McNellies's St. Patrick's Day Celebration, Arnie's Bar's 60th Annual St. Patrick's Day Celebration and Woody's St. Patrick's Day Celebration with a few thousand of your closest friends.
If a quieter celebration is more up your alley, pack up the car and make a trip to Shamrock, located in Creek County.  Although there are no official holiday celebrations, visit the small town to get a glimpse of this former oil boomtown.
THE "LOVE" OF THE IRISH
While Ireland may seem a strange place to see a statue thanking a Native American tribe, the creation of the art is the result of an act of kindness more than 150 years ago.
The statue, which is on display in Bailic Park in the town of Middleton located in Ireland's County Cork, depicts nine 20-foot, stainless-steel eagle feathers. The statue thanks the Choctaw tribe for making a donation to help the country during the Great Irish Potato Famine of the 1840s.
Despite the oppression faced by the Choctaws in the recent years before the famine, they raised $170 to send to the starving Irish people – equivalent to close to $5,000 based on today's currency.
The Choctaws were one of the Five Civilized Tribes removed from their land and forced to complete a 500-mile trek to Oklahoma in the 1830s – the Trail of Tears. The Choctaws felt a connection with the Irish people because of this hardship.
The $111,000 compassionate work of art, titled "Kindred Spirits," was completed by Cork sculptor Alex Pentek last year.
SCREAMING LEPRECHAUN GREEN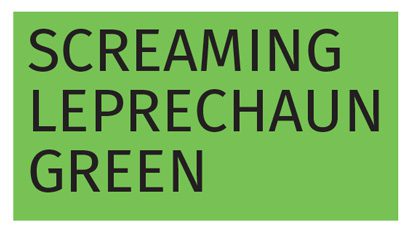 The color "Neon Slime Lime" has been deemed the 2016 "color to avoid" according to a global panel of designers. This obnoxious shade of fluorescent green was the landslide winner per Spoonflower.com – a custom fabric and wallpaper site. A panel of 270 fabric designers located in over 15 countries has named "Neon Slime" this year's color to shun for décor, design, fashion and anything else. Appropriately enough for this time of year, "Screaming Leprechaun Green" was one of the suggested names for the winning color. Unfortunately, it didn't make the cut – but it still remains a catchy title.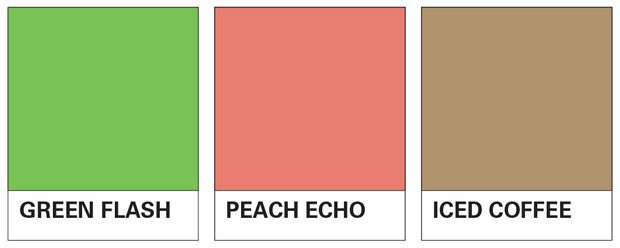 NEW COLORS FOR SPRING
In honor of spring, give your wardrobe a color refresh. The experts at Pantone have announced the newest colors for spring, including Green Flash – perfect for your St. Patrick's Day outfit. Other colors sure to make a hit range from Peach Echo and Buttercup to Iced Coffee.
LIMIT YOUR PATTY'S DAY CHEER
According to recently released recommendations, Britain's Chief Medical Officer has advised both men and women to limit their alcohol intake to 14 units per week – about six pints of beer or four large glasses of wine.  It was noted that even this amount of consumption still carries a low risk of liver disease or cancer. While some studies have noted that drinking red wine is good for the heart, British officials are saying that this only applies to women over age 55 – the greatest benefit coming from drinking no more than about two glasses a week. For more information, visit huffingtonpost.com.
SUN, SAND & SPRING BREAK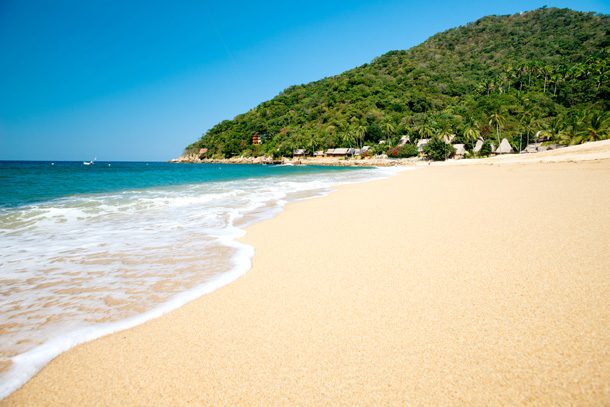 Tired of only dreaming of sun and sand?  U.S. News and World Report has shared their ideas for the best spring break destinations to help make those dreams a reality.   Miami Beach took the number one slot, followed by South Padre Island, Cancun, Puerto Vallarta and the Bahamas.  Rounding out the top 10 also include Jamaica, Puerto Rico, San Diego, Cabo San Lucas and Daytona Beach, Florida.