In a growing area in Oklahoma City sits a landmark, whose owners and staff greet its customers with consistency. Run by three generations and worked by four, Brown's Bakery has deep roots in Oklahoma City and in brother-and-sister-duo Brenda and William Brown's hearts.
"We were raised in the business," William says. "We've always been a part of it."
William has been involved with Brown's since he was 10 years old. He remembers a lot of kids following him home from school back then. The bakery was open until 6 p.m., and his grandparents were always there in the afternoon running the kitchen.
"They knew they'd get some donuts," he laughs.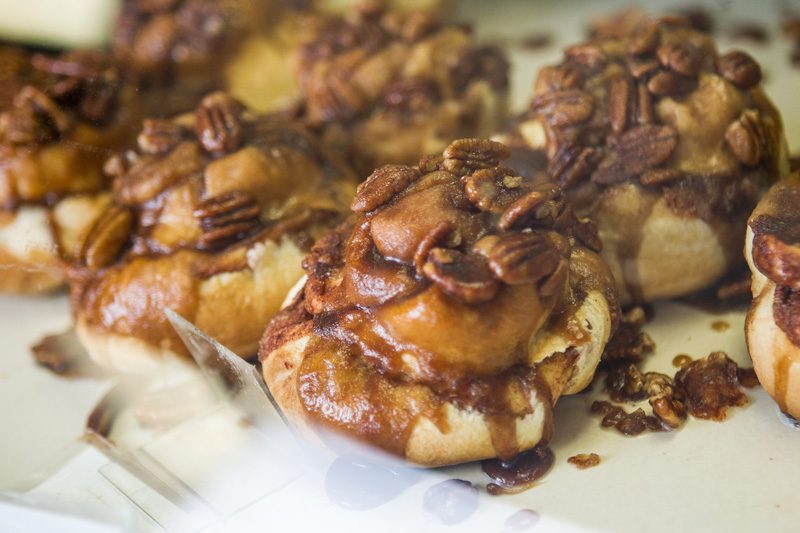 Brenda, current manager and cake decorator, also remembers good memories of Brown's Bakery as a child.
"We started working as soon as we could walk," she says. "We'd make the boxes. A penny a box."
Brenda moved to Texas at 21. She was gone for 30 years, but during holidays she and her sister would bring their kids up to make their own memories. Their grandfather would put the kids up on a bucket so they could reach the counter, and they would help him in the kitchen icing the donuts, she remembers.
William and Brenda's grandfather started Brown's Bakery in 1946. He had worked for a continental bakery, and when he was passed over for a foreman position, he left the company to start his own. Their dad, Bill, did a lot of the baking, and his brother, Bob, helped with delivery and sales. Brenda recalls her grandmother, Anna Fae, being a great saleswoman, too; she was frequently heard enticing customers walking by with, "Come taste what Mr. Brown made."
When the bakery moved the store to its current location in 1991, the Browns were afraid it wouldn't be as successful. Other than St. Anthony's Hospital and Kaiser's American Bistro, empty buildings, a liquor store and a convenience market were all that welcomed Brown's Bakery to the neighborhood. It wasn't a good area. Walking around at night wasn't safe. Still, the business grew, and it continued to get better as the area developed.
Next year will be Brown's 70th anniversary, and who knows how the bakery will celebrate. During the week of the 50th anniversary, Brown's offered its famous applesauce doughnuts priced as they would have been in 1946: 69 cents a dozen.
"We had made over 300 dozen," says Brenda. "They were gone before 10 o'clock [a.m.]."
Like she did for many holidays and big events, Brenda returned home from Texas for the 50th. Her most recent trip home, though, wasn't for such a celebration. Last year, Brenda came home to help take care of her ailing mom, and the family business kept her.
Now, Brenda works alongside her dad, Bill, her uncle, Bob, her younger brother, William, his son Chase and some other great staff members they've hired along the way. The girls decorate and the boys bake. That's how it's always been; Bill taught his wife how to decorate, and she taught Brenda and her sister.
Almost every morning between 6:30 and 9:30 a.m., a line forces the door ajar. Bill calls everyone out from the back, and they all help move the line through.
"Sometimes it's people getting one doughnut to eat right then or a couple dozen to take with them," says Brenda.
Brown's Bakery is a fun environment. Brenda and the rest of the staff welcome the noise of customers and their families.
"It's not a strict, professional kind of place," she says. "The sales girls have really good personalities. One lady just came in the other day asking about the cookies. [She said,] 'I didn't really come in to buy anything, just to talk to Ellen 'cause I'm feeling a little down.'"
You can believe she left with a smile and a cured sweet tooth. 1100 N. Walker Ave., Oklahoma City. 405.232.0363