The inspiration for The Half came to Bill Cameron one warm summer evening.
As he watched the sun set on Lake Hefner from the patio at Redrock Canyon Grill, the CEO and Chairman of the Board at Cameron Enterprises thought about the view outside his own office.
"Man," thought Cameron, "I'd sure like to have something like this for our office."
The concept began to crystallize as he talked to other executives and developer Randy Hogan of Hogan Property Company. They agreed it would be great to build out the area with entertainment, employment and housing options near the three ponds sparkling in the grassland outside the American Fidelity Assurance headquarters.
Today, The Half is a growing, 52-plus-acre development near Broadway Extension and Britton Road. The name reflects the location – about halfway between Edmond and Oklahoma City.
The project has already grown into a more than $120 million investment. And The Half is just about …. halfway complete.
"I hope we can tie a bow on it in five years," says Hogan.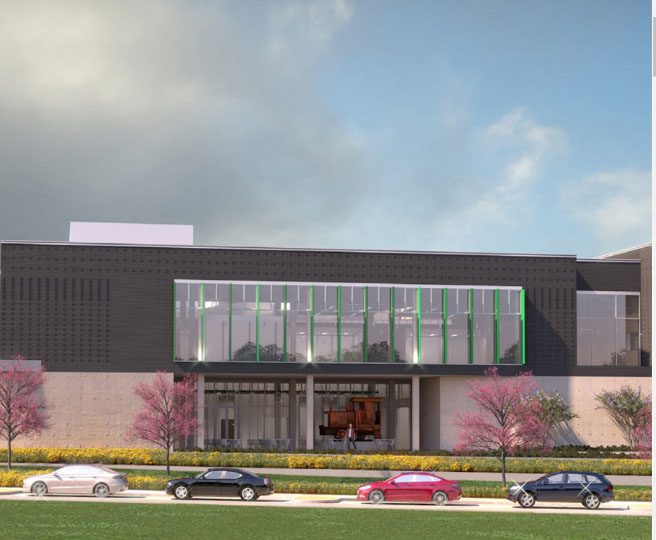 What to Expect
The newest development is a more than $65 million, 324-unit apartment complex planned for occupancy between the summer of 2023 and the following February. Work has just begun on the apartments that will look out on the east pond. The homes will be built around a structured garage.
"Very similar to what you'd see in downtown Oklahoma City and downtown Tulsa," says Hogan.
A 150-room boutique hotel may also move into The Half, says Rick Amon, American Fidelity's real estate development director. Several hotel developers and restaurateurs are talking to leaders about The Half, he says, "specifically because this is a destination location."
Developers say The Half's work, live and play concept is on fire.
"At this point, there's two very successful destination retailers in place, Chicken N Pickles and Flix Brewhouse," says Amon. "There's just such a sense of excitement and entertainment. You just want to be there."
Flix Brewhouse says its the world's only first-run cinema with a fully operating brewery. The nine-screen movie theater became the first destination retailer in late 2020. Flix, also located in eight other states, features comfy seats with small cinema-side tables where movie goers can enjoy flicks, food and hand-crafted brews.
"It's unique to our state for now," says Hogan. "They brew their beer on site."
The second destination retailer opened in January 2021. Chicken N Pickle is a local-farmer-focused restaurant with 10 courts for pickleball, a sport resembling tennis, badminton and ping pong.
Amon says he was amazed at his first Chicken N Pickle visit.
"Every court was filled," he says. "I saw people lined up and there's a whiteboard waiting list for all of these courts … I thought, I've never played but I have to figure it out."
Between the pickleball courts and the theater is One Core Health, offering specialties such as orthopedic surgery and sports medicine. This medical facility could be just the first of several, Hogan suggests, because other doctors have also expressed interest in The Half.
With The Half anchored to the north by the American Fidelity tower and Dolese's headquarters to the south, Cameron's vision is coming together.
"It's a great opportunity to help the community, as well as really ignite the site itself," says Amon. "The Half is truly going to be one of those destination locations for many, many years."