The line of cars started just beyond Tulsa's Garnett Road. It was a balmy Tuesday in early April, and Jeff Marlow couldn't figure out why one lane of East 31st Street was jammed with idling cars. Finally, driving his loaded truck past, Marlow realized that they were waiting in line for the meals he was bringing.
Hunger is no stranger in Oklahoma. Wherever you are in Tulsa, you can be sure that not so far away, someone is going to bed with an empty stomach.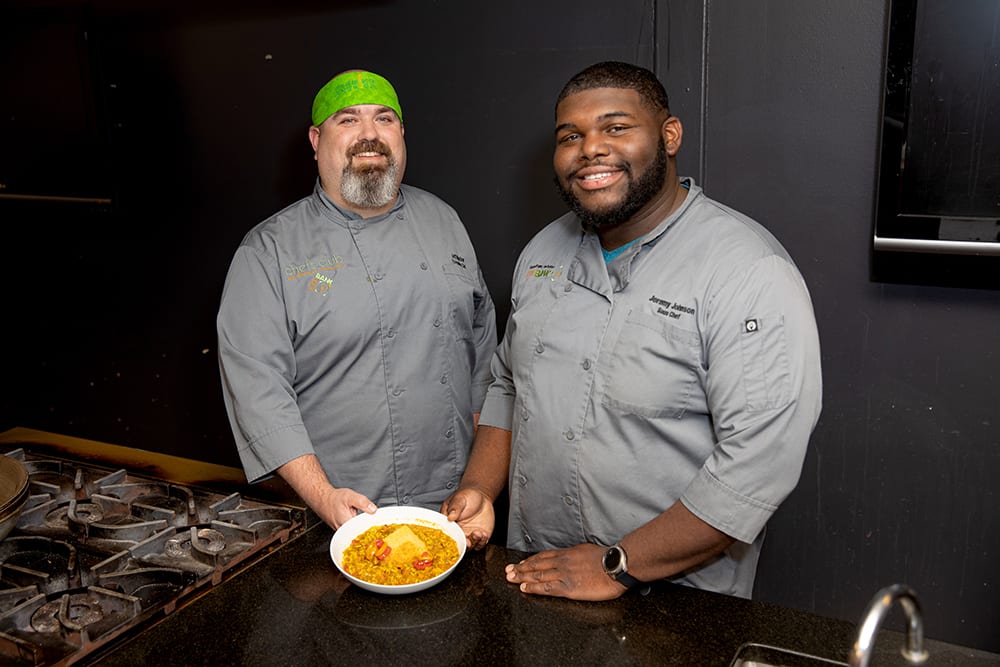 That's in normal times … and these are not-so-normal times. Marlow is the executive chef for the Community Food Bank of Eastern Oklahoma, and every week before the pandemic, the nonprofit provided almost half a million meals to those in need; that number is doubled now.
Marlow and his sous-chef, Jeremy Johnson, arrive at the food bank off Pine Street around 7:30 in the morning and, aided by three other workers, cook 2,000 meals each day. That's done by 4:30 p.m., and then partner agencies send trucks to distribute it. The bank partners with 350 different nonprofits, providing both cooked meals and raw produce.
"We're a Cysco for nonprofits," says Marlow. "We pick up donated food daily from all the big retailers – Walmart, Reasor's, Sprouts, Sam's."
After the meals are done, Marlow finds time to oversee Tulsa Kitchens United, a program started by Hunger Free Oklahoma soon after COVID-19 hit the region. Unemployed restaurant workers are paid to cook 30,000 meals a week in the kitchens of restaurants shut down by the pandemic. The workers are paid, the restaurants are paid, and hungry people get the meals. It's a win-win-win situation, and Marlow designs all the meals and rounds up the ingredients.
But it wasn't always this way for Marlow. A decade ago, he thought he'd spend his life plating elegant dinners at Tulsa's finest country clubs. First, he got a job as dishwasher at one such club. Later, he went through the culinary arts program at Oklahoma State University, then got a job at Southern Hills working alongside legendary Tulsa chef Devin Levine.
"Jeff is an amazing chef," says Levine. "I wanted him to remain on our culinary team, but I knew he was destined to be an executive chef on his own."
Levine was right – Marlow became just that at the Oaks Country Club in 2005. But in 2013, Marlow left that dream job and took a hefty salary cut to join the food bank.
"I've had some sweet, high paying job offers since then," says Marlow, "but I turn them down without a second's thought. I believe that we are each put on Earth for a purpose, and this is mine – to use my culinary talents to give back to the community.
"And besides, it's fun. Each morning, Jeremy and I come in and we see what food donations there are. Sometimes we make a traditional dish, but we have to tweak it, because all we have on hand are some very non-traditional ingredients. I call it foodbanking."
"We'd never serve what we wouldn't eat ourselves," seconds Johnson.
Marlow continues: "Too many disaster relief kitchens churn out the food like they're blending fuel for a car. But I never forget it's people we're serving – people who are down on their luck but who are otherwise just like me. They don't get to eat at fancy restaurants, so I try to bring fancy restaurant-quality food to them. If they suffer, we suffer, and when they smile, it lights up my world."
Deconstructed Cabbage Roll Soup
Ingredients:
1 can diced tomatoes
½ pound ground beef
½ pound Italian sausage
1 pound chopped green cabbage (about 5 cups)
5 cups beef stock
2 medium potatoes, medium diced
1 cup cooked rice
½ cup diced onions
½ cup diced carrots
1 tablespoon olive oil
1½ teaspoons salt
1 teaspoon dried oregano
1 teaspoon dried thyme
1 teaspoon turmeric
2 tablespoons fresh chopped parsley
Salt and pepper to taste
Instructions:
Heat a 6-quart pot or dutch oven over medium to medium-high heat. 
Add olive oil, ground beef and Italian sausage, cooking for a few minutes until browned.
Add potatoes, onions and carrots. Sauté for a 2 minutes, stirring frequently.
Add tomatoes (including the liquid in the can), cabbage, beef stock, oregano, turmeric, thyme, salt and pepper. Stir.
Bring to a simmer. Cover with a lid and decrease heat to maintain a simmer. 
Simmer for about 30 minutes or until cabbage is tender.
Uncover and stir. 
Add cooked rice and continue cooking for 2 minutes
Top with parsley and serve while hot.