Long before John Muir founded the Sierra Club in 1892, generations before modern doctors and psychologists extolled the benefits of hiking, urbane urbanite Ralph Waldo Emerson knew that nature provides a cure-all.
"In the presence of nature, a wild delight runs through the man, in spite of real sorrows. Nature says, 'He is my creature, and, maugre all his impertinent griefs, he shall be glad with me,'" the famous transcendentalist wrote in his 1836 essay "Nature."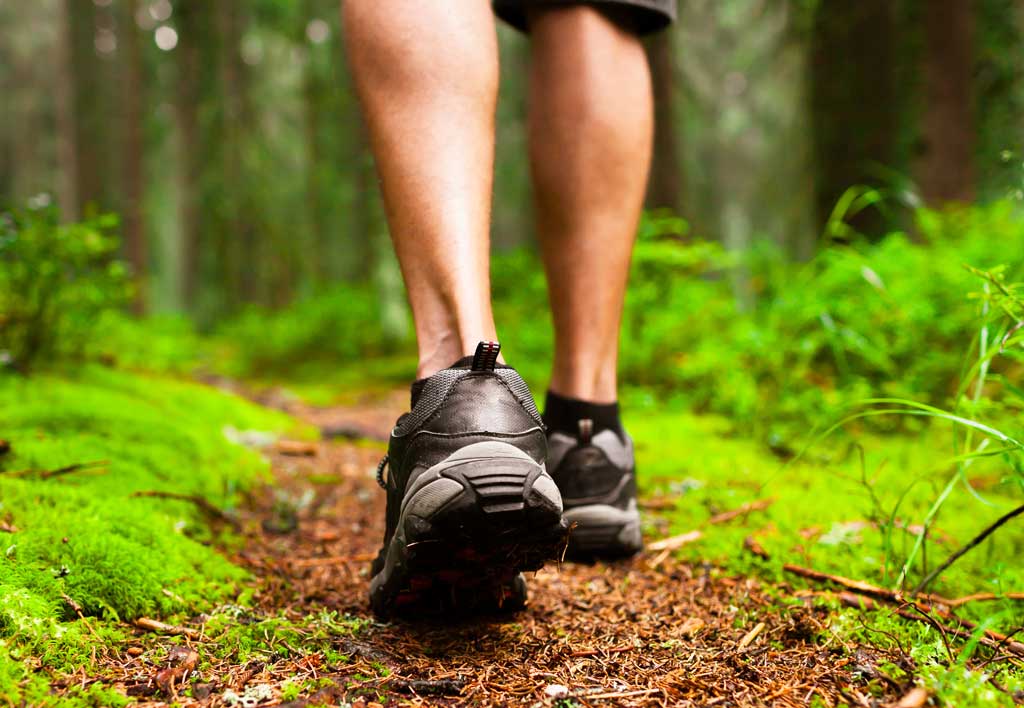 No matter one's age or fitness, hiking gets a person into nature, where, Emerson continues, "Man is conscious of a universal soul within or behind his individual life, wherein, as in a firmament, the natures of Justice, Truth, Love, Freedom, arise and shine."
Glen Brewington and Gaylon Cornsilk practice what they peddle when it comes to hiking. Both get away from their city lives and jobs as often as possible to explore nature.
"My passion is the outdoors," says Cornsilk, co-owner of Woodsman Trading Co. in The Village. "You put me in a bunch of trees and I'm in my happy place. I connect with the outdoors. It gives me a break from the noise and fast-paced society. It's good to unplug and have a techno detox."
Brewington, an 18-year employee at Backwoods in Tulsa, touts the health benefits of hiking. The 64-year-old says he did mild "touristy" walks as a kid, but he didn't get serious about the sport until much later.
"When I was 40 with high blood pressure and high cholesterol, my doctor said I needed to exercise," he says. "I remembered hiking at Red Bud Valley when I was in college and how fun and rigorous that was, so I started back up."
Brewington says he knew hiking would help him because his guide during those excursions was longtime University of Tulsa botany professor and outdoor enthusiast Harriet Barclay, "who was an older woman, but she would hop around like a kid while we students were huffing and puffing."
Many studies and institutions report that hiking improves physical and mental health.
"Hiking is a good way to improve your cardiovascular fitness, particularly if your route includes some hills, which will force your heart to work harder," Julie Corliss writes in the Harvard Heart Letter. "Hiking on the slightly uneven surface of a trail also provides a natural way to engage the core muscles in your torso and to hone your balance skills.
"Yet another advantage … may be the restorative and stress-relieving powers of being in nature. [S]tudies hint that spending time in green space – nature preserves, woodlands, and even urban parks – may ease … stress levels."
Brewington attests to that point.
"Hiking goes beyond the physical," he says. "It's nice to be in the wilderness and hear nature's sounds. You can also see life as pioneers saw it."
He describes getting off the Buffalo River Trail near Harrison, Arkansas, and finding homesteads and cemeteries nearly 200 years old, along with unexpected waterfalls.
Cornsilk concurs.
"We found a stream off-trail in the Ouachita National Forest [straddling Arkansas and Oklahoma] that was like a painting – it was so breathtaking," he says. "It's healing for the body and soul and spirit to be in that moment."
A Sport for Everyone
Anyone can hike. The key is knowing your limits and location, experts say.
Hiking trails in all states are found at websites such as traillink.com and hikingproject.com. Before you begin, understand the rigor and length of the trail and where you will start and end.
If you are out of shape, work your up way from simple, relatively flat and short trails, and certainly don't go off-trail. Glen Brewington at Backwoods in Tulsa leads hikes nearly every month that are under 6 miles. Most cities and all states have hiking clubs and meet-up groups that also bring in speakers.
Gaylon Cornsilk of Woodsman Trading Co. in The Village reminds that novice hikers should break in their shoes or boots before going out.
Once your fitness improves, increase the difficulty and length of trails. That can lead into hiking with a daypack or a full-fledged backpack for multiple days and nights in the wilderness.
Brewington relishes that his sport is relatively inexpensive. A hiker can buy a daypack and shoes/boots and be good to go for under $150. A serious backpacker needs about $800 for all gear, but those items will last for years.
Clothing for All Hikes
Wear sturdy, quick-dry, anti-microbial shirts and pants that wick away moisture; socks blended without cotton; base layer (if needed); hat or hooded fleece/jacket for sun protection; supportive, comfortable boots or shoes.
Daypack Gear
Pack waterproof matches; first aid kit; moleskin; map(s); compass; whistle; multi-use knife; sunglasses; sunscreen; toiletries; trowel; biodegradable tissue; snacks; headlamp.
Backpacking Gear
Pack the same as daypack gear, but include: backpack with cover; ultralight sleeping bag with pad; ground sheet; lightweight tent; rain coat and pants; gaiters; water and water bottles; bladder with drinking tube; trekking poles; crossing shoes/waterproof hiking boots; slides (for walking around camp without your boots); collapsible chair; freeze-dried meals; eating utensils; lightweight stove with propane cartridges; merino wool socks, underwear and shirts.
Favorite Spots
More than 50,000 established trails exist in the United States, with hundreds of thousands worldwide. Glen Brewington of Backwoods in Tulsa and Gaylon Cornsilk of Woodsman Trading Co. in The Village say good hiking can be found anywhere. A highly selective list follows:
In the city: Turkey Mountain and the Oxley Nature Center in Tulsa; Lakes Overholser and Stanley Draper in OKC
In state: Osage Hills, Beavers Bend and Greenleaf state parks; Talimena Drive; Wichita Mountains; the Black Mesa
Arkansas: Buffalo River; Ozark Highlands; Eagle Rock; Lake Wedington
Kansas: Elk River Trail; Tallgrass Prairie National Preserve
Other U.S. spots: Colorado Rockies; Pacific Crest Trail; Appalachian Trail; Grand Canyon, Yellowstone and Grand Teton national parks
International: Canada; Mexico; Vietnam; India; Nepal; Chile; Peru; New Zealand; Australia; the European Alps; Scandinavia; the Baltics; Kenya; Tanzania; Namibia