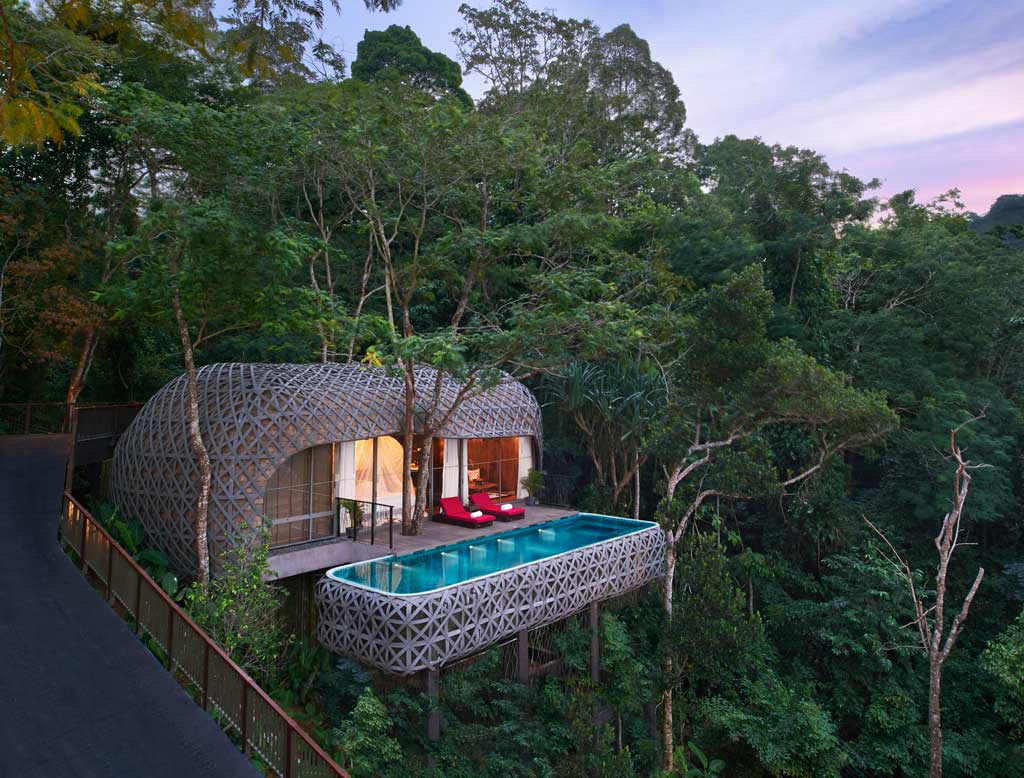 Today's treehouse paradises are a far cry from the rickety contrivances we used to make out of two-by-fours and plywood when we were kids, so you might be surprised to learn that leafy hotels have risen to new heights of sumptuous, forested ambiance and innovation.
Sweden's Treehotel in Harads has six "treerooms," all with spectacular views of the Lule River. One has mirrored walls (they call it the Mirrorcube). Another resembles a UFO capsule, and one called the Blue Cone has a red exterior.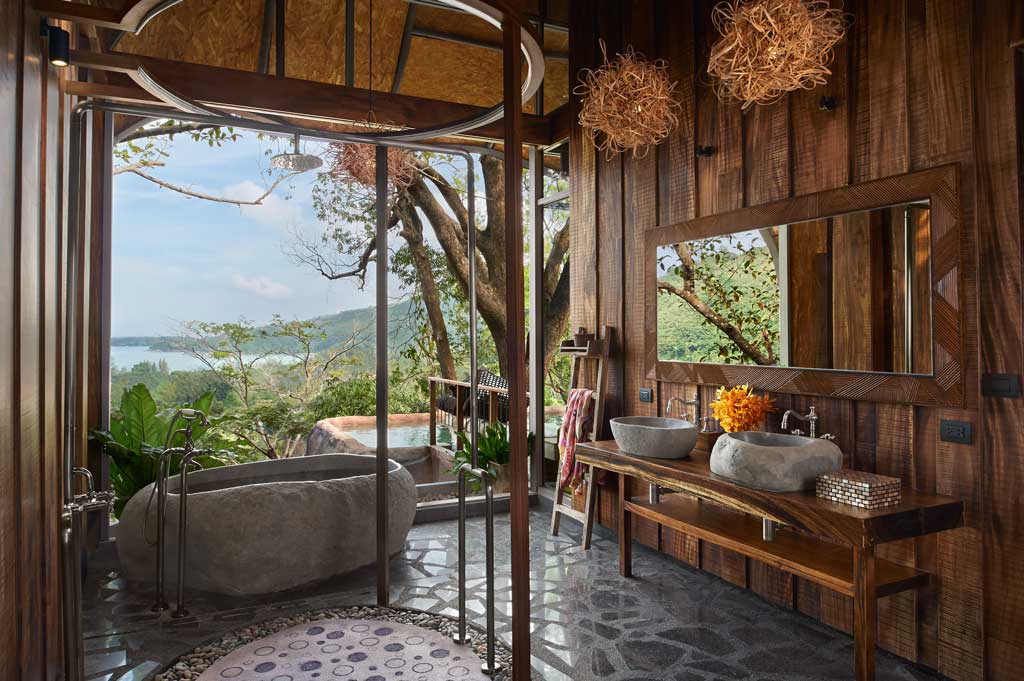 All are set in unspoiled natural settings with a fine dining restaurant on site and a tree sauna nearby. The hotel was inspired by the 2008 documentary The Tree Lover by Jonas Selberg Augustsen, who shows how city dwellers build human nests and simpler lifestyles.
In Costa Rica, magnificent 100-year-old sangrillo trees wind through the Tree House Lodge in Limón's Gandoca-Manzanillo Wildlife Refuge. This environmentally conscious retreat, surrounded by lush forest, is made of fallen hardwoods, and water is warmed by using solar power. Access is via a wooden suspension bridge.

The floor-to-ceiling glass windows of Chewton Glen's Treehouses – on the edge of the historic New Forest National Park in Hampshire, England – offer guests sunshine-infused, panoramic views of the wooded valley. The suites, perched on 35-foot stilts, are large and feature hot tubs on terraces, marble baths and breakfast "hampers" delivered daily. 
Seclusion is guaranteed, but the treehouses are just a short golf cart ride from the lavish Chewton Glen Hotel and Spa on the south coast.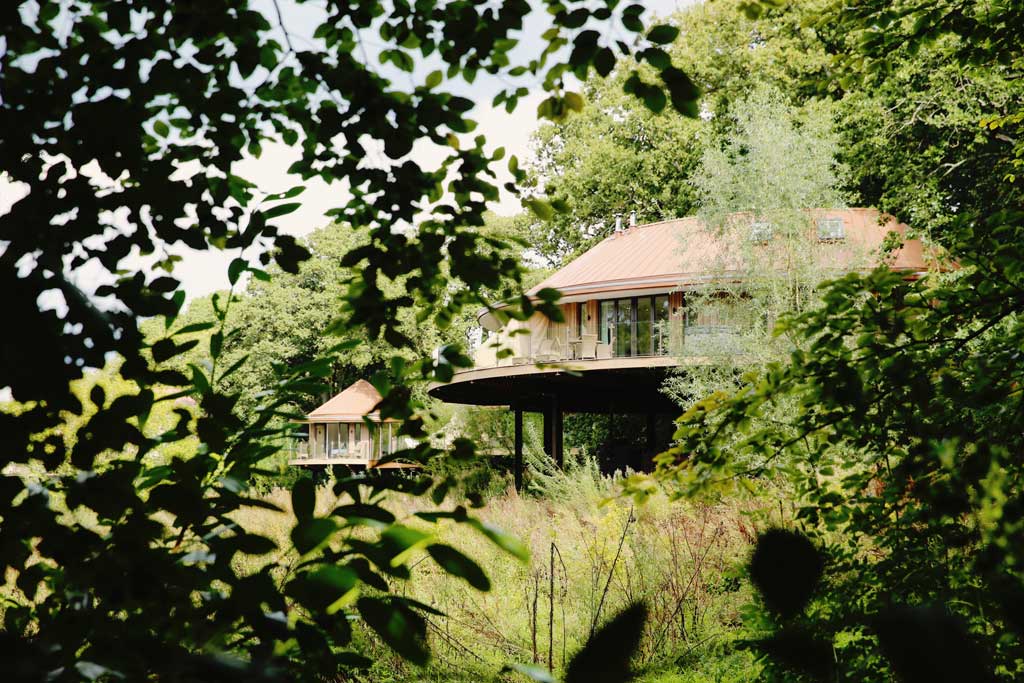 Contrived names and kid-friendly fun are the orders of the day at the Out 'n' About Treehouse Treesort in Takilma, Oregon. "Activitrees" include horseback riding, ziplining and river rafting. Stay in the Swiss Family Treehouse, where kids get to their room over a swinging bridge, or the Treezebo, which is so high that a rope is used to hoist up bags. Some of the rooms are entered by the Mountain View Treeway system of suspended bridges and walkways.
More than 8 million people live in bustling Bangkok, but on Bang Krachao, south of the Thai capital, all is calm. Cars are forbidden on the island, where you find the eco-friendly Bangkok Treehouse with open rooftops, outdoor showers, views of the Chao Phraya River and free ice cream all day. Bamboo structures use solar/wind-powered outdoor lights, all linens are line-dried and vegetables are grown on site. For transit, the hotel offers complimentary bicycles.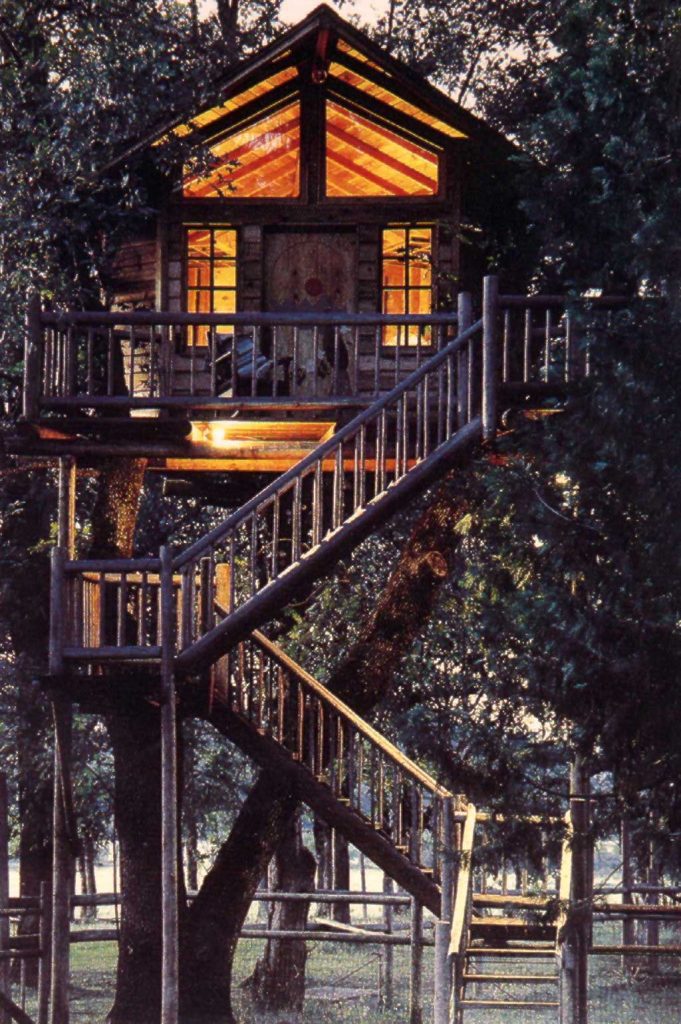 In Kruger National Park, South Africa, the Lion Sands Game Reserve's Kingston Treehouse provides open-air, outrageous opulence surrounded by Sabi Sand, unrestrained wildlife and native bush. Or choose the reserve's Tinyeleti Treehouse down by the river and enjoy bird's-eye views of animals coming to drink. Both, along with the Chalkley, built into an ancient leadwood tree, submerge guests in indigenous Africa while keeping them above it all in indulged comfort.
Oklahoma boasts four over-the-top, woodsy destinations of note:
Chewton Glen Web Exclusive Gallery
Keemala Web Exclusive Gallery