[dropcap]Can[/dropcap] a contemporary brick home in an established neighborhood blend in well with its traditional neighbors?
For Tulsa native Jayme Cox, the answer had to be "Yes."
When she moved back to her hometown after living in Houston for a decade, Cox knew she wanted to build a home in Florence Park, where several long-time friends resided.
One-story brick cottages, many built in the 1940s and 1950s, define the neighborhood. It's a quiet, tree-lined area, and the homes have English character, quite a change from the sleek, two-story home Cox and her architect, Greg Helms, envisioned.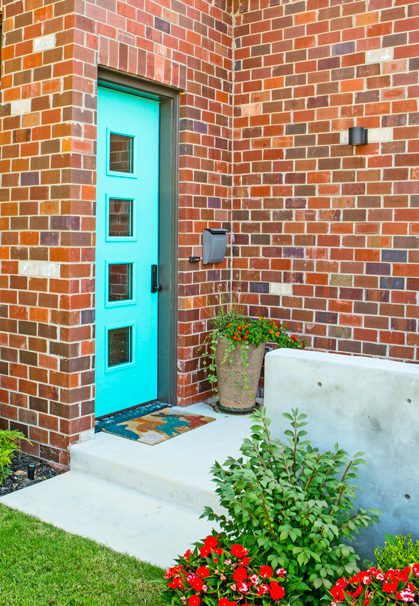 The turquoise entry door, at the side of the home, is the first clue it has a distinctive personality.
The eight-foot-high eyelash windows, sans draperies, are another indication Cox likes departing from tradition. It's also surprising the upstairs level is hidden from the street.
Walk up the side ramp to the front door, step inside and marvel at the surprising interior, which has industrial character, minus the coldness sometimes associated with that style. Cox planned it that way. To her, the narrow, 50-by-150-foot lot was perfect for the unusual cottage she and Helms smartly designed.
The 2,600-square-foot features stained concrete floors, 10-feet-high ceilings and oversized interior doors. The stairway leading to two upstairs bedrooms, a bath and sitting area have industrial railings. Cox says the Roppe rubber stair treads that resemble airport flooring will outlast her.
"I wanted my home to look like a gallery," she notes, pointing to an abundance of brilliantly colored, eclectic art. Some of the art is by her daughter, Cat Cox, a Tulsa teacher, chef and artist.
"I wanted to have more room for art, so the windows were placed high for privacy and left uncovered," Cox says.
There is a floor-to-ceiling, draped window on the front of the house where Cox's rescue dog, Gracie, reigns on her wicker throne. Interior kitchen and master suite windows are also also draped, and the latter open onto the patio.
The downstairs includes the open living and kitchen areas and a hallway/dining nook. Under the stairway, a buffet serves dinner guests or becomes an office. The master suite, laundry, guest bath and garage are on the downstairs level.
Adjacent to the kitchen, hall and master suite is a roofed patio, accessed through floor-to-ceiling glass doors. The patio faces the driveway and provides shelter from the weather, giving Cox another venue for casual entertaining.
"I love to cook," Cox notes, and says the kitchen was designed for efficient and easy upkeep. The butcher block counter doubles as a workspace and informal dining area.
Cox loves shopping at estate sales, antique shops and flea markets. Each unusual find has a history, or "birthright," she enjoys sharing with guests.
What Cox has created is a comfortable retreat where she can relax, read or entertain when she's away from her work as CEO of the Oklahoma Center for Community & Justice.
"I had remodeled a lot of houses, but I had never built one," she says. "I designed the house so I could live downstairs. I used everything I learned from those other experiences, on this house. The upstairs catwalk is my favorite area of the house."
From there, Cox can survey almost every area of her house and revel in its creation and colorful design.