Whether it's the cattle drive across massive runways or being the smallest city to support a U.S. Air Force base, Altus is unique given its remote location in far southwest Oklahoma.
The wide-open air space and 300-plus "flyable" days allow the 97th Air Mobility Wing each year to train hundreds of airmen in some of the largest planes aloft: the C-17 Globemaster III (a troop and cargo carrier), the KC-135 Stratotanker (a refueling ship) and the KC-46A Pegasus (the Stratotanker's replacement).
The base is essential to the U.S. military's response to an overseas crisis within a few hours, says Col. Matthew Leard, the wing's commander.
"Any time you see an operation across the globe, something where you have fighters, bombers or soldiers being transported – that's a capability unique to the United States and probably tied to Altus," says Leard. "We train 70% of the people who fly those transport or refueling planes. Without the mission we provide, we become a domestic military.
"After pilot training, graduates of Vance [Air Force Base in Enid] who fly mobility airplanes come straight here to learn. Throughout their careers, they return to get upgrades or requalifications."
Leard calls Altus Mobility's Hometown because more than a third of residents have direct ties to the facility, with roughly 1,300 active duty personnel, 20 Air National Guard or Reserve members, 1,1200 dependents, 1,700 civilian workers, 1,800 cadets/students, and 800 retirees.
"If you're in the Mobility Air Force, this is where you come back," says Leard. "It's the place where families want to have their kids educated and spouses to find good jobs."
Chief Master Sgt. Randy Kay II, originally from Collinsville, is on his third assignment at Altus. On his first stop, he didn't particularly like how far away he was from a big city. However, he grew to enjoy the endless expanses, extended his second assignment and put Altus as his top choice for a third stop in 2018.
"I can talk with the airmen who aren't used to being in such an out-of-the-way place," he says. "I used to be that same airman who might struggle with that."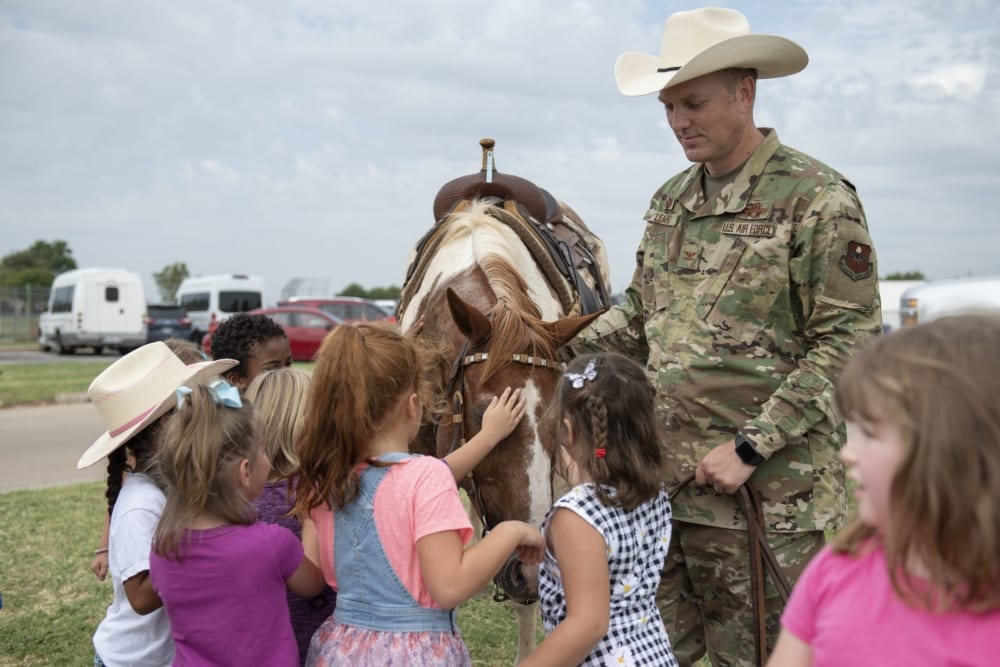 FUN FACTS
Population
18,709
Teaching Space
Training pilots has been part of the scene since 1943, when the Altus Army Air Field opened during World War II. The facility was shuttered for several years after the war, but relaunched as an Air Force base in 1953, with its main mission to train airmen in transport aircraft.
Teaching Place
The Museum of the Western Prairie traces the development of the region from 300 million years ago (with the formation of the nearby Wichita Mountains), through the Civil War and Indian wars, to the present day.
With a laugh, Kay adds that one of the best parts of being stationed at Altus is the base's annual cattle drive, a kickoff to the Great Plains Stampede Rodeo, a casualty of the COVID-19 pandemic.
"We get to ride horses – at an Air Force base," he says. "How cool is that?"
Kay saddles up on a horse named Quixote; Leard sits atop Reverend.
"All the leadership are on horseback and we play the part, but there are real cowboys on hand to make sure everything goes right," says Leard.