Oklahoma beekeepers wax poetically about the creatures under their stewardships.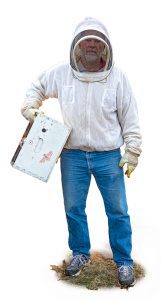 Dane Strickland, president of the Northeast Oklahoma Beekeepers Association, marvels at "how they achieve what they achieve" and he loves witnessing "the unity of the colony and the utmost devotion to their colony survival."
The finished product isn't bad either. Strickland especially enjoys getting that first whiff of fresh honey after cutting off the wax caps to collect it from the frame.
"The aroma is intoxicating," he says. "I can't help but taste and taste and taste. It screams at you, 'Eat me.'"
Tonya Wells, owner of Queen Bri's Honey in Oklahoma City, is equally descriptive about the aesthetics of beekeeping.
"It has such a calming effect on me when I'm out in the hives," she says. "In the springtime, the bees take pollen and mix it with honey and feed it to the baby bees. It has a yeasty smell, which is why we call it bee bread. It smells like baking bread, a comforting smell. And the buzzing of the bees is kind of like white noise. It's relaxing."
Pat Tickel of Madill says he's "the luckiest guy in the world" because he retired after 27 years with Peterbilt Motors and has time to "play with bees."
Tickel, a former vice president of the Oklahoma State Beekeepers Association, has 48 hives … and admits he's in deep.
"I got stung, I got infected, and now I have a fatal disease," he says with a laugh.
Tickel belongs to clubs in Ardmore, Ada, Noble and Guthrie.
"I also belong to the Texas Beekeepers Association, so I crossed the river," he says. "You learn from other beekeepers. I have a network of people I get advice from."
Tickel isn't the only one with a hive mentality; Strickland says the Northeast Oklahoma group has about 400 active members, with 140 typically attending meetings.
In 2008, Tommy Thornton opened his Oklahoma City apiary supply store, Beekeeping Etc., primarily at the request of fellow beekeepers.
"There are probably three times as many beekeepers as there were 15 years ago, but not three times as many bees," he says.
That's because most Oklahomans are hobbyists, he says, with fewer than 100 hives. Thornton, who lives near Newalla, once had 300 hives but now keeps it below 100.
"I've had bees for more than 40 years," he says. "I used to be president of the Central Oklahoma Beekeepers Association. I was on the board of the American Honey Producers Association for several years."
Association members conduct bee education in classrooms, at garden club meetings and with booths at agricultural fairs. Thornton can quickly fall into teacher mode.
"The worker bee is the infertile female; she does all the work," he says. "Most of the hive is worker bees. At different ages, they have different chores. First are the nurse bees because they feed the larvae. Some clean house; some make wax. Their last job is to go out in the field and collect nectar and pollen and bring it back. They are really fascinating creatures."
People seek out beekeepers when swarms get inside their houses or gather in other places unsuitable for human or insect. In 2017, Queen Bri's Honey won the Keep Oklahoma Beautiful environmental excellence award for this type of community service.
"We do a lot of work chasing down bee swarms," Wells says. "We removed 40 swarms from [metropolitan OKC] last year. It saves the bees from holing up somewhere they might not be able to survive the winter."
Tickel says Oklahoma, with its drastic weather changes, is not great for beekeeping. Hobbyists also battle disease and parasites.
On a positive note, the state has plenty of nectar and pollen for small operations. One of the early blooms foraged by honeybees is the dandelion.
"Pumpkins, squash, watermelon and cantaloupe require pollination," Tickel says. "Bees are very efficient in pollinating those plants."
Wells, a business developer, is joined by her father, Paul Leathers, and daughter Brianna, in running the business the family refers to as "our little hobby." They sell honey, teach beekeeping 101 and offer an online class that attracts students from 16 countries. Their Facebook group has 20,000 members.
Fresh by Bri is a business created by Brianna Wells, a Westmoore High School senior enrolled last year in the entrepreneurship program at Moore-Norman Technology Center. Her bath and body products use wax from the family's 45 hives.
"A lot of people are looking for products that are petroleum-free," Wells says. "The beeswax helps bind everything together and keep it from becoming too soft."
Strickland, a health and safety manager for an industrial supply and service company, sees himself staying in the bee business for a while. He sells honey, bees and beekeeping supplies, and visits classrooms, where he allows kids to get a look at his protective gear, beekeeping equipment and a box of live bees.
"After 10 years, my enthusiasm has not waned," he says.
Possible Bee-nefits
Dane Strickland started keeping bees in 2006 because his children had respiratory issues.
"I became intrigued with the potential to use honey to help manage the allergies," he says. "As a result of that, I got fascinated with bees. Honey is purported to have a lot of benefits, but it is difficult to study because honey is not a consistent product. There is variance from year to year and from state to state.
"I have to tread carefully with this. I've witnessed this help my kids, but I've read things by medical professionals that say it doesn't work."
Strickland says studies suggest combining raw natural cinnamon with honey can help with arthritis. He thinks honey can help people with diabetes manage their sugar levels naturally.
Tonya Wells, owner of Queen Bri's Honey in Oklahoma City, says bee pollen is "kind of a super food, with all sorts of vitamins and enzymes. I have a lot of bodybuilders who put it in their protein shakes. It has 40 grams of protein per teaspoon."
She says studies about using honey to fight allergies are inconclusive, "but I have lots and lots of customers who just swear by it."