For well over three decades now, Tulsa's Scott Hutchison has been pretty much the personification of a working songwriter. Area music fans with long memories may recall his association with Oklahoma's late guitar hero Steve Pryor; when Pryor, a longtime favorite on the T-Town music scene, got his major-label deal in the early '90s, the subsequent disc was full of tunes co-written by Hutchison. Those fell mostly into in the blues-rock genre, but Hutchison has shown himself to be proficient in any number of other styles. He was involved in writing some nice countrified numbers, for instance, for the hitmaking band Little Big Town a few years back, along with working on the staff of BMG Music Publishing in Nashville. He also spent time as a staff writer at Polygram and Warner Brothers, working with fellow tunesmiths in a variety of genres. And he was a longtime collaborator with his friend Brandon Jenkins, one of the leading lights of Red Dirt music before his unexpected passing in 2018. 
In fact, just about the only field Hutchison hasn't delved into is classical music, which is something that makes his current project even more intriguing. It's with vocalist and vocal coach Tanya Maksood, who spent a full decade of her life working in that very genre, both in L.A. and New York.
However, points out California native Maksood, her ten-year foray into the classics happened "by accident."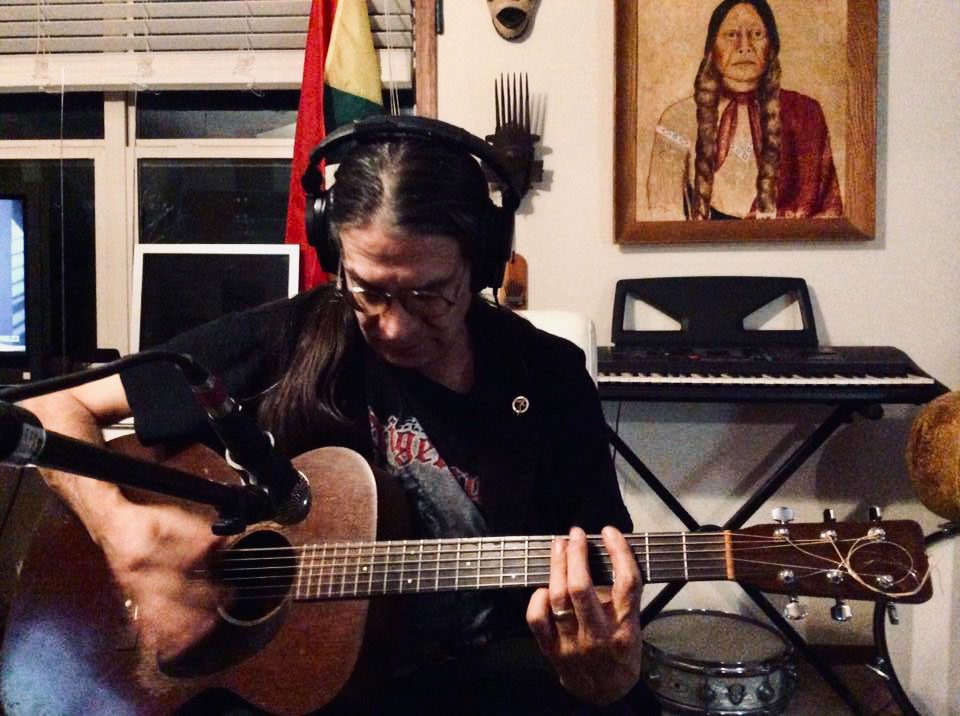 "I didn't grow up with classical music," she notes. "I grew up with pop and Spanish music and some R&B. When I started college at CalArts [the California Institute of the Arts in Santa Clarita], I thought it was supposed to be more popular, mainstream music. I just happened to stumble across a vocal coach who was all classical.
"In the classical work, you have to be all-in," she adds. "You can't really spend any time dedicating yourself to other genres. So, once I decided that I didn't want to throw myself all-in to the classical world, when I got to a point where I had to make a decision, I just decided to explore what was natural for me, so I went back to what I'd grown up with."
She also left New York, joining some family members who'd relocated from California to Tulsa.
"I didn't plan to be here for that long, and then the pandemic hit," she explains. "It turned out to be a good place to be, because we [she and Hutchison] got the time to write all the songs we've written."
A longtime voice coach, Maksood hung out her shingle in Tulsa, attracting a number of clients that included both Hutchison's wife, Tamara, and their daughter, Nora. One day, Maksood mentioned to Tamara that she was looking to explore songwriting as well as singing. Tamara, of course, knew someone who might be able to lend a hand.
"Tamara's from California, too, and she had seen me out there working as a songwriter with publishers and artists," recalls Hutchison. "She was like, 'See if the two of you can write together. You guys have to do this.'
"So we started putting a few ideas together, and we hit it off well, writing in all sorts of styles. Start to finish, it just worked."
"I've always really loved guitar, and I think Scott and I worked out well, because he's got a nice, natural ability for Spanish sounds," adds Maksood, who's of both Mexican and Iraqi descent. "He plays really melodically, too. In the beginning, when he'd show me a guitar idea, it would just speak to me, and it would be very easy to write a melody to.
"I think that's the reason we've been able to work together. Even though our backgrounds are different as far as what kind of music we've been around, somehow we still like the same feel and sound. So he would bring guitar ideas, and I would write melodies to them, and some words, and then we would revisit those lyrics and make adjustments."
Although Maksood doesn't play guitar, both she and Hutchison characterize the writing partnership as a 50-50 deal, with Maksood sometimes adding her own musical ideas on piano.
"I've learned a whole other side of lyric-writing with Tanya," Hutchison says. "I've found out about different points of view, different ways to write, how we approach our material, and I've really enjoyed it. Because she's classically trained and knows music theory, she's taught me a lot."
For Maksood, one of the things the two have in common as songwriters is an emphasis on positive messages.
"The difference, I would say, is that he enjoys more abstract lyrics – or maybe 'poetic' is a better word," she says with a chuckle. "It's more poetic, with metaphors, whereas I like to be a little bit more literal, more like storytelling, more like country [music]. But we are always hopeful, I think. Hope is a big theme of ours."
The two have now recorded a number of tracks, working in studios owned by area music figures Hank Charles, Mark Kuykendall and Ricardo Gonzales. Charles and Gonzales appear as musicians on several of the tracks, while Kuykendall's wife, Lindsey Neal Kuykendall, contributed violin to a couple. Other notable musicians on the project include drummer Bill Padgett, pianist Ed Gustafson, bassist Gary Neal and multi-instrumentalist Kyle Dillingham, among others.
The most ambitious of the Maksood-Hutchison projects is Songs with Scott, three volumes of discs covering all sorts of genres, from show-tune sounding compositions to straight-ahead blues. At first, Scott figured that they were cutting what he termed "quality demos," samples of their songwriting to sell to publishers. But as he talked with the industry people he knew, and let them hear the recorded songs, they encouraged him and Maksood to release the collaborations on CD.
"They said it all sounded great, and it would expose her as an artist," he recalls. "So we got a marketing idea, which Tanya is really good at, and we did the releases."
"We're looking into selling the songs to other artists," says Maksood, who seems refreshingly devoid of the ego associated with pop vocalists. "We have plenty of people in mind [to sing the songs] when we're writing. Sometimes I'm not the best one to sing the stuff. But we are looking for publishing, or an artist deal, and film and television is a big interest. Soundtracks would be great.
"It sounds corny," she adds, "but I want the songs themselves to shine, to be heard by a lot of people. It doesn't matter if I'm singing them, or someone else is singing them. I'd feel successful and I'd be fulfilled if one of these songs became internationally known."
For songwriter Hutchison, however, it would be especially fulfilling to see both their material and the person who sings it break out into a wider audience.
"She's one of the best vocalists I've ever heard, and I want success for her as an artist with these songs as hits," he says. "How I've done deals before with a body of work like this is to approach publishers who can see the artist along with the material. If there's some of it that leans toward a current artist to cover, we're open to that. But if publishers have an artist in their catalogues, they will talk to labels about those artists getting recording deals. So publishers are a good place for artist development, for their sense of which labels to court.
"I'm just really glad about the catalogue we've created," he concludes, "and what's on the horizon now."
For more information on Songs with Scott and the other Hutchison-Maksood collaborations, visit tanyamaksood.com.