[dropcap]The[/dropcap] White House, Washington Monument, government buildings, Lincoln and Thomas Jefferson memorials, war memorials and countless museums draw visitors of Washington, D.C., to their doors every year. On the National Mall, between the Smithsonian National Air & Space Museum and the U.S. Capitol Building, sits a unique structure whose curvilinear architecture and landscape nod to its purpose: housing the Smithsonian National Museum of the American Indian.
Collections
With roughly 825,000 pieces of American Indian art and artifacts spanning 12,000 years, the museum is home to one of the largest collections in the world. Under one roof, guests can explore more than 1,200 indigenous cultures, including those from the United States, Canada, Middle and South America and the Caribbean. For an all-encompassing discovery of the American Indian, investigate the four components within the museum's collections: the Object, Photo Archive, Media Archive and Paper Archive, as well as its many exhibitions and events.
Oklahoman Ties
Kay WalkingStick: An American Artist
Nov. 7, 2015 – Sept. 18, 2016
Kay WalkingStick's father was a Cherokee from Oklahoma. WalkingStick herself is a member of the Cherokee Nation and is celebrated for her portrayals of landscapes with American Indian influences. Within this exhibit, see more than 75 of WalkingStick's well-known works that include paintings, drawings, sculptures, notebooks and diptychs. A symposium in honor of WalkingStick, titled "Seizing the Sky: Redefining American Art," will take place Nov. 5.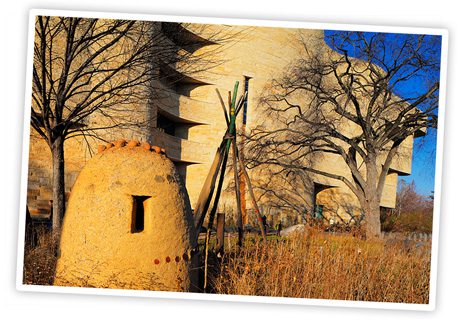 The Native Landscape
Walk the grounds that surround the National Museum of the American Indian to explore the kinds of natural environments American Indians thrived in preceding European influence. The Hardwood Forest represents the way the forest served as a habitat that provided shelter, food and medicine; the Wetlands signify the importance of biological diversity; the plants found in the Meadow can be used for medical purposes by traditional healers; the Traditional Croplands portray the agriculture of American Indians; Grandfather Rocks boast 40 large, uncarved rocks; and Cardinal Direction Markers on the north-south and east-west axes honor Native cultures.