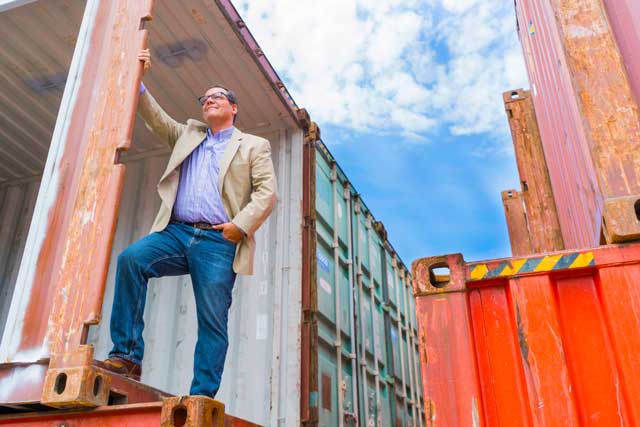 [dropcap]Downtown[/dropcap] Tulsa bustles with progress. Around nearly every corner, timeworn buildings regenerate and new buildings are created. At Third Street and Frankfort Avenue in Tulsa's East Village, a different kind of development is taking shape, one that was fittingly inspired by an international trip.
"Four years ago, I was in London working with the Brazilian Olympic Team for the 2012 Summer Olympics," explains Casey Stowe of Nelson+Stowe Development. "I would take the Overground every day to the training facility and right outside Shoreditch High Street station was the most interesting retail center I had ever seen. It was a long, street-facing structure built out of shipping containers called BoxPark mall.  I was fascinated by that place, not just for the unusual building material, but also for how the shops and the shoppers interacted. It was industrial and intimate at the same time. It just blew me away."
Here in the States, 39 shipping containers that have traversed the globe for years will make their final stop in Tulsa to form the Boxyard. Stowe teamed up with Cisco Containers, a shipping container modifier based in Catoosa, and the Ross Group to turn the repurposed materials into a perfect fit.
"Some will be common space – restrooms, elevator, etc. And some containers will be opened up on the inside to create double-container shops, and some will be as many as five containers together," Stowe says. "With 20 different businesses on a 14,000-square-foot lot, the Boxyard will be the densest concentration of retail in Oklahoma. Containers are very efficient."
Efficient, but not easier or cheaper, Stowe explains. The appeal lies in the innovation and creativity required to make the containers work.
"At the end of the day, it is still a commercial structure and has to conform to and comply with all of the local codes and ordinances in the same way as any traditional building," he says. "We owe some big thanks to everyone at the City of Tulsa Planning and Development Services departments for helping me navigate how to build something for humans out of something that wasn't originally designed for humans."
The Boxyard's occupants will face similar creative challenges.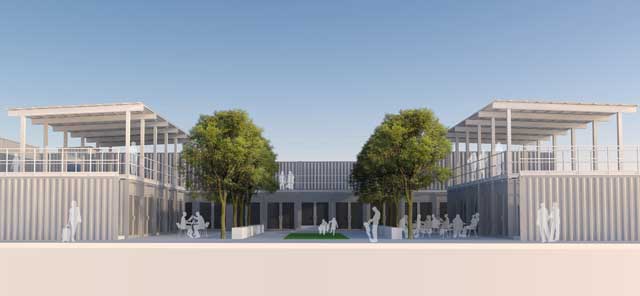 "Space in a shipping container is limited, so you must think about your area a bit differently," he says. "At 320 square feet, you need to be deliberate in how you use your space and what you put where. I've seen many different shops in containers during my research and, when they are done right, you would swear the place is bigger than it really is. Smaller footprints also require less overhead and reduced build-out costs."
Those benefits have proved enticing to local businesses. When the Boxyard opens this fall, it will be near, if not at, capacity. As for the kick-off plans:
"Well, we were going to sail a 950-foot Panamax Container Ship up the Arkansas, but we couldn't figure out where to mount the PikePass," Stowe says. "So we are just going to throw a grand opening party in November. Stay tuned."