Oklahoma is home to a broad range of artists creating a variety of work. Fortunately for them, the state has companies, festivals and theaters giving those artists room to work and grow, like the Bare Bones Film and Music Festival.
The annual showcase takes place April 24-29, when filmmakers from around the world descend on Muskogee to show about 200 movies of all lengths and genres.
It's a chance for amateur directors, scriptwriters, actors and designers to get their work in front of audiences and to learn, says Oscar Ray, who co-founded the festival with his wife, Sharon.
"Another part of our focus has been to grow the industry in Oklahoma," he says. "The [festival] board's mandate is to bring productions to the state, but they're tourists. They're going to come for a little bit and then they're going to go."
The Bare Bones festival offers training and consulting for nascent filmmakers, who in turn grow the number of Oklahomans working on movies.
"We want to deepen the talent pool both in front of and behind the camera," Ray says. "We've emerged as the No. 1 consulting service in the state. People come to us on every level."
The festival's large reach doesn't hurt, either, he says.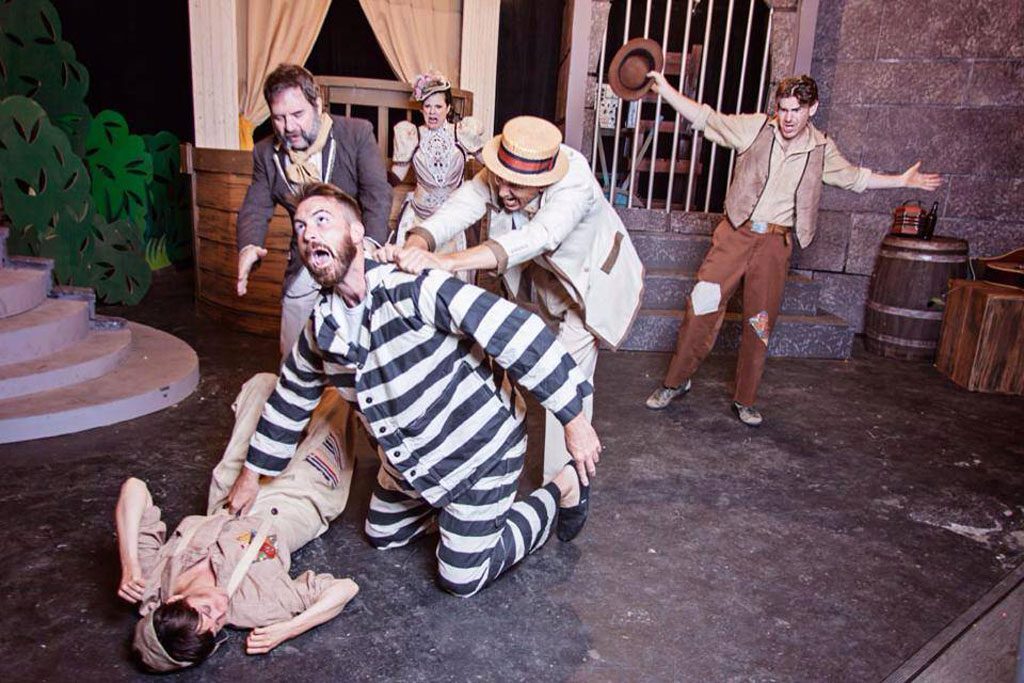 "It brings people here to work with and educate local filmmakers so they can train and deepen their craft," Ray says. "All of those people bring their experience and it allows locals to build relationships with and work with people they might not get to otherwise."
Bare Bones isn't the only place in Oklahoma for folks with original ideas; the Nightingale Theatre in Tulsa prides itself on its focus on new works.
"Since opening in February 2000, the Nightingale has been a safe haven for original work of all genres and media," says Amber Whitlatch, the theater's marketing director. "The original pieces we have produced compose a vast and erratic body of work from artists – not just from Tulsa, but from all over the world."
The Nightingale's dedication to original work has produced a playwright collective for the theater, Whitlatch says.
"50 Swats is a loose hive of writers, directors, performers and technicians from Green Country," she says, "and has pieced together countless hours of thoughtful scene work, inspiring audiences and striving playwrights alike."
The theater has also hosted a long-running original series from Midwestern Theatre Troupe, says Whitlatch, adding that the company spans "20 years of anthropological allegory, highlighting legends like Jack Frost, John the Baptist, Romulus and Remus, and even Pretty Boy Floyd."
Whitlatch says there's no shortage of options for artists looking for space.
"Tulsa artists over the last decade have developed their own venues for specific types of performance," she says. "We now have comedy clubs, studios for dance productions, spoken-word nights and multi-use spaces for variety shows. Tulsa is booming with performance art."
Hopeful playwrights can send manuscripts to [email protected]. Whitlach says there are no limitations on the content "as long as it stays within the laws of physics."
"If you have a script and you would like to see it produced for an audience, contact us," she says. "Our rates are more than reasonable, and we will work with you."
While the theater's "very favorite shows" are the ones talked about after people leave the building, Whitlatch says, Nightingale cherishes the ones that spark new pursuits, too.
"We have several of those shiny feathers in our cap, but that's why we're here," she says.
Those closer to the central part of the state also have options for finding their way onstage.
"At Tower Theatre, we are committed to being a part of our community," says Chad Whitehead, talent buyer and operating partner for the recently renovated concert hall in Oklahoma City. "This includes how we treat concert-goers and performers, local and touring. Supporting up-and-coming artists is one of the ways we can contribute to our community."
Tower Theatre's music productions are supported by a partnership with craft brewery COOP Ale Works to bring local acts to the hall's main stage, says Whitehead, adding that the theater has a second venue for non-main stage acts.
"Tower Studio, our smaller stage, is where we book up-and-coming touring acts," he says. "Tower Studio brings great music to Oklahoma while also supporting lesser-known touring artists."
Supporting and cultivating local talent are the common threads at Tower, Nightingale and Bare Bones and help to keep artists' hopes alive, Oscar Ray says.
"Actors, directors, writers – people do need to find a way to continue and keep that dream going on," he says.