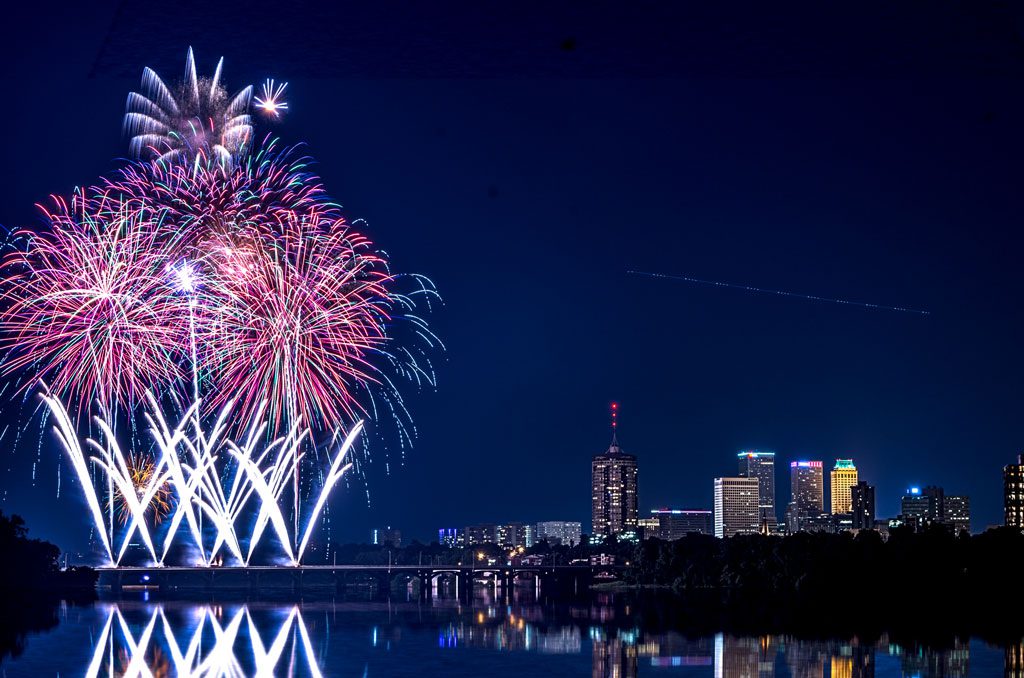 [dropcap]Celebrating[/dropcap] America's birthday means stocking up on pyrotechnic goodies or finding a spot on the grassy lawn to enjoy another's display. Oklahoma boast a wide array of fireworks shows that will keep you feeling patriotic 'til the last sparkler burns out.
Join over 80,000 spectators on the fourth to ooh and aah at Freedomfest at River West Festival Park (riverparks.org), which supports a great cause, Folds of Honor. This charity provides educational scholarships for spouses and children of wounded or deceased military veterans. RiverWalk Crossing's Boom Fest (riverwalktulsa.com) serves up a full day of events on July 4, from live music to great eats, with the display kicking off at 9:45 p.m. on the Jenks Bridge.
Oklahoma City serves a up dazzling show at Red, White and Boom (okstatefair.com) – a collaboration with the OKC Philharmonic at the State Fair Park. Get inspired by live patriotic tunes and watch the sky light up on July 3. The concert begins at 8:30 p.m. If you're headed downtown on the fourth, visit Bricktown's 4th Fest (bricktown4thfest.com) near Harkins Theater in lower Bricktown. Live music, food and fireworks at sundown await you.
And if you're lucky enough to celebrate on the water, you can't miss Duck Creek's fireworks display (duckcreekfireworksok.com) on July 3 at Grand Lake. An F-16 flyover will begin at 8:45 p.m., and the fireworks begins at 9 p.m. And for a quirkier Fourth of July experience, head to Paul's Valley for the Watermelon Seed Spittin' World Championship (paulsvalley.com). This event began in 1957 and combines a patriotic celebration with a fierce seed spitting competition. The event runs all day on July 4 and fireworks begin at dusk.