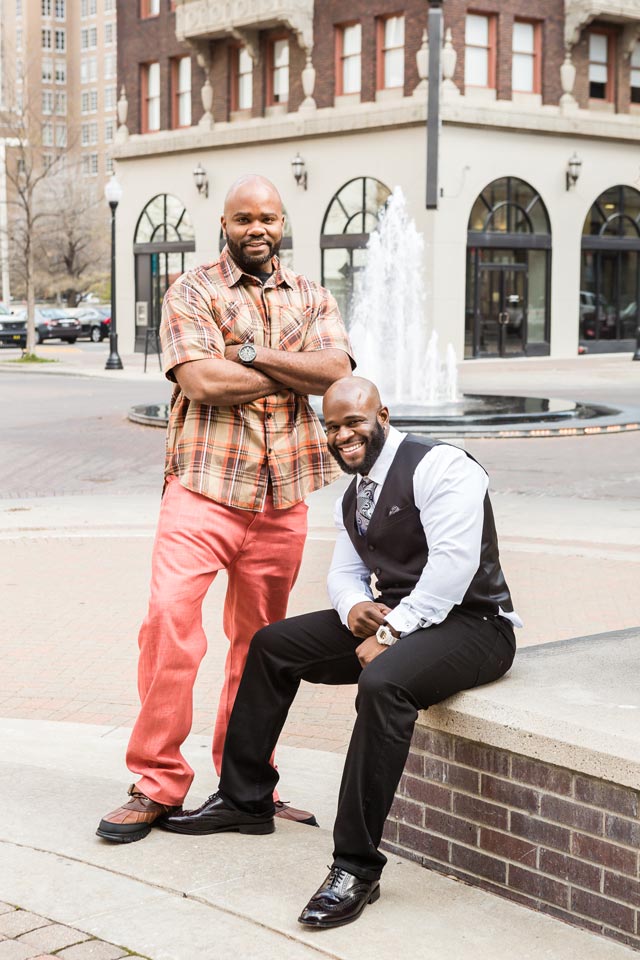 [dropcap]Interesting[/dropcap]. Fun. Extraordinary. De'Marchoe Carpenter and Malcolm Scott use these words to describe their first year of freedom in more than two decades.
"It's such a rare situation that it's really hard to define the type of feelings that you get when you are finally exonerated after that many years," Scott says. "'It's amazing' is the best I can come up with. It's amazing; it's extraordinary, wonderful. I look forward to today, tomorrow, the future."
The men were 18 when they were wrongfully convicted in the 1994 murder of 19-year-old Karen Summers. Last year, after the actual perpetrators of the drive-by shooting confessed, Carpenter and Scott were released. Carpenter says he had not lost faith that the truth would eventually come out.
"That's why, when I was in, I did everything I could to help my situation as a person and to help my future," he says. "I did a lot of things; I educated myself. I read a lot of books. I recall Nelson Mandela; he said when he was walking towards the doors of freedom he knew he had to leave all the anger, the resentment, the hate, the bitterness – he had to leave it behind. I took those words to heart. That's why right now people see me and I'm smiling. Life is wonderful. I was bitter for 22 years; I'm not bitter now. I left all that in prison."
Five days after their release, Scott and Carpenter worked out at Tulsa's downtown YMCA, where they had a fortunate encounter with Ronny Altman.
"I don't even know how the conversation started, but I talk to everybody – I haven't met a stranger," Carpenter says. "We started talking and hanging out. God's putting people in my life, working through them. Everybody has come into my life for a reason."
When Carpenter revealed that he and Scott were the two men who were recently exonerated, Altman wanted to help. He quickly called David Oliver, president of Goodwill Industries of Tulsa, and Sabrina Ware, who oversees the Goodwill Job Connection.
"If I could do something to change their lives, find them employment, get them going back after being in prison – that was my thought process," Altman says.
Carpenter and Scott set up appointments and both quickly completed forklift training.
"I knew that with me not having a work history that I would need some type of credentials. They say it's not about potential; it's about credentials," Carpenter says.
Even with the certification, Carpenter has found the job hunt challenging.
"People see this blemish on my record," he says. "Even though it will be removed, it will always be there. They can always Google my name and it will come up."
Right now, Carpenter says he is searching for a job in construction but hopes someday he can do some acting.
"I'm staying strong and having faith and believing that everything is going to be alright and persevering," he says. "It's funny, but I wouldn't change a thing because life is good right now. People go through life and they don't have any money and they're upset. I don't have any money either, but I'm not complaining. I'm enjoying life."
Carpenter has put his free time to good use by speaking at schools about his life. He talks to kids about peer pressure, making good decisions and the importance of education.
"I was in that situation – I had no one to look up to," Carpenter says. "I'm not saying I'm a role model, but they can relate to me because I come from where they come from. I just want to get them on the right path, and I don't want to see them go down the path I went down."
Carpenter says he got shot when he was 16 because he hung out with the wrong crowd, and that if he had not gone to prison he may not be alive now.
"There's a lot of people that I knew from way back that I had to stop hanging with because you got guys that are out here that are doing the same thing that they were doing 22 years ago, negative stuff," he says. "You have to separate yourself."
Carpenter did not have to separate himself from everyone from his past, however. A woman he knew before his incarceration became his wife shortly after his release.
"She was my childhood sweetheart," Carpenter says. "I got my time. We corresponded for a little bit; we lost contact. Thirteen and a half years, I did not hear from her. Thirteen and a half years later, she came back. The last six years of my incarceration, her and her five kids were coming to visit me every weekend and that really helped to keep my spirits high. So 13 days after I was released, I married her."
Meanwhile, Scott works 12-hour night shifts at a beverage blending company. During the day, he attends Connors State College and is in his second semester toward earning an associate's degree in health.
"It can be a little overwhelming at times," Scott says. "I feel like education is most important, but I also have to survive, so I got to work. As far as being in school – love it. Love it. I'm enjoying it. I always wanted to go to college. I didn't get that opportunity, but I'm taking it now. Every day I take it all in. It just feels good sometimes when I just grab my backpack and I'm headed out to class."
Scott wants to be a personal trainer when he finishes school. While fitness has always been part of his life, he says prison exercise was a crucial stress reliever. Now that he is free, he hopes that it will help him live a long, full life.
"Heart problems and things like that have been a little too common in my family background, and I just felt like a lot of those things could be prevented by taking care of our health, taking care of our well-being," he says. "For me, it was a very serious thing. My grandmother – I ended up losing her to cancer from smoking cigarettes and obesity. My father, the same thing: cancer. It's just something that I've feel like I've taken home to heart."
Scott says he also wants to see the world and experience different cultures.
"Traveling has always been a big dream of mine when I was incarcerated," he says. "When the world is taken away from you, when your freedom is taken away like that, it makes you yearn for all the things that you never got the opportunity to experience in life. I know I will reach it. My biggest surprises will probably come when I get to experience life outside of my backyard where I've grown up."
Both men say they are thankful for the Oklahoma Innocence Project for helping them with their case.
"They helped give me my life back, and I feel like I will forever be in debt to them," Scott says. "Everybody that came together to help us and they didn't even know us, but they did it. They worked hard to help save our lives. To me, that's an honor."
Scott and Carpenter say that the time they spent inside prison will always be a part of who they are. They say it is not about forgetting it happened but using it as a motivator for their lives.
"I utilize that now to keep me pushing forward in life, knowing where I've been and what I've seen and what I've been through," Scott says. "I don't look at it like something I want to push out of my head because the best way to face anything that may be tough in your life is to face it head-on. You don't try to run from it; you don't try to hide from it. You face it head-on.
"I want to not only accomplish good things for myself, but I want to connect with others and maybe give them hope, be that vessel of inspiration for others. Maybe it will help them overcome those things that they may be going through in life that seem impossible to overcome."