A common perception of professional athletes is one of extravagant salaries, pampering and first-class accommodations and travel.
But that lifestyle is only for those on sports' top rungs. The vast majority of paid athletes compete in minor leagues, which are full of ambition, part-time jobs, overnight bus rides, goal-setting and pure passion for competition.
These athletes, who can quickly be replaced in a lineup, cut from a roster or traded to another team, form unique bonds because of circumstances that are far from glamorous. And, as they all say, "Hey, I'm getting paid to play a sport I love."
Here's a look at some minor leaguers and their workaday lives.
Dennis Brown,
Tulsa Oilers
Born and raised in suburban Los Angeles, this hockey defenseman skates to work … not on ice blades but via his stereotypical California longboard. The second-year Oiler lives in the Y Lofts, three blocks south of his "office," the BOK Center.
He and his girlfriend, a Michigander, "enjoy Tulsa so much that we stay downtown to live," Brown says. "Tulsa's a great place to train and work in the offseason."
Ah, the offseason job. Until the mid-1970s, major league athletes had such employment to pay the bills. Only big names secured contracts allowing for comfort between seasons. Enormous television contracts and profit-sharing changed that.
But earning money when one isn't playing is the norm in the minor leagues, as Brown attests. He is a shuttle driver for the Aloft hotel and a valet for the Mayo Hotel, both downtown.
"I have mouths to feed, and I'm on an East Coast Hockey League contract," he says. "Once the season stops, so does the contract. It's tough sometimes because I also work out everyday. Some guys can close the door on hockey for four months, but I can't.
"There's a lot of pressure to stay in shape. People want to take your job. Some people thrive in that environment, and some don't."
Brown focuses on reaching the American Hockey League, just below the National Hockey League.
"I have to make an impression and play well consistently," he says. "When I was a kid, my goal was the NHL, but as you get older that changes. By the time you're 14 or 15, you know the guys who are going to be top-flight. So I changed my priorities."
First was to play in the top American junior league, which he did. Second was to play four years on scholarship at a Division I hockey school; he went to Western Michigan University in Kalamazoo.
"It's not about the money … it's a love of the game," Brown says. "The game's been great to me."
Brady Ballew,
Tulsa Roughnecks
Since he was a young teen, this soccer midfielder has had two passions: business and his sport. Those shape what he does in Tulsa, his home for three years.
"I read any book about people in business," the suburban Seattle native says. "I wanted to know about their failures, not just their successes."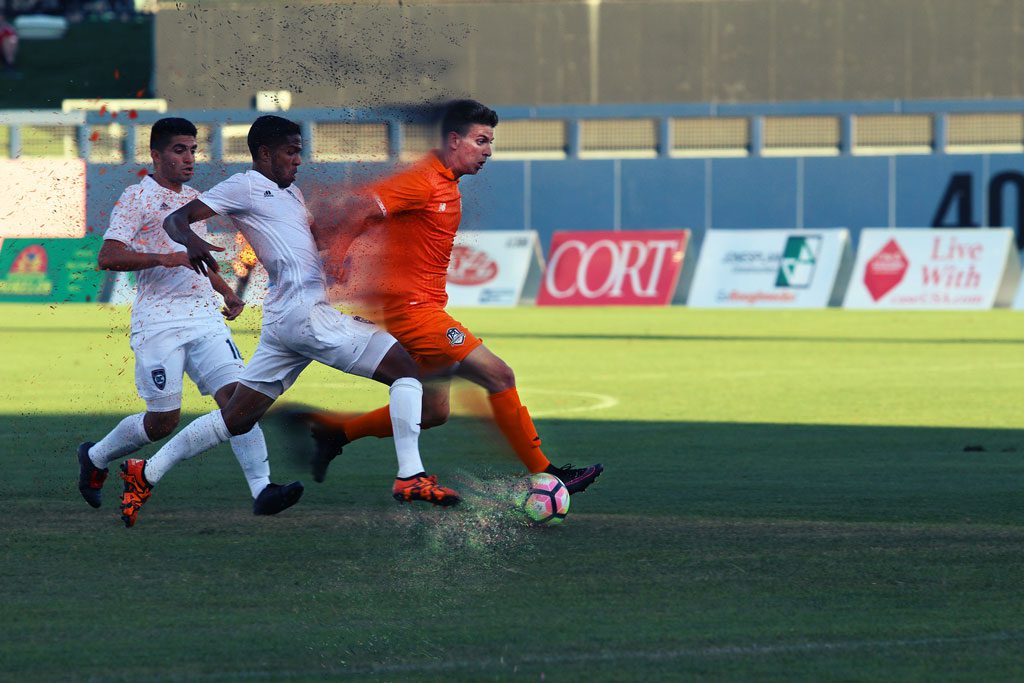 After playing on scholarship for four years at Seattle University, Ballew assumed he would take his marketing communications degree into the business world.
"But I took a chance and paid $300 to enter a combine," says Ballew, referring to a gathering where multiple professional teams examine a group of athletes. "There was something that David Irving [the Roughnecks' technical director] saw in me."
Those skills are Ballew's speed, ball distribution and teamwork. He has taken that third quality and dived into the community. In addition to working at lululemon, where he met his longtime girlfriend, Claire Spears, he became involved in numerous civic projects, such as the group that conceived the City of Tulsa's new flag.
He also made business connections, which led him and Spears, a Bishop Kelley High School alumna, to create Press Cafe and Yoga, opening in November in the Brady Arts District. The name comes from brewing coffee in a French press and yoga techniques that involve pressing and putting pressure on muscles.
"As far as I know, it'll be the only hot yoga and coffee studio in the country," Ballew says. "Most people who take yoga are women, and after or before classes they go to a coffee shop or a bar. We'll be a one-stop place. And our yoga prices will be lower than most because we can supplement the cost with sales of coffee and wine.
"Tulsa took me in and made me feel welcome. It's pretty cool that at age 25 I'll bring jobs to Tulsa with our business."
But during the season, soccer is his business. And while he skateboards to work like Brown (Ballew lives in the Jacob Lofts, two blocks from ONEOK Field), life in the United Soccer League includes 15-hour bus rides to Brownsville, Texas.
"It's tough not going to bed after a night game; instead, you climb in that bus," Ballew says. "There's professional fortitude involved. There's a lot of sacrifice. But when you're good as something, you want to keep doing it for as long as you can because you never know when an opportunity will come.
"Still, I've always been a guy with a backup plan. For me, it's Tulsa, a thriving place that's on the edge of greatness – a small town feel with big city aspirations."
Matt Beaty,
Tulsa Drillers
When a bus becomes a de facto hotel room, which happens when the baseball team travels to Corpus Christi, Texas, for a series, camaraderie is essential.
"We kind of dread the long, 10- and 12-hour bus rides," the 24-year-old third baseman says. "But it's not that bad with a good group of guys who joke around but also know how to be serious about the game. Our guys know when to be funny and when to be quiet."
Beaty's offseason is tied to his wife's work as a journalist. They have lived the past few years in Corpus Christi, where she was a reporter, but they don't know where they'll be after the Texas League season ends in early September. It could be Arizona, Tennessee or Georgia.
"It's tough to find work because few people want to hire you for such a short time," says Beaty, who has sold ads for newspapers and taken other marketing jobs to make ends meet.
Like most minor leaguers, Beaty trains nearly every day in the offseason because of the Los Angeles Dodgers' competitive farm system.
"Every June, the Dodgers draft 40 guys who can take your place," he says. "Plus, there are guys in independent leagues chasing you."
Beaty played at Belmont University in Nashville. He says many minor leaguers often live in the offseason where they competed collegiately.
"Or they go where their parents live or where their spouses have jobs," he says. "Regardless, it's always good to spend those months with familiar faces."
The minor leagues are unpredictable because of numerous variables. For instance, a player's batting average may suddenly rise or fall because he may only see a particular pitcher once a year. Maintaining an even keel is a necessity for survival.
"When you're way up, things can turn south immediately," Beaty says. "I had a college coach who talked about white-hot coals. You can't cook anything with really hot coals or coals that are just lit or almost burned out. You have to wait until they're white for the best grilling.
"We need to stay in that medium state of mind. Everything eventually works out, just not in the time frame you may have in mind."