[dropcap]Holiday[/dropcap] light displays are a big draw this time of year. Businesses, organizations and individuals all put up their brightest for the upcoming Christmas season. The Festival of Light in Chickasha, Okla., attracts thousands each year. With more than 3.5 million lights and growing, it's a destination for Oklahomans and those beyond the state's borders. Similarly, Muskogee's Garden of Lights in Honor Heights Park and Crystal Christmas in Woodward, are great places to view lights in the state.
But if you'd like a holiday destination, Oklahoma is perfectly situated among states with stellar light displays. Consider traveling this season by car, or even train, to view the beauty of the holiday season in neighboring states.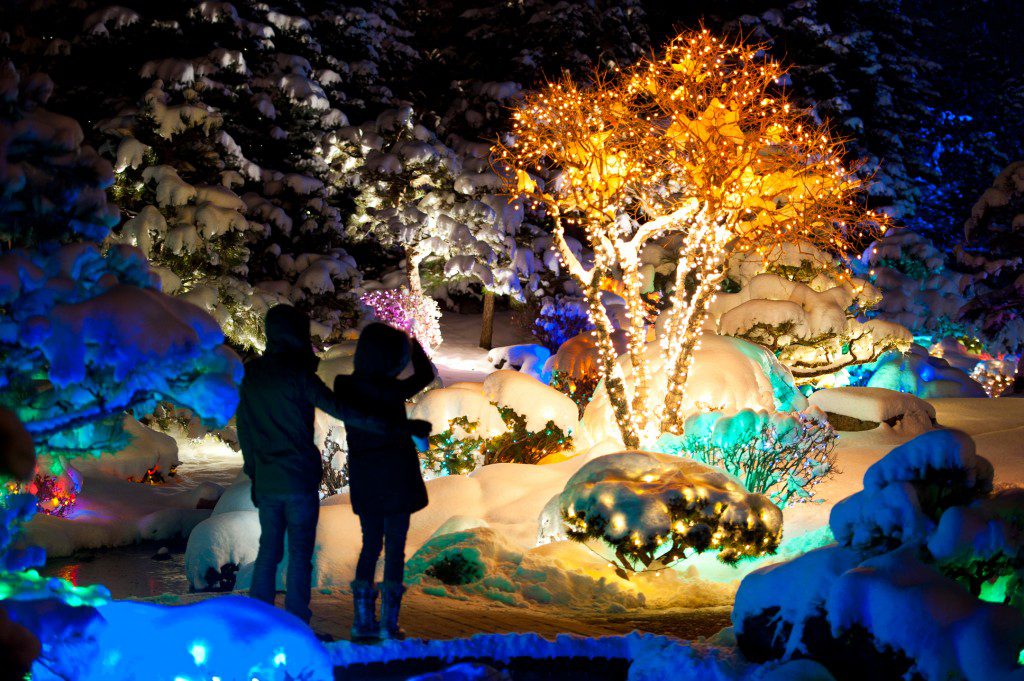 Blossoms of Light
Denver, Colo.
www.botanicgardens.org
This annual event is a tradition for people from across Colorado and beyond. Attractions include the O'Fallon Perennial Walk, in which trees along the pathway are illuminated, and the Romantic Gardens, in which thousands of lights twinkle. Enjoy warm drinks, holiday treats and entertainment at the world-renowned Denver Botanic Gardens York Street event.
Get there: A short trip from downtown Denver, Denver Botanic Gardens is served by RTD buses and B-cycle, the city's bike-sharing service. Free parking is available in a nearby complex and on the street.
Illuminations at Botanica
Wichita, Kan.
www.botanica.org
This family-friendly event is a chance for visitors to see the 17 acres of Wichita's expansive botanical garden in a new light. Kansas' largest light display – hundreds of thousands of lights decorate the park – will flip on Nov. 27. Guests will enjoy LED luminaries, lit trees, Candy Cane Lane lined with flocked trees, live holiday music and warming sips of cocoa and cider. Proceeds from this annual event will benefit the garden's maintenance, facilities and mission.
Get there: Located along Museum Boulevard, Botanica is situated among several museums and entertainment facilities. A short drive from Oklahoma, a road trip is in order to see the sights of this holiday staple.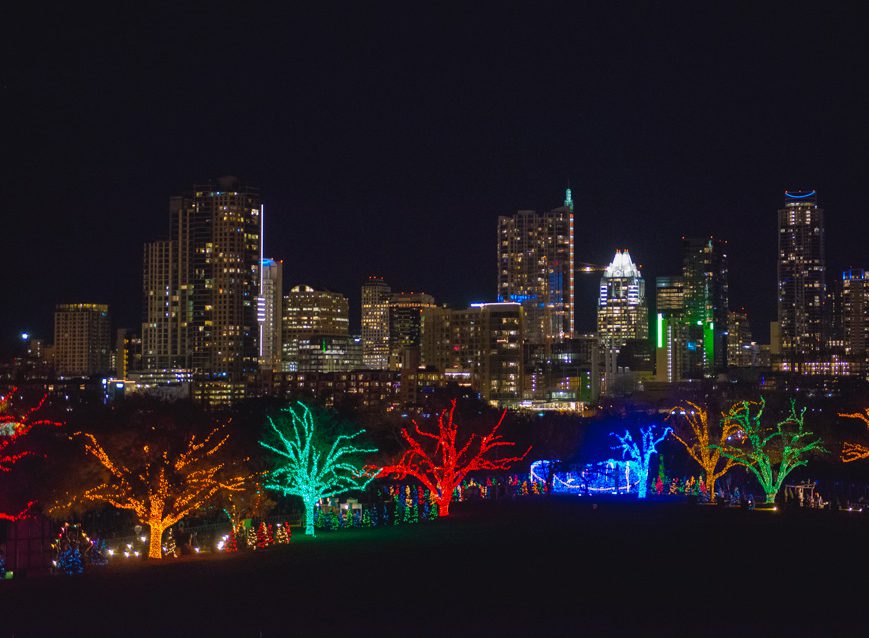 Trail of Lights
Austin, Texas
www.austintrailoflights.org
This two-week celebration of the holidays kicks off on Dec. 8. The annual tradition staged in Zilker Park features performances and festivities that are perfect for the entire family.
Get there: Parking is expensive at the park during the Trail of Lights. The better bet is to take a round-trip shuttle, but the seats sell out fast, so purchasing a ticket in advance is key. Bus routes also run close to the park.
An Old Time Christmas
Branson, Mo.
www.silverdollarcity.com
Festivities for this annual event at Silver Dollar City begin during the first week of November and continue through Dec. 30. Visitors may view productions of many Christmas classics, including It's A Wonderful Life, A Dickens' Christmas Carol and Frosty. Jingle Bell Junction showcases more than 80 themed trees, along with extensive décor and collectibles including snow globes, tableware and more. Twice each evening, Rudolph's Holly Jolly Christmas Parade takes over the streets of Silver Dollar City.
Get there: Access to Silver Dollar City is easy from anywhere in Branson, and purchasing a park ticket allows visitors admission to all holiday and festival events.
Trail of Holiday Lights
Arkansas
www.arkansas.com
Each year, beginning just after Thanksgiving, cities in Arkansas don their holiday best for the Trail of Holiday Lights, a statewide celebration of the season. Cities large and small participate with everything from small displays to grand, show-stopping efforts. An interactive map of light displays allows visitors to plan a day or weekend trip to see most of the Natural State's stunning light displays.
Get there: Arkansas is best reached by car, and a hop over the state's eastern border puts visitors right into the mix of the light displays.