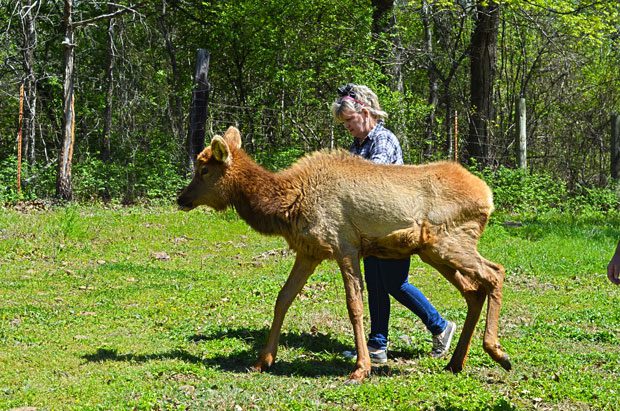 [dropcap]While[/dropcap] the extensive flooding last spring caused problems for many Oklahomans, Karen Flusche of Fluscheville Farm was dealing with an issue many people may not have considered – the effect of the floods on the state's wildlife.
Flusche, a wildlife rehabilitator, is one of many people in Oklahoma who dedicate their time to working with animals who require assistance. Flusche runs her wildlife refuge in Muskogee with the help of her family and a few trusted volunteers.
"I had 20 skunks, 30 opossums, six raccoons, nine deer and numerous rabbits – all at the same time," Flusche says. "This season has been mild. So far so my numbers are low."
The need for wildlife rehabilitators may not seem obvious at first, but Oklahoma has one of the most diverse range of habitats in the country. With these varied environments come an large selection of wildlife, according to information provided by Oklahoma Department of Wildlife Conservation.
Oklahoma's grasslands, mesas, canyons, swamps and forests are home to a variety of mammals, birds, reptiles, fish, amphibians and invertebrates, according to the ODWC. When traveling through or living in Oklahoma it is not unusual to see deer, coyotes, rabbits, raccoons, armadillos, beavers, bats, skunks and prairie dogs, but also bigger wildlife like the American bison, elk and the mountain lion. There are also several endangered species like the red-cockaded woodpecker and the Ozark big-eared bat that make Oklahoma their home.
The wide spectrum of habitats in Oklahoma means wildlife rehabilitators like Flusche see a variety of different animals in their refuges.
"The most unusual animals I've had are an armadillo and an elk," Flusche says. "I love them all, but raccoons are my favorite, with squirrels coming in a close second. I do not discriminate. I think everything is worth saving. 'All creatures great and small. The good Lord made them all.'"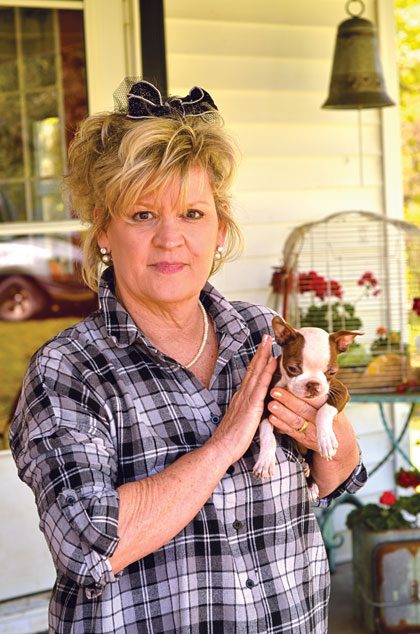 Being a wildlife rehabilitator requires more than just a love for animals. Rehabilitators are trained to take care of animals in need of assistance, and anyone who finds an animal that needs help should contact a professional. Attempting to care for injured wildlife without training could cause additional harm to the animal and lead to legal consquences.
"Oklahoma has strict laws in reference to the conservation of its wildlife, and not just anyone can come to the assistance of a sick, injured or orphaned animal," says Annette King Tucker of Wild Heart Ranch. Wild Heart Ranch is a non-profit wildlife rescue and rehabilitation center located in Claremore.
"Not just anyone can raise baby wildlife that has been abandoned by its parents," Tucker says. "In the state of Oklahoma, it is illegal to possess wild-born native animals without a rehabilitation permit. The penalties are hefty fines and even jail time."
Additionally, if trying to raise a wild baby without proper knowledge, a person can unwittingly deprive the animal of the correct food, hydration, environment, medical care and contact with its own species that is essential to the creature's survival. Raising a wild animal can also cause an abnormal acceptance of human contact, and, if released, an animal may place its trust in people who may not be as caring as those who raised it, the ODWC states.
"In imprint cases, which can be extremely hard and costly to reverse, the animals are often destroyed," Tucker says. "Animals or birds 'imprint' to something other than their own species when they are raised by people or another species of animal. It does not recognize itself as the species that it is because it has the 'imprint' of whatever or whomever raised it."
Whenever you find an injured animal, its chances for survival will be increased if you can quickly get it to somebody trained to help it, says Kathy Locker of WING IT (Wildlife in Need Group in Tulsa).
"We rehabilitate sick and injured wildlife by medicating, treating and giving it time to heal before releasing it back into the wild," Locker says. "We also raise orphaned wildlife until they are old enough to be released back into the wild."
Some wildlife rehabbers specialize in certain species, while others take all kinds of animals and birds. The ODWC keeps an extensive list of wildlife rehabbers on its website at wildlifedepartment.com.
Even if you are not sure what type of animal or bird you are dealing with, most wildlife rehabbers will take the extra time to get you to the right person or organization.
"We can funnel the animals to the different rehabbers, matching ages and species, as well as getting the animals to some rehabbers who may specialize in a specific species," Locker says.
There are many wildlife rehabilitators permitted within the state of Oklahoma with various qualifications and preferences, but all share a love of animals, a sense of adventure and a willingness to get wildlife back to the wild.
Remember, it's common to see baby wild animals outside during spring as a new generation makes its way into the world. Baby wild animals might seem like they need help, but unless the animal is truly orphaned or injured, there is no need to rescue, according to information provided by The Humane Society of the United States.
If you're unable to locate a rehabilitator, try contacting your local animal shelter, humane society, animal control agency, nature center, state wildlife agency or veterinarian.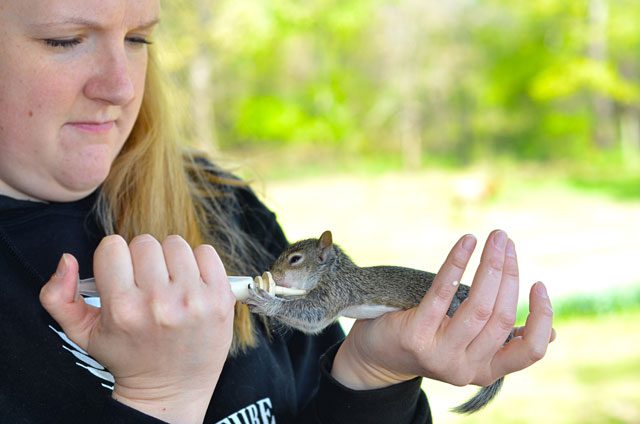 KNOW WHEN TO GET HELP
These tips provided by The Humane Society of the United States can help you decide whether to take action.
Has the animal been presented by a cat or dog?
Is there evidence of bleeding?
Is there an apparent or obvious broken limb?
Is it featherless or nearly featherless and on the ground?
Is it shivering?
Is there a dead parent nearby?
Is it crying and wandering all day long?
If you see any of these signs, try to find help for the animal. Never handle an adult animal without first consulting a wildlife professional, HSUS states. Even small animals can injure. Once you've contacted someone who can help, describe the animal and its physical condition as accurately as possible. Once you're sure the animal needs your help, call a wildlife rehabilitator for assistance, according to HSUS.