The island is a skinny, nine-mile-long spatula, serving up thick slices of scenic country road bicycling, mountain hiking and world-class kayaking under the curious eyes of leaping black and white orca whales.
Lummi (rhymes with yummy) Island, Wash., lies just shy of the Canadian border, off the coast near Bellingham, protected on its western flank by the San Juan Islands. To be truthful, Lummi is a bit of a late bloomer. Some of its more popular neighbors include hilly Orcas Island, flatter Lopez Island and the county seat, San Juan Island, home of hopping Friday Harbor.
Named after the Lummi tribe, the island is small and remote with rolling farmlands, thick forests and broad beaches. It's accessible only via an eight-minute car ferry from Gooseberry Point. Be sure to fill up on the mainland – there are no gas stations on this island of fewer than 1,000 residents.
The best time to visit weather-wise is between April and October, when highs flirt with the 70s. Farmers markets sprout up weekly in the spring and summer, and a chili festival is held in mid-July. Many artists who call Lummi Island home open their studios to tours on Memorial Day, Labor Day and the first weekend in December.
Three preserves grace the island, maintained by the Lummi Island Heritage Trust. The Curry Preserve includes an historic community garden, and both it and the Otto Preserve are sanctuaries of forests and fields, laced with laid-back, easy strolls.
The Baker Preserve down south presents more of a challenge. The hike up 1,660 feet to the peak of Lummi Mountain is strenuous, but the intrepid are rewarded with stunning views of the San Juan Islands and Rosario Strait.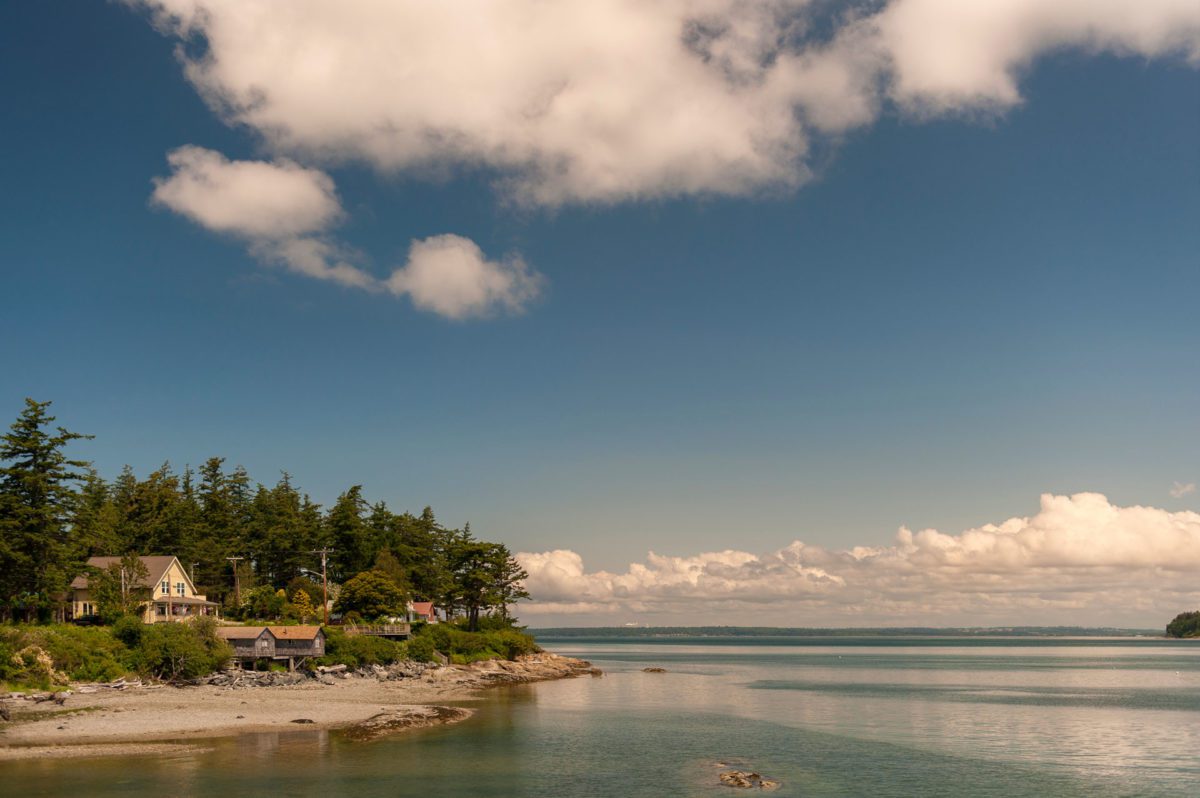 Among the public beaches on Lummi are Church Beach, behind the Congregational Church, which has a cool stone labyrinth on its grounds. Sunset Beach is right across from the Willows Inn on the north end of the island, and the Lummi Island Beach Access is located where the ferry used to dock. It's a park now, with an observation deck from which car ferries can be seen plying the Salish Sea through Hale Passage.
The sea kayaking is superb in the San Juan Islands; the natural scenery above the water, certainly, but also what lurks below: porpoises, Chinook salmon, harbor seals and the occasional pod of orcas.
Down south, check out original essences derived from local flowers at Tree Frog Farm and across the island, peony nurseries like Full Bloom Farm produce gorgeous summertime blossoms in awesome hues.
The Beach Store Café is a Lummi Island institution. Down by the ferry dock, the happy yellow house specializes in seafood – mussels, shrimp, cod and salmon – as well as breakfast omelets, burgers, pizza and happy hour specials.
Nearby, the Islander, the only grocery store on Lummi, showcases baked goods and fresh-brewed coffee. As for vino, the Artisan Wine Gallery keeps a respectable selection of hand-crafted vintages on hand.
Up at the northern tip, Nettles Farm is a small, family-run working farm and fine bed and breakfast featuring farmhouse suites and fully-stocked kitchens, including wood-fired stone pizza ovens. Guests are encouraged to prepare their own meals using Nettles Farm fresh produce and herbs and local seafood, all provided.
Charter boats are available to get from island to island and for fishing excursions. Just for fun, think about booking a seaside tour of lighthouses in the area: Admiralty Head along with the beacons on Burrows and Patos Islands. In your spare time back on Lummi, enlist a local truffle guide (and dog) to start getting dinner together. The Oregon blacks are outstanding.