Informal Elegance
Anders and Terry Carlson provide a high-end renovation designed for comfort and functionality.
Photos by David Cobb
[dropcap]The[/dropcap] home was a traditional structure on Drury Lane in the exclusive setting of Nichols Hills, an upscale historic suburb of northwest Oklahoma City. It looked great on the outside.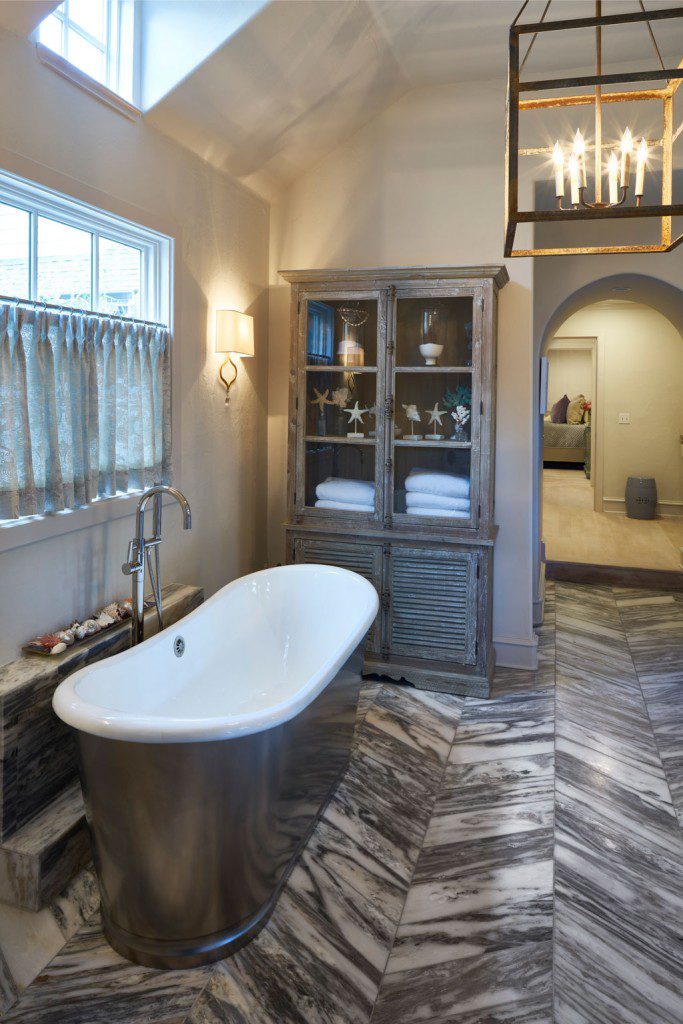 However, the new owners, Dr. Timothy and Shannon Young, thought the 1948 home begged for a new face and personality inside. The Cape Cod style home had been remodeled three times by previous owners. For this renovation, the Youngs chose Anders and Terry Carlson of AC Dwellings, who have done so many home revivals in Nichols Hills the classy residents of one street – Avondale Drive – have considered changing that street's name to Andersdale Drive.
"The home had seen better days," Terry says. "The Youngs wanted to bring the 5,000-square-foot home into the 21st century. This was the second home we had redesigned for them. They wanted the home to be pretty, functional and comfortable. Most important, they wanted a seamless integration from the inside to the outside entertaining spaces."
The Youngs love to cook and entertain in both their indoor and outdoor kitchens. With three children – and a grandchild who frequently visits his own haven in the home – family comfort is a "must have" priority, Terry notes.
The spaces inside the home were opened. Walls were moved or disappeared. Spaces and niches were given new functions. A soft color palette unified the interior in the 12-room home. All the walls are pale oak. The white floors were hand scraped and wire brushed.
Based on Anders' international heritage, the Carlsons mixed Swedish and French Country antiques with a variety of more industrial pieces to give the home a more modern, trendy look, without compromising on comfort, beauty or efficiency.
An outdoor entertaining area now spans the full space of the back of the home. It includes a pool, full kitchen and grilling area, as well as quite comfortable outdoor seating/dining and television areas. The Carlsons truly achieved the seamless integration the Youngs requested.
The open feeling of the home is evident and welcoming as guests enter the comfortable main living area. Rooms flow easily into each other, creating an inviting sense of fluid, open spaces. Conversation areas abound.
Many of the home's accessories and special features were found by Terry in Roundtop, Texas, which has long been a regional mecca for antique aficionados. That is where she found unusual elements, from light fixtures to bedside tables and mirrors, all of which have given this home its unique and luxurious personality.
"The Youngs' home now expresses the informal way people live today. Formality is out. Function and comfort are the most important elements of today's interior design," Terry says.
"To do any home renewal, we try to get inside the client's head while making the home reflect their lifestyle and personality," she adds. "Our clients often tell us, 'Our home has a good feeling now.'"
Anders and Terry Carlson
Anders and Terry Carlson met 20 years ago while working at the American Floral Services in Oklahoma City. Anders was a partner with noted Oklahoma City entrepreneur Herman Meinders. Terry was the chief technology officer. Both brought a unique heritage to their relationship.
Anders came to America from Sweden. Terry's father was a journalist and the family lived all over the United States. While her father mined each new location for stories, Terry grew up helping her mother redesign each new home and garden.
Today AC Dwellings combines the talents of Anders and Terry, and they are known for extreme makeovers on homes that need a facelift or complete renovation. They specialize in cosmetic upgrades and redesigns that take a home to the studs for a transformative, fresh new appearance.
Anders and Terry have captured the attention of Nichols Hills residents. They have renovated 16 homes on Avondale Drive, an exclusive Nichols Hills address, near the Oklahoma City Golf and Country Club. They have lived in three of those homes and one on Nichols Road. Their homes reflect luxurious elegance while still honoring the utmost in functionality.