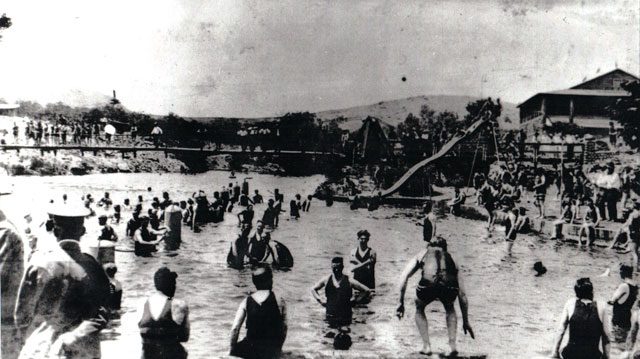 [dropcap]Tiny[/dropcap] Medicine Park has always been too big for its breeches … not because it wants to be, but because it has to be. The village with granite cobblestones annually hosts 30,000 shoppers, hikers, bikers, swimmers (in Bath Lake, smack in the middle of town) and backpackers.
Active lifestyles define this gateway to the Wichita Mountains Wildlife Refuge, the oldest such facility managed by the U.S. Fish and Wildlife Service. Medicine Creek has served native people for tens of thousands of years and the town since it began seven years after the nature preserve was created in 1901.
"The town's a real mixed bag," says Jean Schucker of the town's Economic Development Authority. "We like it that way. Shoot, I'm an old hippie. It's always been eclectic."
Concurring, Mayor Jennifer Ellis says Medicine Park has "business people, musicians, artists, military, retirees, judges, lawyers, physicians … any other job you can think of … all living and working together."
Bicyclists can pedal a few minutes north to Lake Lawtonka, renowned for trails ranging from easy to difficult. Those exploring on foot can find nirvana a little west in the Wichita Mountains, which offer sightseeing, birding, rigorous hikes, primitive camping and world-class rock climbing.
Elmer Thomas, a state politician who later served in the U.S. Senate for 24 years, began the town as a private resort and dammed the creek to bring in tourists for the waters' supposed healing properties. Medicine Park attracted the famous (Will Rogers, Wiley Post, Roy Rogers, Dale Evans) and the infamous (Pretty Boy Floyd, Bonnie and Clyde, Al Capone) but struggled after the Great Depression and World War II. The economy rebounded with development in the 1990s.
The annual Red Dirt Ball, a free music festival, draws retirees, motorcycle clubs and lovers of Oklahoma's unique musical genre, red dirt. Cade Roth and the Blacksheep, and 11 other bands play May 26-28.
Bath Lake, open from Memorial Day weekend to Labor Day, has a footbridge and a walkway to an island gazebo.
On sunny winter days, Schucker says Medicine Park bustles with folks in search of a scone, full meal, snack or cup of coffee.
"We get people from everywhere: China, South Korea, Germany, the British Isles, Scandinavia, Egypt," she says. "Most come for the wildlife refuge, then find us on our website. People always say, 'Oh, my gosh. I didn't even know this was here.'"