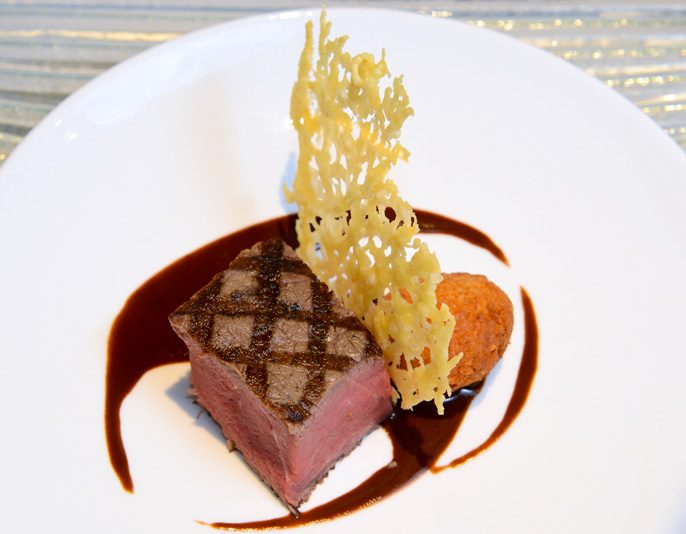 [dropcap]So[/dropcap] here you are, on the fringe of Broken Arrow, near the highway, but on a strip of land the housing boom never reached. In front of you, dusty land and a few low-slung, whitewashed buildings, and the glaring sun and general air of desolation.
You turn to leave, but you glimpse a wooden door, a tiny sign that proclaims (or rather, whispers, it being so small and self-effacing) Millicent Brasserie.
Through the door, a long table, white starched linen and elegant place settings await your arrival.
[pullquote]Have you ever heard of another restaurant in the world like this?"[/pullquote]It's the sort of setting that the East Coast gourmand japesters, who set up secret underground pop-up restaurants, would pounce on. But Millicent is no pop-up. And it's the location, explains chef and owner Vincent Tran, which makes it all possible.
"If we were in midtown [Tulsa]," he explains, "the rent would be so high that I could never be creative. I'd be serving safe, simple, crowd-pleasing dishes and hoping not to go bankrupt. But here, with low, low rent and a long-term lease, I can cook what I like. I can spend five days making one dish. I can serve one banquet a week and spend the week making it the best meal possible."
He looks around, and a slow smile crosses his face.
"Have you ever heard of another restaurant in the world like this?" Tran asks his guests. On this night, about 20 lucky guests assemble at 7 p.m. So far, none of them have said yes. There's excitement in the air; most of the diners have reserved at least two months in advance; Millicent Brasserie is open only one night a week.
The dining room is windowless. The lights dim, romantic violins commence playing and wafts of smoke curl upward from strategically placed dry ice. Through the smoke comes Tran, dapper in a crisp, white jacket. Behind him, on large TV screens, are nighttime shots of Paris.
"For my first course," he says, "I have chosen squash, because for me, the taste of squash never fails to evoke the friendly feeling of being with family."
The music switches to "La Vie en Rose,"and suddenly, there before diners appears a tiny glass full of rich, savory, roasted butternut squash puree with pan-roasted fresh corn and cubes of bacon. The two-month wait, crossing the desert to get here, was worth it.
Tran comes from a close family, and some of his earliest memories are of cooking. As a small boy, he'd watch his mother prepare the evening meal and then, the next time she left the house, he'd try to duplicate her efforts. One day, he recalls with a grin, he tried to make a bean soup with a full pot of beans, and as they cooked, they expanded, slowly filling the stovetop and then the kitchen floor.
Tran's training is not culinary in nature. Prior to working in restaurants, Tran ran a Texas-based software company.
But he never forgot his first love.
"Instead of playing golf with my clients, I cooked them dinner," he recalls.
Tran falls silent as the next course arrives. Though he never attended cooking school or worked in a restaurant, Tran is a master of technique. What appears to be ordinary fried chicken is, in fact, chicken that has been poached at a low temperature for 10 hours and then flash-fried. This yields a complex and unique play of textures. It's served on a bed of fennel and watercress, topped with hollandaise sauce made with brandy crème fraiche and raspberry powder, and atop this silky sauce are caviar and brightly-colored edible flowers.
A hypnotic parade of platters follows, each good enough to induce craving, raving and delirium. They appear simple and quickly prepared, but they're not. That soft-yielding pork shoulder on a bed of crème fraiche apple relish took 24 hours to prepare. That single, perfect shrimp in a martini glass spent three hours simmering with herbs in the sous-vide machine. An ineffably delicious wine sauce takes three days and nights to make.
[pullquote]My friends all told me that a restaurant like I wanted should be built in New York or Dallas or San Francisco, but never Tulsa. I told them that it was Tulsa and only Tulsa for me."[/pullquote]Tran is sentimental and superstitious enough to add a bit of wine sauce from previous banquets to it, so you're eating food from every meal he's ever cooked. And Tran's interpretation of Carpaccio isn't raw; it has been sous-vided for five hours, and it's bursting with juice and flavor.
As these dishes make evident, Tran has all the latest gadgets and knows how to use them.
"My kitchen is very high-tech," he says. "It has everything from a blast chiller to a combi oven. But a scissor can't make a suit unless you know how to use it."
The penultimate course is larger than all the rest. A perfect leg of chicken, truffle mashed potatoes, a carrot roasted in the combi oven, sautéed portobellos and, tying it all together, that rich and wonderful 72-hour wine sauce. And then, all too soon, a simple dessert arrives, and the meal is over, and ladies are presented with a perfect red rose made of fabric by Tran's wife.
Until Tran gets his liquor permits, there's no alcohol served at these banquets. But you'll, nonetheless, notice something strange and wonderful as the meal progresses. People get happier, as if drunk on the food. Their faces relax. They laugh a lot. Tran's face lights up when he's told about this.
"That's one of the greatest compliments I've ever received," he says. "You know, my friends all told me that a restaurant like I wanted should be built in New York or Dallas or San Francisco, but never Tulsa. I told them that it was Tulsa and only Tulsa for me. Now I know I was right. And if I make people happy with my food, I have achieved my goal." 800 S. Ninth St., Suite D, Broken Arrow. www.millicentbrasserie.com