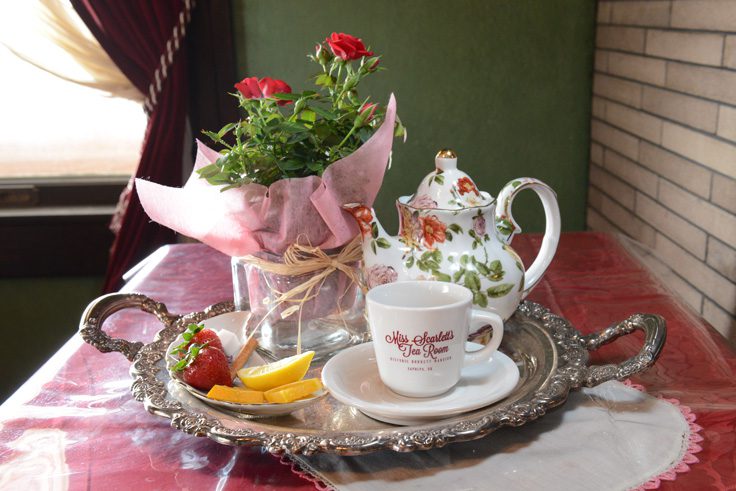 The plantation-style, historic Burnett Mansion, a special events facility in Sapulpa, was built in 1911 by Bates Burnett and Dannie Ross. In 2007, after passing through many hands, the Firey family – Shirley, John and their daughters Scarlett and Holly – took the reigns. In November 2013, the entire first floor of the mansion became Miss Scarlett's Tea Room.
White tablecloths with embroidery and lace cover the tables where tea is served. With delicious sandwiches, soups, salads and desserts on the menu, Shirley Firey emphasizes what Miss Scarlett's is really about: teatime.
"People really need that break and relaxation and just a little bit of teatime in [their] life," she says. "Sit with your friends, enjoy a cup of tea and relax."
With Miss Scarlett's tea service arrives a teapot and teacup. A silver platter decorated with lemons, sugar cubes, cinnamon sticks and fresh mint, when in season, accompanies the tea. On Saturday, there are more than 40 teas to choose from. Inside the tea chest, find flavors from all over the world. Scarlett Firey, the tea connoisseur, even toured the Celestial Seasonings factory in Boulder, Colo., where many of their teas are made.
The Tea Room is open Wednesday through Saturday and can be rented out for private tea parties and special events. 320 S. Main St., Sapulpa. www.burnettmansion.info