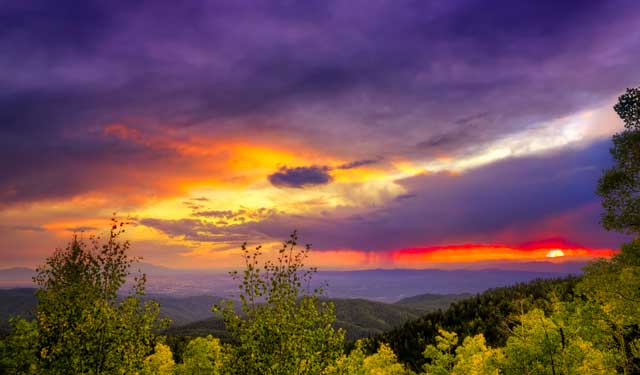 [dropcap]Santa[/dropcap] Fe, New Mexico is a destination to consider if you want to retreat to one of America's treasures of natural landscape. Some tourists are particularly drawn to the quietness of Santa Fe, because even the stroll through the main plaza is relaxing. The restaurants, cafes and boutiques are charming. Local artisans display their handicrafts and jewelry. A personal recommendation is to spend time on a sun-soaked restaurant balcony with a view below of the people sauntering through the plaza. When you're not at the art galleries or beautiful chapels of the plaza, you can enjoy the restful "retreat" at a home in the hills or at a hotel and spa, depending on your preference and accommodations.
Restaurants and Cafes
Eat lunch at The Shed (sfshed.com) or Cafe Pasqual's (pasquals.com), both famous for their ambiance and Mexican food. Cafe Pasqual's is especially known for its organic and fresh cuisine.
For an authentic Santa Fe experience, have dinner at Sena Plaza at the restaurant La Casa Sena (lacasasena.com). The outside patio is illuminated and sets the tone for a divine meal under the stars.
The best surprise of all is discovering Canyon Road. Don't miss this picturesque half-mile street full of art galleries and cafes. There are approximately 250 galleries in just a two-square-mile area and nearly 100 are located right on Canyon Road.
Santa Fe's oldest restaurant, El Farol (elfarolsf.com), is also located on Canyon Road. People salsa dance in the bar, but for even more excitement, go to the flamenco show in the back courtyard. The mural on the wall inside is gorgeous, which makes for a truly colorful and sensational ambiance. The menu is also impressive and delectable. Dining at El Faro is a perfect way to spend the evening on Canyon Road.
Activities and Attractions
Daily walks are refreshing in the moderate Santa Fe climate. The sagebrush everywhere is fragrant and energizing.
Santa Fe is not just for art lovers, foodies and fashionistas. If you are adventurous or athletic, the area offers opportunities for rafting, paddle boarding, windsurfing, sailing, waterskiing and powerboating.
The Loretto Chapel houses the famous "miraculous" spiral staircase which is an architectural mystery. Another beautiful house of worship is the St. Francis Cathedral, built in the 1800s, which combines French-Romanesque, adobe and modern architectural styles. The exhibits found in the New Mexico History Museum and Palace of the Governors span from prehistoric to modern artifacts. A unique feature is the presence of Native American artisans in front of the museum selling their handmade jewelry.
Lodging
There are many beautiful hotels and villas in Sante Fe, but if you want to be right in the center of it all, La Fonda on the Plaza (lafondasantafe.com) is the perfect place to stay.
The Inn and Spa at Loretto, luxuriously designed in the Pueblo Indian architecture style, is located next door to the historic Loretto Chapel. It's well-known for using indigenous herbs and minerals for its spa treatments. The Canyon Road arts district and historic plaza are just an easy stroll away.
The Lodge at Santa Fe is a moderately priced hotel and also offers stunning views.
Lastly, Santa Fe is a city of trivia and factoids. Did you know Santa Fe is the oldest capital city in North America and also has the highest elevation? There are also 40 festivals each year ranging from wine and food to jazz and art. There are 14 major museums. And here's an enticing fact: there are 300 plus days of sunshine per year!