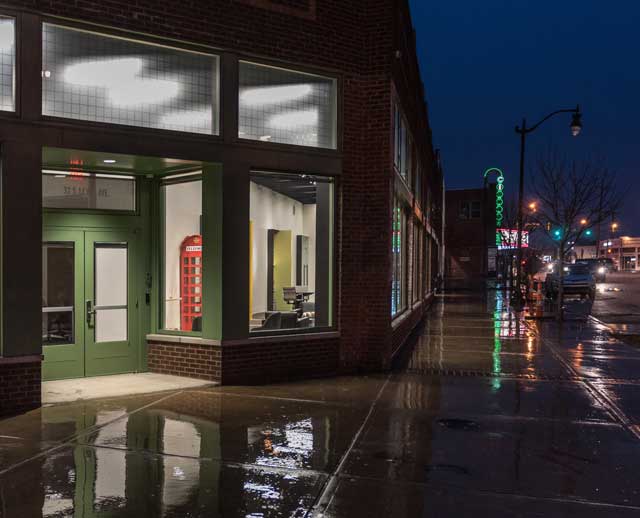 By M. J. Van Deventer • Photos by Nathan Harmon
[dropcap]An[/dropcap] aging hardware company in Tulsa's historic Kendall-Whittier district has been revitalized into an upscale, trendy office for TPC Studios, a cutting-edge branding and event planning organization known for its originality and creativity.
Clients of TPC find their new meeting space a vibrant, colorful, contemporary setting, anchored at First Street and South Lewis Avenue in the original Swinney Hardware Company.
TPC Studios, organized in 2012 as Talmadge Powell Creative, has planned spectacular events in Tulsa since 2000. In 2012, TPC expanded into a full-service branding agency, originally based in an old automotive repair shop at 11th Street and Cheyenne Avenue. The firm not only outgrew that location, but it surpassed the original business plan.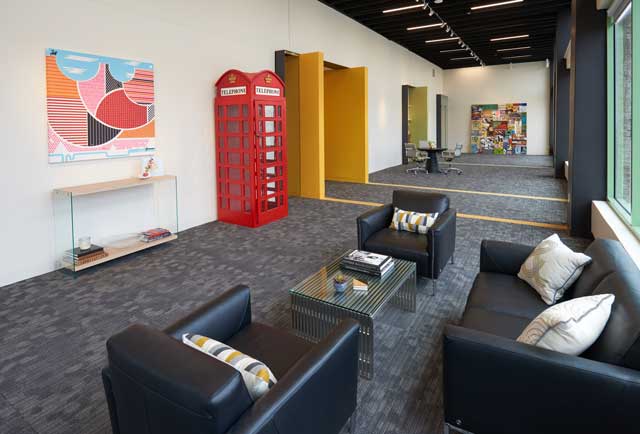 So Talmadge Powell and partners Todd Pyland and Pat Chernicky went shopping for a new corporate address. They previewed properties for a year. Swinney Hardware, which dates to the 1900s, kept calling them back.
Their first visit to the store was intimidating.
"It was raining. There was a river of water inside the abandoned, 13,000-square-foot building that was in total disrepair," Pyland says.
Prospects for any architectural or design revival seemed bleak, yet the partners could see sunshine and promise beyond the rain. Plus, they loved the old windows and high ceilings in the derelict building.
Working with Tulsa's Selser Schaefer Architects, Pyland, TPC's principal and creative director, says, "We gave them a tall order. We wanted multiple conference rooms, a props area, kitchen, photography studio, floral rental warehouse and an efficient loading dock for the varied merchandise arriving daily for special events the firm plans."
Pyland says Selser Schaefer was "so thoughtful" in considering the needs of a business based on branding development and fund-raising events for Tulsa's nonprofit and corporate communities. The architectural firm also studied the Beryl Ford Archives at the Tulsa City-County Library to research the hardware store's architectural history.
The building's historic position in Tulsa was a plus, enabling TPC to utilize tax credits available for historic properties from Oklahoma's Urban Renewal and historical societies.
Perhaps the biggest challenge that Powell and Pyland gave to Selser Schaefer was, "everything has to blend together." And it does.
Shannon West, Selser Schaefer's project manager, says the firm used a planar style of architecture rather than the typical enclosed box-like spaces in homes and some offices.
"Two major white walls define the open space of the office and gallery," West says. "Other walls use accents of red, green and yellow, defining the separation between offices and other spaces. The offices still have a sense of privacy but have a visual connection with other spaces. Those vibrant pops of color add architectural interest.
"This is a very mid-century modernist way of composing an interior space. I'm influenced by that era of architecture. It's an aesthetic that has a clean, interesting impact. We tried to capture the character and personality of TPC. It's an architectural representation of the elegance and sense of whimsy found in the products and events they create."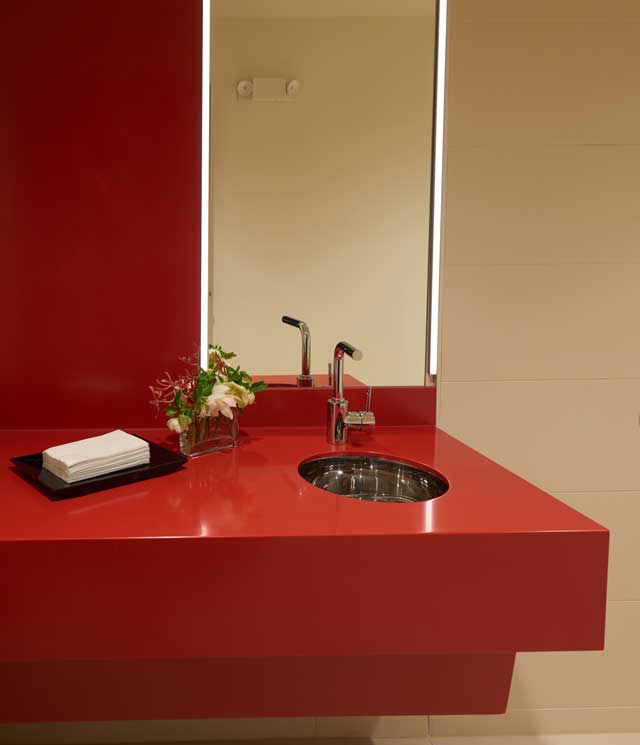 Pyland calls it a "trendy, colorful upscale space that shines a light on our business." Among notable clients are the Tulsa Botanic Garden, St. John Health System, Tulsa Regional Chamber of Commerce, Patriot Bank, Tulsa Ballet and the Tulsa Club building, scheduled to reopen in 2018.
Creating an inspirational environment is important to the TPC principals. The firm produced the recent grand re-opening of the overhauled downtown Tulsa library, along with planning a scavenger hunt at the Post Oak Lodge in the Osage Hills for the Boy Scouts of America in April and creating a new BSA branding concept.
Among notable events they have planned are the "Memory Gala," voted one of the top three fundraisers in the nation for Alzheimer's disease by the Alzheimer's Association; "Carnivale," Mental Health Association Oklahoma's annual fundraiser; and, an Oklahoma Magazine favorite, "Tulsa Cares Red Ribbon Gala" for AIDS awareness and research.
By the way, if you need a life-size faux elephant for a spectacular fundraising event, TPC Studios has one just waiting for you in its well-filled stock room.