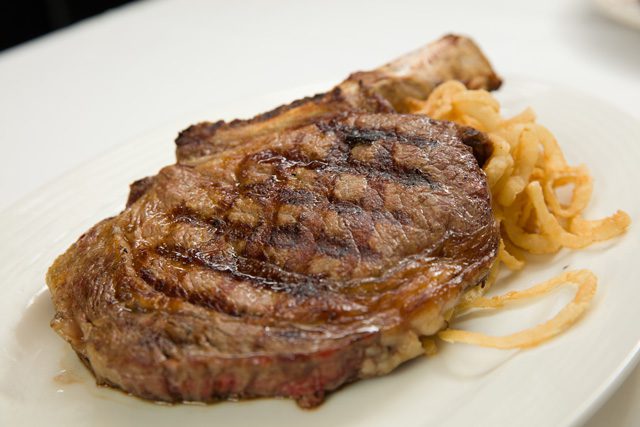 [dropcap]Imagine[/dropcap] someone – an angel maybe – swooping down with a creamy bowl of macaroni and cheese loaded with bacon and jalapenos. Next, an apparition takes shape – it's "Lobster Cargot," swimming in butter, garlic and cream. Finally, you have a vision of 24 oz. of charcoaled rib eye steak and fall to your knees in rapture. It may sound like heaven, and it's pretty close – it's Mickey Mantle's Steakhouse.
As the foodie godfather of the Bricktown entertainment district in Oklahoma City, Mickey Mantle's occupies a storied place in Oklahoma City's culinary canon. Being part of the neighborhood's transformation from abandoned industrial wasteland to one of Oklahoma's most popular tourist destinations has helped define Mantle's as the fine-dining linchpin of an ever-growing cohort of the area's culinary attractions.
"The sense of community among the district is one of the best I've ever seen," says Brittany Leemaster, director of events and marketing of the neighborhood. "Everyone in the Bricktown community is truly supportive of each other and are constantly exploring opportunities to help each other thrive. Mickey's has enjoyed entertaining the wide mix of tourists, locals, celebrities and business crowds that Bricktown attracts. It's been an exciting journey to be a part of Bricktown's growth for the past 16 years and we know that growth is just going to continue to get bigger and better in years to come. We feel extremely blessed to be a part of this thriving district."
In addition to offering some of the ultimate American dishes available in Oklahoma City, Mickey Mantle's serves as one of the state's most popular event destinations as well, offering full event services for everything from graduation celebrations to bachelorette parties and wedding receptions. But it takes more than happy stomachs and good parties to keep customers returning year after year.
"Our approach to most everything we do is to listen to our guests' wants and ideas as well as getting our staff heavily involved in the creative process," says Brad Jackson, general manager of Mantle's. "If your staff doesn't stand behind something, it doesn't matter how good it is. We are very lucky in the sense that most of our staff are true foodies which tends to make for a better guest experience on the culinary side of things."
Mantle's is most popularly known for their 100 percent grass-fed American beef steaks and their exceptional execution of Oklahoma culinary tradition, but staff at the restaurant are excited to be a part of the recent creative renaissance in the state's food scene.
"As Oklahoma continues to grow, especially in OKC, there will be a demand for all types of dining experiences," Jackson says. "The good thing about food and beverage is that there are not any rules, but the downside of having no rules is being only measured by success or failure. Here at Mickey Mantle's, we have and always will have the highest standards for ourselves and are very proud to be a part of the fine-dining fabric of Oklahoma. As long as we continue to raise the bar, I think we'll have a bright future."
Mickey Mantle's is located at 7 Mickey Mantle Drive in the Bricktown District of Oklahoma City. Menu, reservations and event services information can be found at mickeymantlesteakhouse.com.