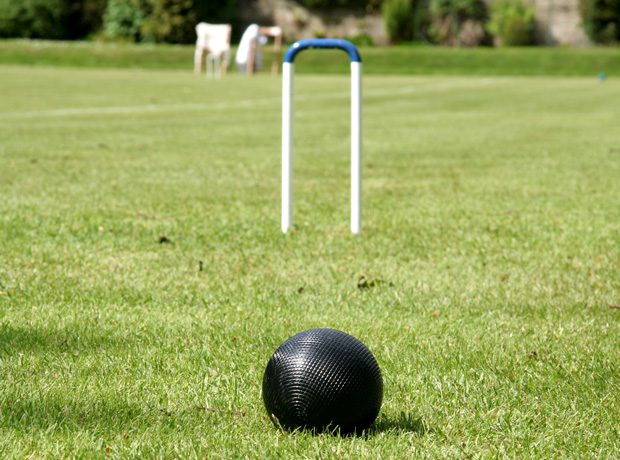 [dropcap]For[/dropcap] many, the mention of croquet is more likely to conjure thoughts of a farcical game played in Alice in Wonderland with flamingos and hedgehogs than the traditional sport played with mallets and polymer balls. In his 34 years as library director at Oklahoma Wesleyan University, Wendell Thompson was more likely to encounter the Lewis Carroll representation of croquet than a collegiate competition. In his free time, however, he became very familiar with the sport.
"I received a brochure in the mail at the library saying that if you want to learn how to play croquet, come to LaFortune Park in Tulsa on Tuesday evenings, and we'll teach you how to play croquet," he says. "So I went. I went every Tuesday for a whole summer that first year, and I've been going every Tuesday all summer ever since then for 22 years."
That dedication served him well. Thompson has won three national croquet championships and, eight years ago, he introduced croquet to the students at OKWU. Those years of experience did not only make Thompson a great player, it made him a great coach. Each April, he takes eight students to the Merion Cricket Club in Haverford, Pennsylvania to compete in the collegiate national championship. In the months leading up to the competition, the students practice hard to master a sport many have likely never played before they met Thompson.

"We went every Saturday in the spring semester – every Saturday morning – to LaFortune Park, which is 100 miles round trip, to practice for about four hours," he says. "Even when weather was really cold we went anyway because we wanted to be totally ready. And we were."
They were indeed. In seven years of competing, they have already taken home three championship trophies.
"We compete at the NCAA level against the U.S. Naval Academy, St. John's University, Princeton University, William & Mary, State University of New York and Case Western Reserve," he says. "They thought, 'Well, you're a small school. You don't have a chance against us.' So, we go up there, and the first year we go up there we win the championship. They were totally shocked."
The OKWU croquet team works so hard to be the best that sometimes their toughest competition is each other.
"The one thing that happened in the 2013 and 2015 is all four of my teams made the final sixteen," Thompson explains. "And then three of my teams made the final eight. And then two of my teams made the final four. And then two of my teams were in the final two. So we actually ended up playing each other for the championship."
Thompson says the students always want to come back and compete year after year. It is college, though, and eventually the players graduate from Wesleyan. No matter how many new faces there are, the team always finds a way to persevere.
"I had seven freshmen and one sophomore in 2015," he says. "I was doubtful as to how competitive we would be, but we get up there and we won the whole thing. We won the national championship with freshmen."
Perhaps more impressive than that is how Thompson manages to get freshmen to keep signing up for a sport that has been waning in popularity. A recent study from the Croquet Association in England suggests that by 2037 croquet may no longer be played at all if young people do not develop an interest in it. Here in Oklahoma, Thompson is doing his part to ensure this does not become a reality.
"I talked to our academic vice president and set up this croquet as a one hour for credit class," he says. "A lot of them sign up because they just want something else to do. They play a little bit, and they get real interested, and then they get very, very interested in it."
The opportunity to travel is also a draw for the students.
"We put the students up in a luxury hotel; we eat out at fine restaurants," he explains. "After the competition, I take them to see the Liberty Bell and other historical sites in the Philadelphia area. I have also taken them to Times Square a couple of times. I make it a really attractive thing to do so they really want to do it."
Although the 2015 championship team was comprised of only men, Thompson believes that one of the great things about croquet is it lends itself to gender equality.
"I like it because it is the only truly co-ed sport where men and women compete on an equal basis," he says. "There is not a women's division and a men's division. We all compete together. I like that aspect because in a lot of sports it requires speed and strength, but in croquet, it requires accuracy and strategy."