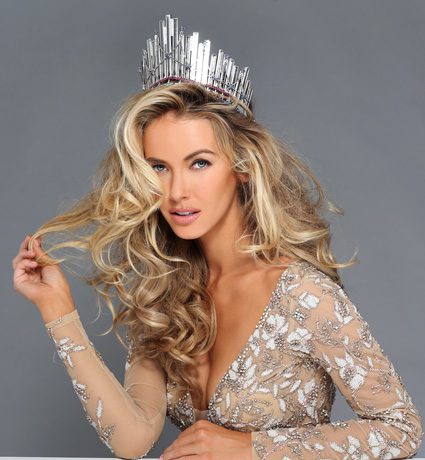 Olivia Jordan
In July 2015, 26-year-old Olivia Jordan made history when she was named Miss USA. The Oklahoma native is the first Miss Oklahoma USA to claim the crown.
"It was the most surreal feeling," Jordan recalls of hearing her name called as the winner. "I've been dreaming of this for so long. To hear [my name called], I've been pinching myself ever since because it's so incredible to have all my dreams come true in one second."
Jordan, who currently resides in New York, is a Tulsa native and Bishop Kelley graduate. She graduated from Boston University in 2011, then moved to the West Coast to pursue modeling and acting. She has competed in national pageants, but none as high-profile as Miss USA.
"The people in Oklahoma are what make it a special place," Jordan says. "Growing up in Tulsa, I was surrounded by a community in which people are incredibly kind and generous. That really defines Tulsa in a lot of ways. That helped me be in a good mental place to pursue these goals, a job that is about helping people. Coming from a community that shares those values and morals is important."
Jordan has utilized her position to further awareness and research of breast and ovarian cancers, causes that are close to the Miss USA organization as well as to Jordan.
"[Breast and ovarian cancers] are a woman's cause," Jordan says. "It's important to rally behind that."
Jordan has also been an advocate for Alzheimer's research. She has served as emcee for the Tulsa Memory Gala and Oklahoma City Memory Gala, annual fundraisers for the Alzheimer's Association. In a trip back to Oklahoma in September, Jordan used her title to bring messages of confidence and being nice to others to Tulsa school students and visited little patients at The Children's Hospital at OU Medical Center. She topped off her trip with a fundraiser at Norman's Riverwind Casino to benefit the Alzheimer's Association.
In addition to her goodwill visits and messages of hope, confidence and body positivity, Jordan spent the last half of 2015 readying for the Miss Universe 2015 pageant, which was held Dec. 20 in Las Vegas. She certainly made Oklahoma proud. – Jami Mattox