Joseph Harroz Jr.
President – The University of Oklahoma
As one might expect, OU president Joe Harroz can rattle off all kinds of numbers about this year's freshman class.
Largest in history with 4,582 enrolled. Highest average GPA at 3.66. Most diverse class, with 38% identifying as minorities. Percentage of first-generation students: 25%.
"Of all the stats we have, that's the one that just gives me goosebumps, the 25%," he says.
That's because the 15th president of OU is, himself, the son of a first-generation college student.
"My story, and the story of my family, is completely dependent on Oklahoma and the University of Oklahoma," he explains. "My grandfather was put on a boat from Lebanon by his parents, in an effort for him to find a better life, in the late 1800s. He had nine children, and my dad was the youngest and the only one to go past high school."
His father went to undergrad and medical school at OU, then sent his children to the same school. After working on Capitol Hill and practicing law in Oklahoma City, Harroz says he was "absolutely blessed to come back and work at OU over the last 25 years."
Prior to becoming president in May 2020, he spent a year as interim president and previously served as dean of the College of Law, as general counsel and as vice president for executive affairs.
A new strategic plan was high on his list after taking the helm.
"It's something we did with the whole university," he says. "It's incredibly specific. We distilled it to three words: 'We change lives.'"
OU has clearly defined its research focus areas, Harroz says, and in the past year raised a record-high $446 million in research awards. Fundraising was restructured, breaking another record at $231 million. In July, OU formalized an agreement to create OU Health.
"The hospital had been separate from OU Physicians and OU Clinics," says Harroz. He adds that Oklahoma's first comprehensive academic health system offers a seamless patient experience with access to the latest treatments.
"A great, exciting moment for me was when Gov. Stitt and the Secretary of Commerce asked me to join them in recruiting Canoo, the electric vehicle manufacturer. OU is necessary for our state's growth, but it's not sufficient," he says. "We are here to work with the rest of the leadership and state."
Additional high points for Harroz were the announcement of the move in 2025 to the SEC athletic conference, and the hiring of Brent Venables as head football coach.
Moving to the SEC, he says, "was critical to OU and more broadly to the state."
As for coaches, Harroz says many are transactional.
"What they want is an outcome on the field," he says. "Brent Venables is interested in being an interpersonal coach, where he is developing these young men. The winning is a by-product of what he does."
Shoshana Wasserman
Deputy Director – First Americans Museum
Sixteen years of planning, research and taking ideas from concept to reality have paid off for Shoshana Wasserman, deputy director of the First Americans Museum.
"I think what I love most is when I go into the galleries and listen to the comments when Native people come in, who have seen their cousins or uncle or aunt in an exhibit," says Wasserman, a member of the Muscogee (Creek) Nation and Thlopthlocco Tribal Town.
The $175 million, 175,000-square-foot museum, which tells the stories of the 39 tribes in Oklahoma, opened Sept. 18 and has been busy ever since.
"I was just completely elated on opening weekend, though there were so many concerns and details. But we had an amazing crew of volunteers for the opening," many of which were non-Native, she says.
"They said they were so honored to do this and thanked us for inviting them."
Each tribe's material culture is represented by at least three objects, many on loan from the Smithsonian's National Museum of the American Indian.
"What has been so rewarding has been going into the tribal communities and harvesting stories and photos and cultural materials," says Wasserman. "We wanted to make sure every tribal person could go in the museum and see themselves represented."
Wasserman is hardly resting on her laurels. The opening was followed quickly by Indigenous People's Day and Veterans Day programming, along with the Winter Art Market. School tour groups will soon arrive.
"The programming is what really makes the exhibits come alive," she says.
Wasserman says she and executive director James Pepper Henry "work beautifully together," and are busy with community partnerships, fundraisers, strategic planning and filling job openings in guest services.
"Before FAM, when people came to Oklahoma, it was difficult for them to get any meaningful information about Native history," she says. "Visitors are looking for unique American experiences. And once the land around the museum is developed, there will be so many things to do."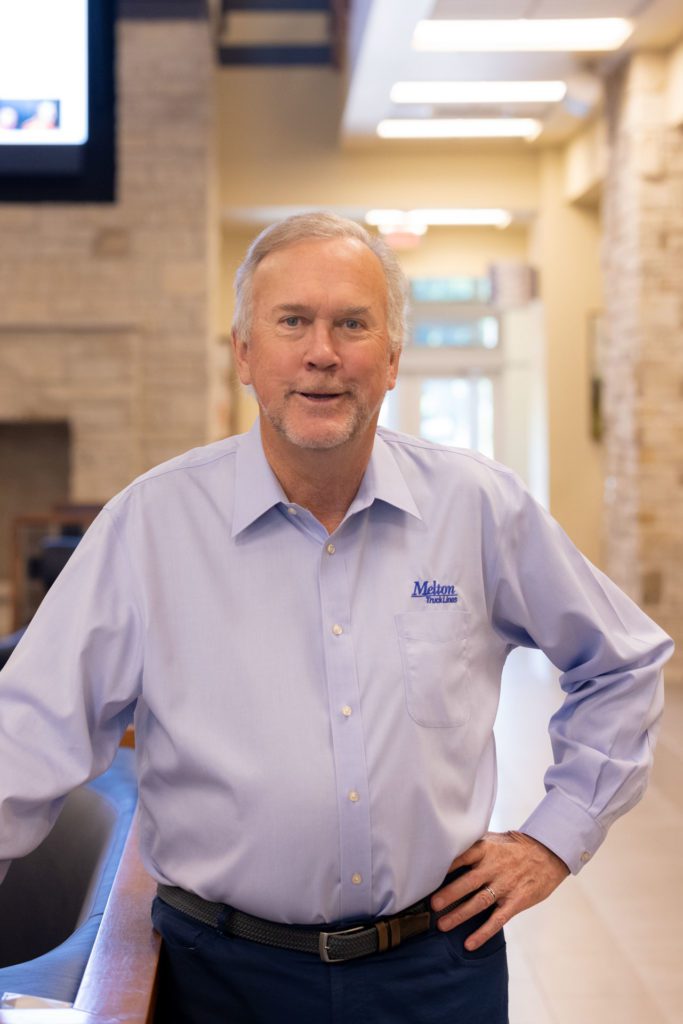 Bob Peterson
Chairman and CEO – Melton Truck Lines
Bob Peterson enjoys his morning workouts, but sometimes motivation is needed at such an early hour.
"I tell myself that all the other CEOs are in their beds sleeping and I'm going to kick their butts for the rest of the day," he says with a laugh.
Peterson is chairman and CEO of Melton Truck Lines, a company he acquired after moving to Tulsa in 1989.
He's a native of Minnesota who started his career in trucking by obtaining a commercial driver's license in 1985 – which he maintains to this day. He spent six months as an over-the-road driver.
"It's a blast," he says. "You gain tremendous respect for the responsibility placed on the drivers and how much they have to concentrate."
Another thing he enjoys is serving as vice chairman of the Oklahoma Department of Transportation Commission. He represents 11 counties in northeast Oklahoma's District 8.
"It's fun learning about roads and bridges and how much they cost," he says. "Highways and infrastructure impact not only our business, but all of us, and I am happy to lend a hand to that process."
He started his company with 36 employees; today, there are 1,450.
"COVID scared people into retirement and we lost a large number of truck drivers," he says. "We could use several hundred more. The supply chain shortage is still a crisis."
The company has invested heavily in safety technology, says Peterson. About ten years ago, Melton installed cameras in its trucks that shoot forward, and also back at the driver.
"It's saved us lots of money," he says. "When there are collisions, believe it or not, some people fib about what happened."
Melton invests in employee wellness with a 3,500-square-foot gym and on site medical clinic. About 150 of his drivers have logged more than 1 million miles.
In his free time, Peterson likes to golf. He and his wife, Cindy, a writer, enjoy getaways to their lake home. And he stays busy – Peterson holds an MBA from the University of Southern California and is a certified public accountant. He also remains involved in local philanthropic efforts.
"I embrace being part of such a philanthropic community as Tulsa," he says. "I have been involved with the Tulsa Area United Way for many years, and our company rallies around our annual campaign."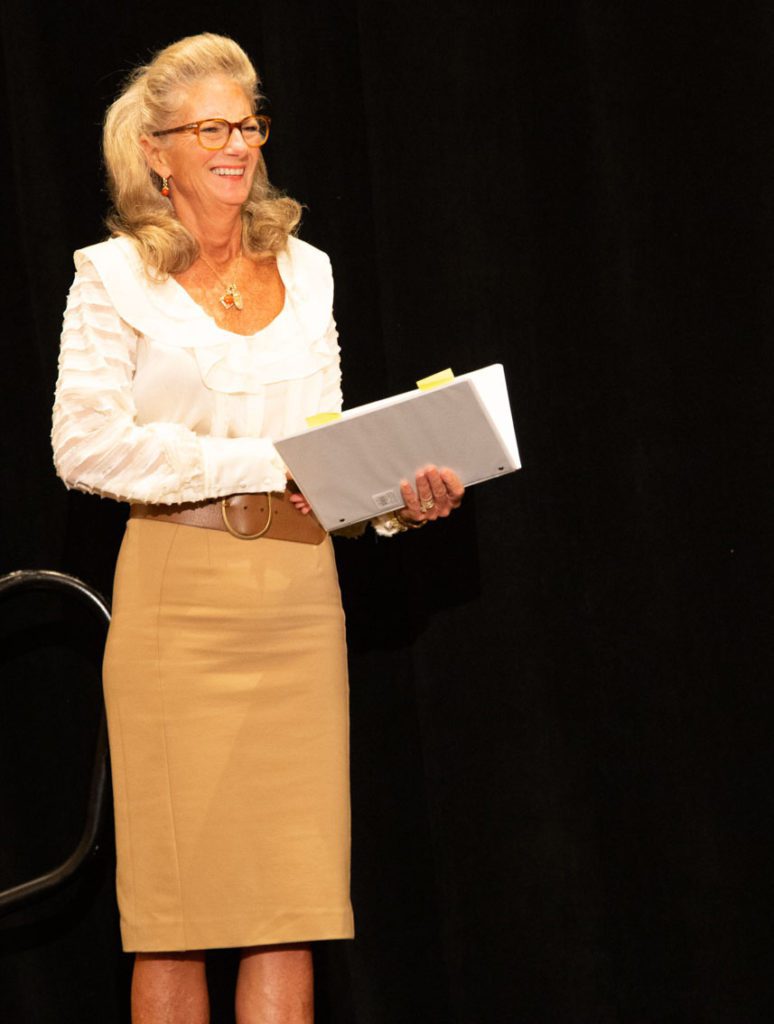 Marnie Taylor
President and CEO – Oklahoma Center For Nonprofits
It takes a special type of person to enjoy serving on a by-laws committee, but that's Marnie Taylor. It was her first assignment as a member of the Junior League of Oklahoma City.
"I took an interest in the governance of organizations right off the bat," says Taylor, now in her twelfth year as president and CEO of the Oklahoma Center for Nonprofits. "I thought Roberts Rules of Order was very interesting," she adds.
With a membership of nearly 1,000 organizations, the OCFNP is "a nonprofit of its own. We teach, we train, we lobby for nonprofits," she says. Additionally, Taylor is serving a two-year term as president of the National Council for Nonprofits.
After graduating from the University of Notre Dame, where service was part of the culture, she joined the Chicago Tribune and sold national advertising.
"Sales is a really strong place to start a career," she says. "Getting in a car and making cold calls at age 22 really grows you up fast."
She met lobbyist Clayton Taylor on a blind date, and shortly after they were married, he was offered a job in his native Oklahoma. She then sold advertising for The Oklahoman, was a full-time mother to her two sons, and served on charitable boards before making the switch to nonprofits as a career.
Taylor says she has a high energy level – quite necessary for her position now.
"I went to a board meeting the night before my first child was born," she mentions. "I was a competitive swimmer, then a runner, and now I do a lot of hiking. I climbed Mt. Kilimanjaro. I really like to be on my feet."
When non-profits hold their fundraisers across the state, Taylor is usually there.
"I like to see what they're doing, and I like them to see me," she says. "I love numbers, I love business and marketing, but I really love community."
The COVID-19 shutdown "was exhausting, in a good way," she says. "We bought 10 Zoom lines the first week.
"We taught people how to fill out the applications, to be patient. I would say Oklahoma fared very well, because we have strong philanthropy, strong nonprofits. The fact that we weathered the storm as well as we have is really satisfying to me."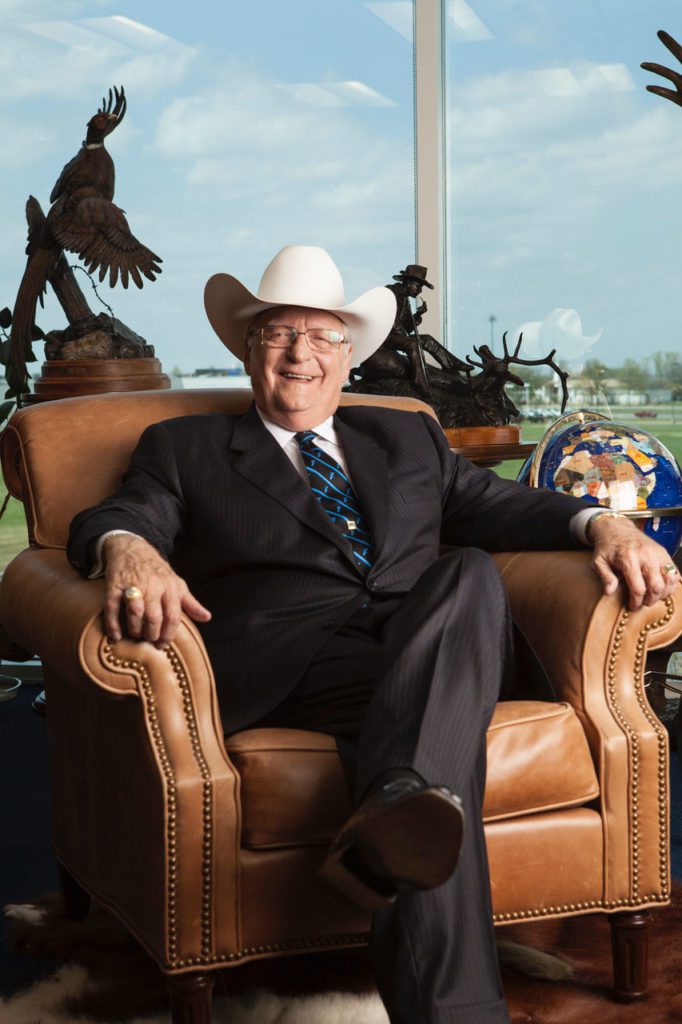 Bob Funk Sr.
Founder, CEO and Chairman – Express Employment Professionals
Bob Funk says he was a terrible preacher.
"I often teased that there was a great awakening at the end of every service because I put them to sleep so badly," he says with a laugh.
But Funk says he has put his master's degree in theology to good use as president and executive chairman of the board of the Oklahoma City-based Express Employment Professionals … and as a lay church worker.
"Human resources is a staffing ministry," he says. "Most people looking for jobs are discouraged. It's up to us to give them encouragement and help them to see their potential and where they would like to be in life. Hope is one of the most important things for people looking for a job."
Gratitude is a theme in Funk's life, starting with appreciation for his hardworking parents and a cousin who gave him a job on his farm in Washington.
"He employed me for about 12 years so I could get through college and get my graduate degrees," says Funk.
He then joined a human resource company in Seattle that transferred him to Oklahoma, a move he describes as "the greatest blessing in my life."
In 1983, he and two partners founded Express Employment Professionals; it now has 860 franchises in the United States and Canada as well as some in Africa, New Zealand and Australia.
The COVID-19 pandemic has made for some rough times for the company.
"Finding the right people was a severe problem and is still a problem," he says. "It's more difficult than it's ever been to find those quality people who want to work. It breaks your heart when you have these great jobs and can't find the people to fill them."
Funk served on the Federal Reserve Board and as chairman of the Greater Oklahoma City Chamber. A former FFA member, he's a big supporter of the Oklahoma Youth Expo.
In his off time, he loves to attend cattle shows and sales to support the family's purebred cattle business. It was at a show in Canada that he spied the Clydesdales that now reside at Express Clydesdales in Yukon. The animals, according to expressclydesdales.com, "meet thousands of visitors each year at home … and they travel across North America as good-will ambassadors for Express Employment Professionals and Express Ranches."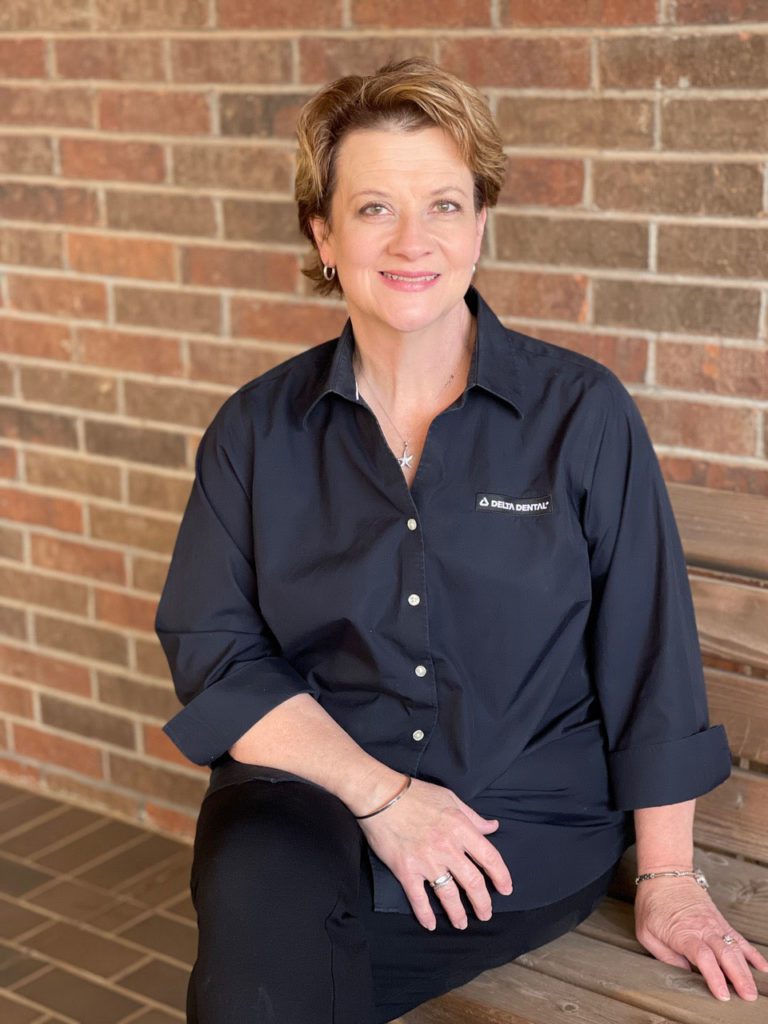 Terrisa Singleton
Foundation Director – Delta Dental Foundation
With a little help from "Captain Supertooth," one mission of the Delta Dental Foundation is to teach children about good oral health. But director Terrisa Singleton knows that regular dental healthcare is out of reach for many Oklahoma families.
One solution is offered by the nonprofit Delta Dental of Oklahoma insurance, which donates part of its proceeds from subscribers to the foundation, which, in turn, supports dental clinics.
"In 2021, grants were awarded to 41 free and low-cost clinics, oral health initiatives and education programs," says Singleton.
The pandemic attacked dental care on several fronts.
"In March 2020, all dental offices were closed and people could not get care unless it was an absolute emergency," she says. "Many went to the ER with pain and infection, where all they could do was give them antibiotics."
When dental offices re-opened, some patients still feared contagion. Others had lost their jobs and couldn't afford the trip. But office staffs were still busy catching up, finding it tough to make time for their shots when the vaccine became available.
Among the COVID victims was Singleton's husband, David, an accountant and lay minister who, as an ALS patient, was high-risk. He died in September 2020. Then, when the foundation was approached about helping dental professionals get vaccinated, Delta Dental CEO John Gladden offered Singleton the job of coordinating the program.
Singleton acknowledges that some employers would have hesitated to make such a request of a grieving widow. But it was just what she needed. The former Oklahoma City headquarters of Delta Dental was turned into a vaccination station, and a clinic was opened in Tulsa.
"It's one of the more significant things I think I've ever been honored to be a part of," says Singleton. "Some of those dentists had tears in their eyes as they thanked us."
The foundation also created programs to steer patients away from emergency rooms and help people who had lost their jobs find free care.
Singleton started her career in advertising. After having twins, she founded a business creating websites before working as a marketing director.
"I had the hankering to work for a nonprofit," she says. "This job opened up in 2009. I now happen to have the greatest job on Earth."
Stanley Evans
Colonel – U.S Army (retired); Assistant Dean, OU College of Law
Role models are essential, Stan Evans says, because "young people need a picture of what they can become. It's more about understanding that if you can see the success, you can be the success."
Evans' grandparents, he says, helped him to envision who he might become.
"My parents would send me and my siblings to Texas to spend the summers on the farm," he says. "My grandparents talked to us about life, about church, about land management. My grandmother set the standards for the family, and my grandfather gave us a vision."
Evans was born in 1946. His father was a WWII veteran and part of the group that integrated the Oklahoma City Fire Department. Evans also participated with Clara Luper in civil rights sit-ins.
"Miss Luper made sure we were trained," he says. "We knew how to keep from losing our tempers if we got cursed out [or] spit on. We would sing to get ourselves in a spiritual mood."
Evans says he joined the Army because he flunked out of college. When he entered OSU, he says, his goal had been to just get there.
"I didn't really understand that college is a stepping stone for what you want to be and what you want to do," he says.
He and his wife, Sandra, were married 15 days before he joined the Army. His sergeants convinced him to go to school at night, where he earned both a bachelor's and master's. Then, he entered law school at 54, after retiring with 32 years of military service.
Evans was asked to stay on at OU before he graduated, becoming the first African-American to be appointed to a dean's position at an Oklahoma law school. In his position, Evans mentors students who protest over racist incidents on campus.
"The first question I ask students is why are they there at protests," he says. "I tell them they need to recognize the problems, but go beyond that and make things better, to prepare themselves to be in leadership positions."
Evans' son, also named Stan, is a professional photographer. His daughter, Lisa, a television anchor who went by Lee Evans, was killed by a drunk driver in 1997.
"She was very focused on service," he says. "Sandra and I decided to spend the rest of our lives helping other young people become great, by helping them to see the doors that are open for them."
Evans helped found Make a Will, a partnership with churches to help people who need wills and powers of attorney. Oklahoma Lawyers for Americas Heroes, which Evans also helped to start about 12 years ago, provides legal services to soldiers both when they deploy and when they return.