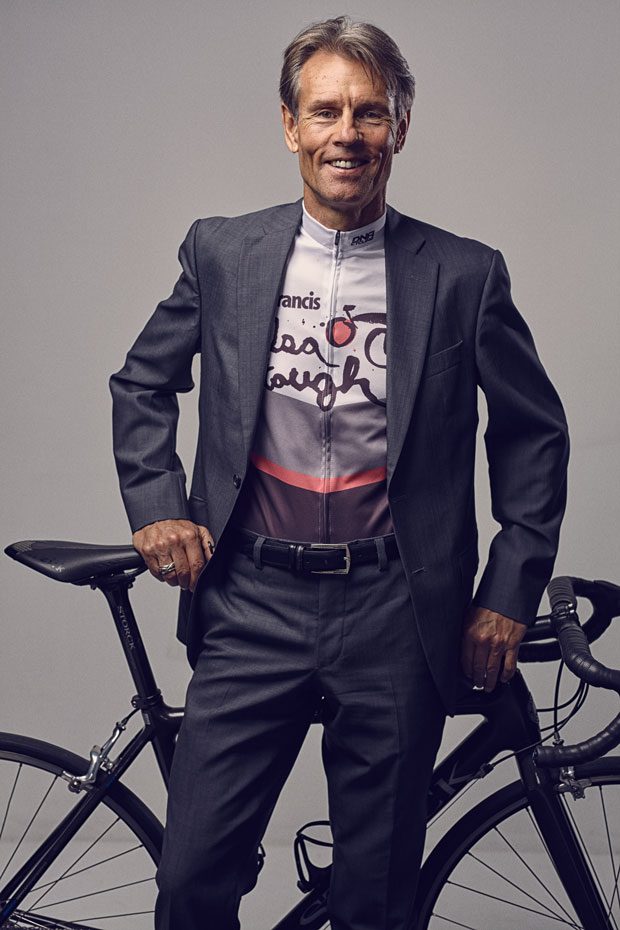 [dropcap]Road[/dropcap] cycling has taken hold of Oklahoma – and what better way to experience everything that our great state has to offer than from the saddle of a bike? Although we definitely want to extend kudos to the hardcore, year-round cyclists, it appears that the month of June has come to be the Sooner State's most popular cycling month – primarily for the somewhat mild temps and predictable weather conditions. Regardless of skill level, body type or age, there are a variety of scheduled events providing two-wheeled fun and fitness for all. It's prime time for cycling in this neck of the woods – so saddle up!
Saint Francis Tulsa Tough
The much-anticipated Saint Francis Tulsa Tough will take over downtown Tulsa June 10-12. The three-day weekend cycling festival includes criterium races for both amateurs and pros, noncompetitive Gran Fondo rides and a family-friendly Townie Ride. Tulsa Tough strives to deliver the full riding experience to everyone – from training wheels to racing rims.
Tulsa Tough began in 2006. "At that time I had been involved in the running and cycling community as both a participant and organizer of local events," says Malcolm McCollam, executive director of Tulsa Tough. "Because of that prior experience, I was one of the people who became involved in creating this new concept."
Each year, Tulsa Tough has grown in size and popularity and is now known across the state, across the nation and beyond as a prime racing opportunity for competitive cyclists and professional teams.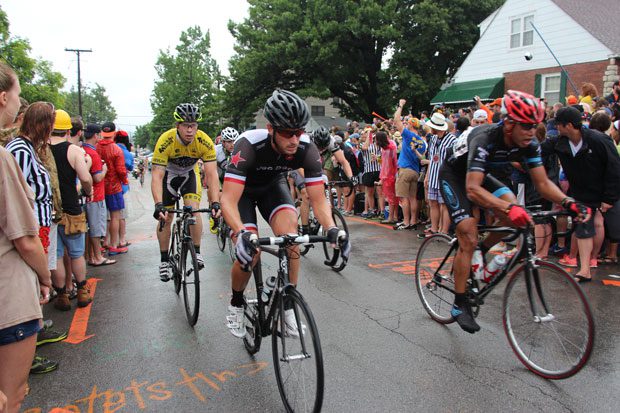 Twenty-year-old Skyler Mackey of Tulsa is currently on the road to a future as an elite, professional cyclist.
"My father was the one who got me into cycling seven years ago," Skyler says. "After racing mountain bikes for a few years, another one of Tulsa's elite cyclists, Bryan DuVall, told me to go out and watch Tulsa Tough. After watching the races, I knew that I had to race road – and Tulsa Tough. This started me on the path to where I am today."
"I have not raced all that long – going on six years, and it started with the mountain bike," says Skyler's father, Brian Mackey, adding that it was Skyler's fault that he got into racing in the first place. "I was not about to sit and do nothing at the races while he raced!"
"I must say that, at first, I couldn't have cared less about Tulsa Tough. I was a mountain biker that really did not like the idea of a road bike," says Brian, who is now a Category 3 Masters racer. "If my son, Skyler, never got me to go and watch with him, I can say that I would have missed out on some of the best times I have had racing my bike – I race all three days now."
Proud father Brian has this to say about son Skyler: "Work ethic – this kid has had it since he threw his leg over the bike. No matter the conditions outside or the roadblocks put in front of him, he is sticking to his plan. He has had to make sacrifices to get where he is now. Seeing him surpass me on the bike has been a true treasure."
Skyler says that professional cycling takes sacrifice and major dedication. His goal is to race Paris-Roubaix, a professional road race in northern France, and to be able to make a living racing his bike.
In addition to the races, Tulsa Tough offers the popular Gran Fondo – two challenging days of noncompetitive, fully supported, tour-style rides with three distances to choose from, 35 to 100 miles in length. All routes explore Tulsa and the surrounding rural areas, finishing each day at the heart of downtown just in time for the criterium races.
Sharon Johndrow is a four-year veteran of Tulsa Tough and a member of the Saint Francis Tulsa Tough Divas, a noncompetitive, women's cycling team.
"Three years ago, Divas was started to coincide with Tulsa Tough as a way to draw attention to women's cycling," Johndrow says. "It is a program where the common goal is cycling, but more so for women to support each other in other ways too."
The Divas will participate in the Gran Fondos on Saturday and Sunday. "I will participate in the Medio, which is approximately 66 miles," Johndrow says.
"In 2015, we had nearly 3,000 total participants from 41 states and 14 countries. We hope to continue growing those numbers," McCollam says. "2015 was a pivotal year for us as we produced a second event, the Cyntergy Hurtland, and took steps to expand our activities beyond event production to youth programming, promotion of a public bike sharing network and development of a concept for a world class cycling facility in Tulsa."
Not only does Saint Francis Tulsa Tough guarantee a weekend of fun for both riders and spectators, it has a significant impact on the city's economy. According to McCollam, "The last study we conducted was in 2013 and, at that time, the economic impact was conservatively estimated at $1.5 million."
Saint Francis Tulsa Tough is produced by Tulsa Tough Inc., a non-profit 501(c)(3) with the support of local corporations and foundations. Guidance for the event comes from an executive committee made up of area cyclists and business people.
"Our mission is to elevate the profile of Tulsa and promote active lifestyles," explains McCollam. "The event benefits all of Tulsa and its citizens by promoting a positive image of the community to those outside Oklahoma."
For more information, visit tulsatough.com.