The Creek County community of Shamrock, some say, is nothing more than a ghost town, yet every Wednesday 50 or more kids show up for youth night at the Baptist Church.
The St. Patrick's Day celebration no longer attracts 5,000 people as the first parade did in 1916, when Shamrock was an oil boomtown. But it remains a lively day for the approximately 200 people who turn out … and a much-needed fundraiser for the volunteer fire department.
The Rev. Brett Land and fire chief Keith Weaver appreciate Shamrock's past, and they haven't given up on its future.
"When I was a kid, it was a 7- or 8-mile parade," Weaver says. "I just would like to keep Shamrock's history alive."
Land cites examples of people looking after others as evidence of the town trying to upgrade deteriorating areas.
"We're trying to do that every year or two," says Land, adding that the church recently installed a new natural gas line for one member and helped another replace her worn-out mobile home. "There are some good solid people here – people who value friendship, who value taking care of one another."
Longtime fossil hunter Chuck Strickland opened the green-painted Shamrock Museum in 1999 because of his interest in natural history. The former grocery store also houses class photos from the high school, which closed in 1961, and storyboards created by retired educator Roy Willey, who returned to his family's land 10 years ago.
Shamrock was named in 1910 by its first storekeeper after his hometown in Illinois. The town's population soared to as many as 25,000 people living in houses and tents, Willey says. Dublin, Kilarney and Cork are Irish cities that became names of streets in Shamrock.
"Tipperary was [and remains] the main street, and it was solid with businesses," he says.
When oil derricks were still made from wood, Shamrock boasted seven lumberyards.
"I loved it when I found a 1923 map that shows every house, every stable, every outhouse," says Willey, who searched old newspapers and census records and talked to lifelong residents to attach names to the buildings.
As petroleum production slowed, Shamrock's population dropped to less than 1,000 by the 1930s. The 2010 census listed the town as having 101 residents.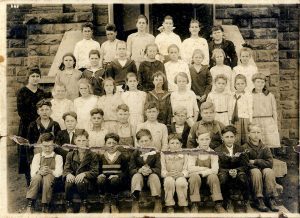 For Shamrock native Millie Pittser, born in 1937, the place has shaped her with life's ups and downs.
"My daddy was scared of the tornadoes, so he took my mama and two sisters and me to Las Vegas," she says. "Daddy was a gambler, and Mama had a nervous breakdown and came back here to live with her parents."
Pittser missed her mother, so at age 14 she caught a bus back to Oklahoma from Nevada. She married at 17 and had five daughters. Her husband served as mayor and ran a salvage yard.
She was widowed five years ago, and her kids want her to move in with one of them … but she doesn't like the idea of leaving Shamrock. Neither does Ashley Alexander, a fellow member of the Baptist Church.
"I don't like change," says Alexander, who feels safe in Shamrock and adds that the only aggravations are dogs running loose in a place that no longer has a city government.
Willey, who helps out with the church rehabilitation projects, is optimistic.
"A lot of places in this area look like bombed-out towns that have no future," he says. "But there has to be a future because there are … people living here."
St. Patrick's Day in Shamrock (March 16)
Firefighters start serving pulled-pork sandwich dinners at 11 a.m.
The parade begins at 11:30 a.m.
Live music starts after the parade and continues until 4 p.m.
The city museum is open all day.