Oklahoma on Film
If there's one popular concept that people from other states have learned about Oklahoma, it's that the wind comes sweeping down our plains. Even though the cinematic version of Richard Rogers and Oscar Hammerstein's musical Oklahoma! was filmed in Arizona, the movies that are shot entirely or primarily here often reinforce a wide-open image of Oklahoma, where nature reigns.
Take one of the earliest great films shot in Oklahoma, John Ford's adaptation of The Grapes of Wrath. Known for shooting his Westerns in Arizona, Ford went straight to the source by capturing real images of Oklahoma to bring John Steinbeck's novel of a struggling Dust Bowl family to life. More recent films have provided equally grinding depictions of natural disasters – most famously Jan de Bont's Twister. That film's terrifying tornados bring home the raw power of nature's destructive potential in our state.
Despite this reputation for natural settings, Oklahoma's cities have also provided the backdrop for many films. Tulsa, in particular, has proved popular, most notably in Francis Ford Coppola's adaptations of S.E. Hinton's books The Outsiders and Rumblefish. Those films use 1980s Tulsa to fill in for 1950s Tulsa, creating a sense of layered history on screen.
Films shot here can also be deeply personal. Film giant Terrence Malick, who spent part of his childhood in Bartlesville, captures that city in haunting specificity in his enigmatic, lyrical To the Wonder, which turns ordinary Oklahoma spaces (including a Sonic drive-in) into beautiful spectacles. Given the state's demographics, it's no surprise that it has also become a hub for Native American filmmaking, with important works like The Cherokee Word for Water.
The future looks bright for Oklahoma on film. According to Tava Sofksy, director of the Oklahoma Film and Music Office, filmmakers are drawn here for many reasons, including diverse locations, financial incentive programs, and heartland hospitality – all of which often set it apart from other states.
Many films soon to be shot here try to capture a sense of Oklahoma's history and topography. These include Martin Scorsese's Killers of the Flower Moon, which takes place in the 1920s, and Thirteen Minutes, a new take on the tornado thriller. With these films and many others in production, Oklahomans look to be well represented on the big screen.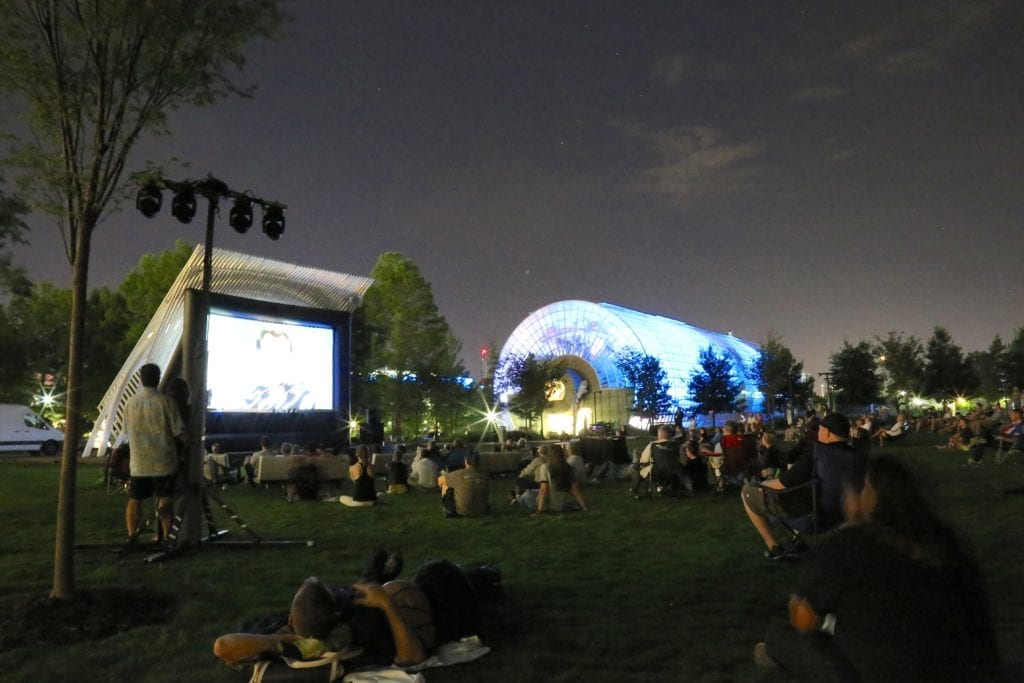 Keeping Theaters Relevant
Since the advent of television (and probably before), movie houses have experimented with different ways of convincing patrons to keep coming out to theaters.
Unlike some notorious marketing flops of the 1950s, such as Smellovision and Cinerama, recent innovations have found sustained favor with moviegoers. The distinct advantage that theaters have over home-viewing is the full experience they offer – a fact theaters have leaned into in the last decade by moving beyond basic concessions and stadium seating to providing a luxurious night out.
By now, it is fairly standard for major theater chains to offer deluxe seating that re-creates the feeling of your favorite easy chair at home. But theaters also pursue true pampering with cocktail bars and full meals, with some even providing servers who deliver food right to your seat. Theaters have even started to make date night as easy as possible for parents. Instead of staying in or hiring a babysitter, parents can drop their young children at play centers while they catch a flick – a service provided by Harkins Bricktown theater in Oklahoma City.
For small theaters showing what has traditionally been labeled art house fair, their very niche acts as a bonus. Circle Cinema in Tulsa, Rodeo Cinema in Oklahoma City and others bring in many foreign and independent films that otherwise would not play in Oklahoma, including some that are unavailable for streaming at home anytime soon. These include special screenings of hard-to-find films.
The Samuel Roberts Noble Theater at the Oklahoma City Museum of Art recently held a screening of Sátántangó, a Romanian cult classic that rarely runs in theaters due to its grueling 7½-hour length. Films like this never draw blockbuster crowds, but their unique appeal continues to bring seasoned cinephiles into theater seats.
Home Theaters
If you love movies but hate going to the theater, you're in luck, because advances in technology mean there has never been a better time to create a viable, deluxe moviegoing experience in the comfort of your own home.
"It's night and day," says Austin Morton, project manager at Tulsa's Video Revolution, which specializes in home theater furnishings.
A decade ago, home theaters were a luxury reserved for the wealthy; now, the typical market is the middle-class family of four, Morton says.
Thanks to cross-compatibility, customizing is popular with consumers, who can piece together a home theater from multiple brands, instead of buying full sets of a single brand. Customers now pick the products that fit their exact needs, from wide-screen TVs or projectors with screens to full surround sound or a compact system.
Stores like Video Revolution can even help with lighting options like dimmers or window shades.
For Morton, the key element of home theaters that often gets overlooked is control. He sees the shift to voice control and the ability to condense devices to a single remote as indicative of the power given to those who prefer theater life at home.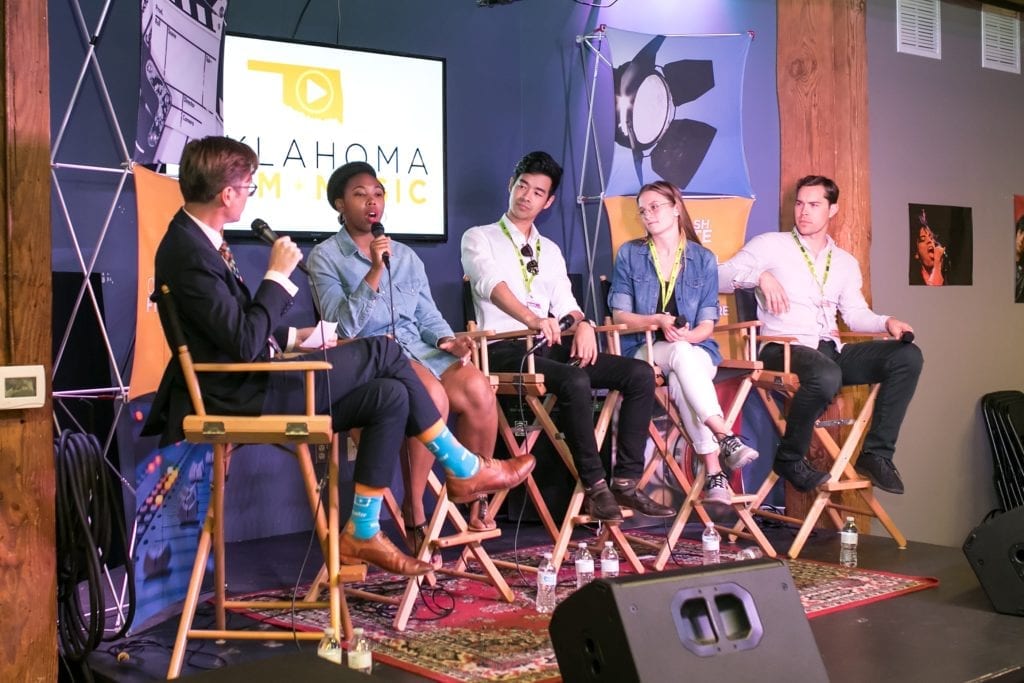 Resources for Aspiring Filmmakers
Making home movies is a time-honored part of American childhood. While most children phase out this ritual, some keep at it and are drawn irresistibly to the filmmaking life. For those sorts of Oklahoma children and teens, the state offers many options for pursuing filmmaking as a career.
Most of the major universities in Oklahoma offer some sort of film degree. Oklahoma City University and the University of Tulsa have the most robust options for film production with bachelor's degrees that emphasize writing, shooting and editing films. The University of Oklahoma has a film studies degree, which skews more toward criticism than production, and the University of Central Oklahoma has a degree in professional media, useful for students interested in film alongside other media, like music.
Precocious producers can get a head start by pursuing opportunities available to high school students. These include a film festival run by Oklahoma City University and summer camps put on by the University of Tulsa and the Oklahoma Arts Institute at Quartz Mountain.
The arts institute provides an especially intense, hands-on experience. Twenty students, selected on the quality of short films they submit, spend two weeks learning about filmmaking and producing short films in collaboration with other students, overseen by industry professionals.
"We really want them to focus on storytelling," says Julie Cohen, president and CEO of the Oklahoma Arts Institute, adding that the camp integrates learning the nuts and bolts of technical filmmaking with a broad approach to narrative.
Several students from the arts institute have had their shorts accepted into Oklahoma film festivals; alumni have premiered works at major festivals like Sundance. With so many opportunities, hopeful directors have reason to get to work.
Festivals
Film festivals have blossomed across the United States in recent years. Two notable upcoming events in this region are in Oklahoma City and Telluride, Colorado.
OKC's deadCenter Film Festival, from June 11 to 14, is Oklahoma's premier event, with shorts, full-length features and a good number of documentaries. Indie films from all over the country also run. Everything is accompanied by parties and music galore. deadcenterfilm.org
The Telluride Film Festival, from Aug. 30 to Sept. 2, is the most accessible major film festival for Oklahomans. Telluride frequently hosts world premieres of films that go on to win Oscars. telluridefilmfestival.org
Summer Blockbusters
Summer is prime moviegoing time, with plenty of big releases in every genre. Here are a few to keep an eye (or both) on.
Artemis Fowl (May 29) – Artemis, a 12-year-old criminal mastermind, battles his fairy nemeses in this action piece for the younger set. This film will forgo theatrical release and stream on Disney Plus.
Wonder Woman 1984 (June 5) – Superheroes go camp in this DC sequel. Wonder Woman kicks butt – possibly in shoulder pads.
Soul (June 19) – Pixar returns with the story of a band teacher with a passion for jazz who is forced to consider what it means to have a soul. Soul should provide humor for kids and pathos for adults in equal measure.
Tenet (July 17) – Another mind-bender from Christopher Nolan, in the mold of Inception, Tenet features time travel and espionage.
Candyman (Sept. 25) – Candyman was pushed from a June release date due to COVID-19. Writer/producer Jordan Peele (Get Out) updates this urban horror classic about a killer who appears when you say his name. Expect scares with a side of social commentary.
Film School
For those who know without a doubt that they want to work in the industry, film school can provide a nitro boost to their careers.
While some major film schools come attached to universities like the University of Southern California and Columbia University, others, including the prestigious American Film Institute, are freestanding and offer exclusive training in film production. Students can expect an intense few years of hands-on production, from writing and editing to cinematography and directing.
Film schools often hire faculty with industry experience, so students learn from those who have navigated Hollywood firsthand.
The intense nature of film school means that students are expected to arrive with some filmmaking experience – most schools require each applicant to submit a short. Once there, students should anticipate rigorous courses of study; a few schools even simulate industry life by holding classes at scattered times, including late at night.