[dropcap]Unlike[/dropcap] the old roach coaches and gut trucks of Manhattan or Chicago, food trucks in Tulsa in 2017 are no longer strictly hot dog and ice cream stands for construction sites. They are highly polished purveyors of gourmet cuisine.
Of the estimated 60 food trucks frequenting lunch parks such as Guthrie Green, 20 contract with Robert Carnoske and Chad Wilcox of Masa Kitchen for space in a permanent venue called Fuel 66, which provides an indoor/outdoor space specifically for Tulsa's food trucks. Along with J.L. Lewis, formerly of Leon's in Tulsa, this duo recently opened Fuel 66 in the Pearl District.
The Pearl District is Tulsa's newest take on swank, and Fuel 66, right on historic Route 66, is something that Wilcox and Carnoske want to make into an iconic destination.
"Other than the Blue Whale [in Catoosa], there aren't a lot of nationally recognized sites in Oklahoma along Route 66 anymore," Carnoske says. "We want Fuel 66 to be one of those."
Fuel 66 could certainly become a landmark. It features a full-service bar, indoor dining and an indoor/outdoor patio and four fire pits in the yard where the food trucks will park. The business will also host at least three bands the first Saturday of each month. Visitors to metropolitan Tulsa might have the most trouble moving onto subsequent points of interest.
"The park opens at 11 a.m. on those days," Carnoske says, "and goes as long as people want to hang out."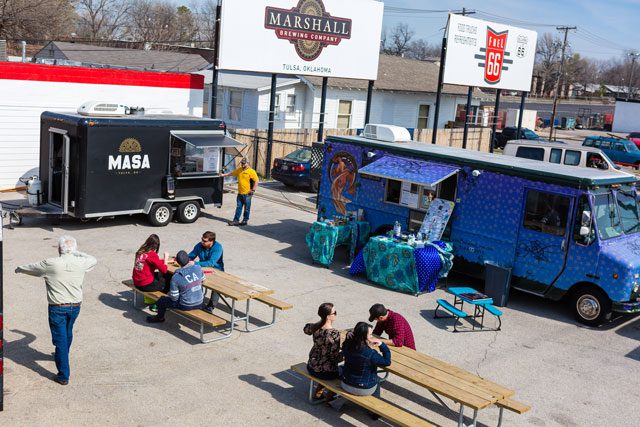 Finding one's favorite modified cargo truck-and-kitchen is now convenient because of Facebook, Instagram and Twitter, but permanent food truck venues like Fuel 66 are rare. They offer a reliable alternative to a transient concept and are also more costly than independent food trucks. Carnoske and Wilcox negotiate contracts and permits for each truck, for example. It's important to Fuel 66's owners, however, that customers have a fixed address to find the food trucks.
"We have a calendar on our website [fuel66tulsa.com] that tells people where trucks will be and when they will be at Fuel 66," he says.
Customers often find a wide variety of food trucks docked at Fuel 66: Pie in the Sky, Mr. Nice Guy's, Curb Side Comfort and Bohemian Moveable Feast, in addition to dishes from Masa. Pie in the Sky offers not pizza but pie in a cup, complete with flaky crust. Mr. Nice Guy's, Rub BBQ, MooChewSooey BBQ and Curb Side Comfort are competitive barbecue trucks, and the Bohemian Moveable Feast features ethnic cuisine from the Philippines.
Food trucks open at 4 p.m. Tuesday through Friday and at 11 a.m. Saturday and Sunday for brunch. Fuel 66 is closed Mondays.
"There's always going to be one truck at Fuel 66 during the week," Carnoske says.
Fuel 66 is located at 2439 E. 11th St. in Tulsa.