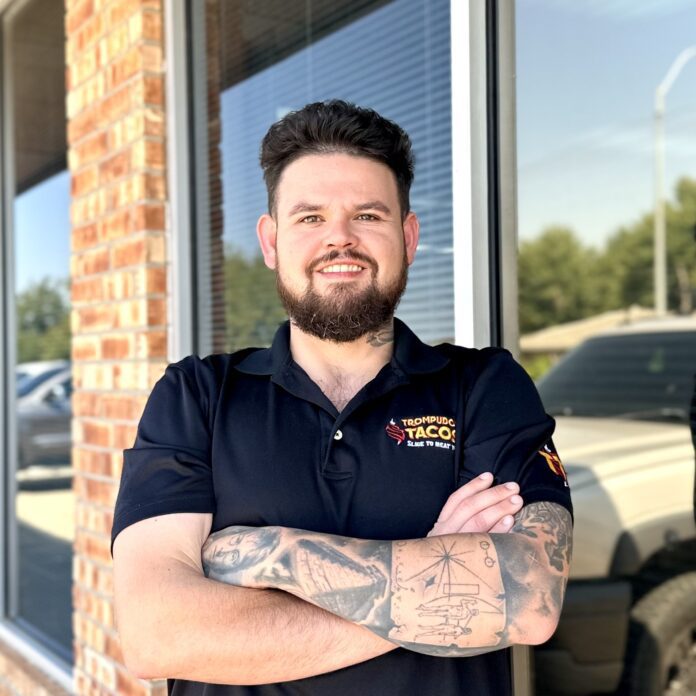 Best known as Chef Lupe, Guadalupe Garcia – chef-owner of Trompudo's Tacos on May Avenue in Oklahoma City – has a generations-deep affinity for all things cuisine.
"What began as a passion for cooking goes much further for me," he says. "Ultimately, through cooking, I realized my passion is guest satisfaction. I was blessed with my father having a successful restaurant chain with multiple locations. This was instrumental for me to learn about different kitchen layouts, workflows and processes."
Flavors are an art form, he believes.
"There is an infinite number of combinations between different spices, herbs, textures, meats, aromas, temperatures, presentations," says the chef. "There's something special about successfully fitting endless puzzle pieces together and creating a unique experience. I see this entire process as an art form that extends to every cuisine. Pick any cuisine, and you will find a masterful artist who has successfully solved and pieced together a delicious puzzle."
Great dishes originate from fine ingredients – and Garcia has one favorite in his arsenal.
"I enjoy working with peppers," says Lupe. "There is a vast array of peppers, each of which offers a unique flavor and spice. There are so many different dishes you can prepare with fresh, dried, smoked or grilled peppers. Successfully combining those peppers with other ingredients is a fascinating experience."
The chef's style and passion is exemplified by a signature dish. The Trompo is built with layers of marinated pork, pressed one on top of the other while being cut and formed into the shape of a trompo – or a spinning top. The Trompo is then cooked by fire on a vertical spit, and once the outside edges are fire-roasted and ready to serve, the 'Trompero' skillfully cuts thin slices from the cooked edges.
Growing up, Garcia was immersed in all things food.
"I was always surrounded by the idea and practice of cooking," he says. " Both of my parents were cooks. My mother cooked for the household, while my father cooked to provide for our family. Cooking was never a daunting or unachievable task for me, especially as I am a naturally curious person who enjoys challenging myself. There are very few things that bring me joy like cooking a delicious meal does, especially when I get to share it with others."
Garcia clearly enjoyed watching his parents cook, and as he grew older, he took advantage of any opportunity to expand his skills.
"I was ten when my cooking no longer relied on canned or prepared foods," he says. "I was able to piece together a few basic meals from different ingredients. As I became comfortable with cooking on our stove-top, I wanted to learn how to use the oven as well."
The chef's formal training began in his father's restaurant, where he also learned new skills at each stage of his development by cooking "what felt like thousands of tortillas," he says.
He worked every job at his father's business, learning everything from peeling and cutting vegetables to de-veining shrimp, making salsa, and working the fryer for chips, taco shells and tostadas. He learned the ins and outs of the kitchen, and what it really takes to execute – and nail – each dish.
Today, Garcia offers his take on the traditional taqueria experience. He credits his parents and says they are "my inspiration as well as my heroes. I have witnessed what someone can achieve with determination and will. Their teachings, love and support are the reasons I shoot for the stars. It's not that I want or care to shine, instead, I want them to see that they have succeeded."
Chef Lupe's Salsa de Piña
20 grams Chile de árbol
100 grams Diced yellow onion
10 grams Fresh peeled and finely diced garlic cloves
5 grams Tellicherry peppercorns 
600 grams Fresh pineapple
25 grams Table salt
30 grams White distilled vinegar
12 ounces Water