Paint small, store-bought pumpkins with metallic silver or gold spray paint to create small touches of fall that can incorporate easily into existing décor.
---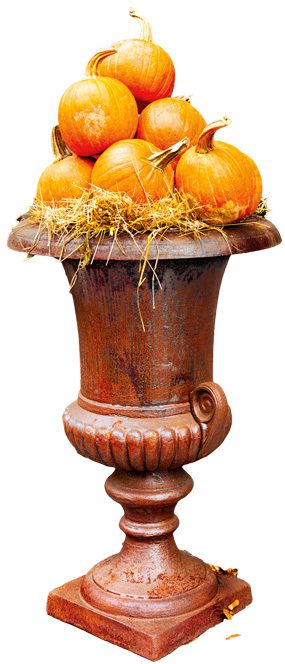 This fall vegetable is not just for pies anymore. Try a savory take on pumpkin by incorporating it into a pasta sauce. Heat together 1/2 cup pumpkin puree, one ounce of cream cheese, ¼ cup of half and half, a bit of fresh minced garlic, salt and pepper in a medium saucepan on low until cheese is melted and everything easily mixes together. Add two cups of cooked pasta shells, six slices of crumbled bacon and a sprinkling of sliced scallions and Parmesan cheese and serve.
---
Don't forget about the seeds! Toss two cups of rinsed-and-dried pumpkin seeds with a couple of teaspoons of vegetable oil and a tablespoon of salt. Roast on a baking sheet in a 375-degree oven until crisped and browned, about 15 minutes. Give them a stir every five minutes. For an extra kick, try adding in one tablespoon of Old Bay seasoning, barbecue seasoning or jalapeno powder with salt. Recipe courtesy Chowhound.
Creepy Celebrations